| | |
| --- | --- |
| Audience | Fleet Admin |
| Applies To | Fleet Admin > Dashboard |
Introduction
Fleet Admins can switch between the cycles for their Drivers in Canada through Fleet Dashboard. In Canada, there are two Cycle types (Cycle 1 and Cycle 2).
When switching between these cycles, Drivers must take the required time off before the cycle can be adjusted. Cycle 1 is of 7 days and Cycle 2 is of 14 days. When switching from Cycle 1 to 2, the Driver requires at least 36 hours off-duty. When switching from Cycle 2 to Cycle 1, the Driver requires at least 72 hours off-duty.
Steps: Switching cycles for Drivers
Note: You can only change the Cycles for the Drivers that are compliant with keeping the Electronic Logs.
1. Log into Fleet Dashboard and click on the Admin icon in the left-hand side menu.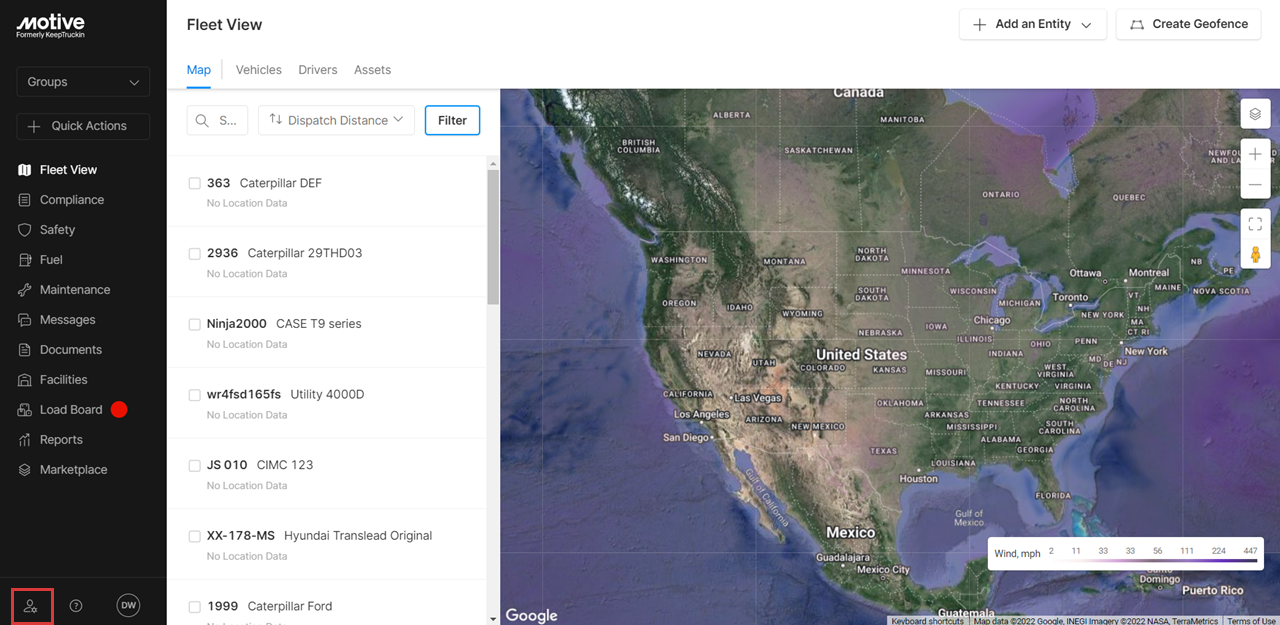 2. Click on Drivers in the left-hand side menu. The Drivers page displays a list of all Drivers in your fleet.
3. Find the Driver whose cycle you wish to edit. From the Options dropdown, select Edit Account.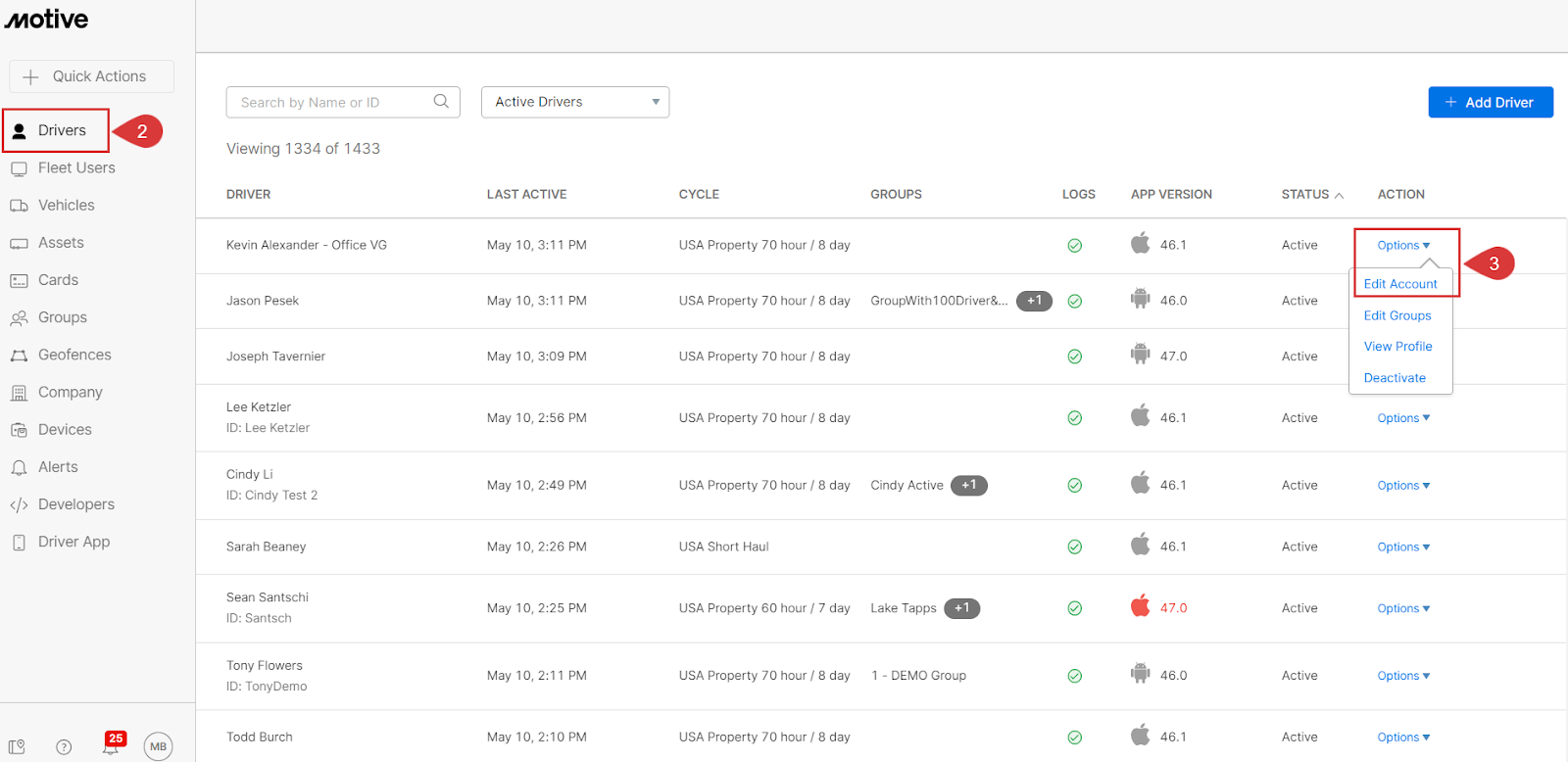 4. In the selected Driver's profile, navigate to the Cycles section and select the cycle you wish to set for the Driver.
5. Fill in the mandatory Cycle Rule and Cargo Type fields. Fill in the Restart, Rest Break, and Short Haul Exception fields if you want.
6. Click on Save in the top-right corner.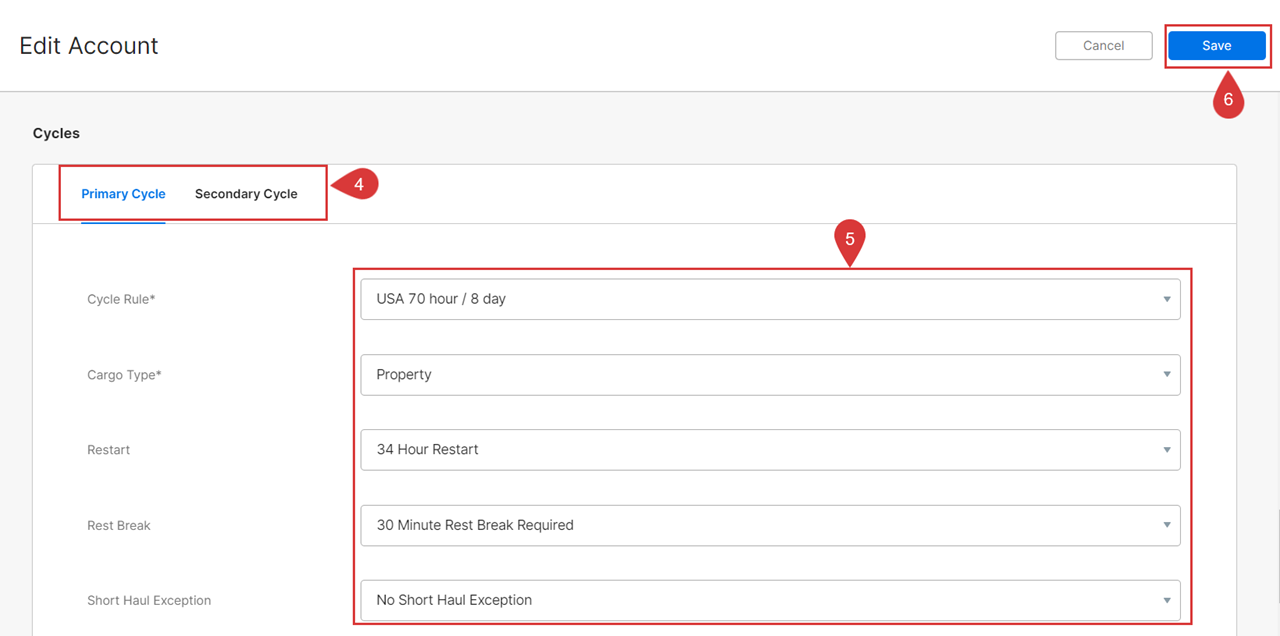 Note: If the Driver has not taken the required time off, a notification will display about how much time off is required before you can change their cycle.
Related Content
Share this with others
This article also appears under: