| | |
| --- | --- |
| Audience | Fleet Managers |
| Applies To | Fleet Dashboard > Vehicles |
Introduction
Fleet Managers have the authority to add as many vehicles to their Fleet Dashboard as they want. Once the profile is set up, you can assign a Vehicle Gateway to the vehicle. 
Steps: Adding a vehicle on the Fleet Dashboard
1. Log into the Fleet Dashboard and click the Admin icon in the left-hand side menu.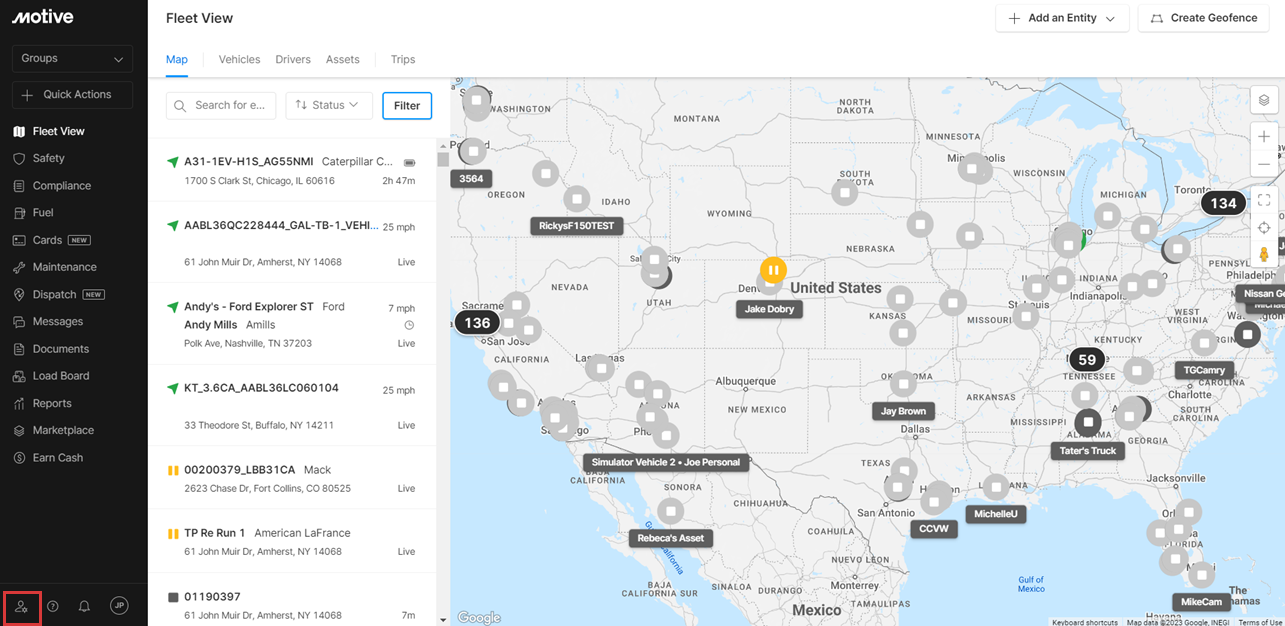 2. Click the Vehicles option in the left-hand side menu.
3. Click the + Add Vehicle button in the top-right corner.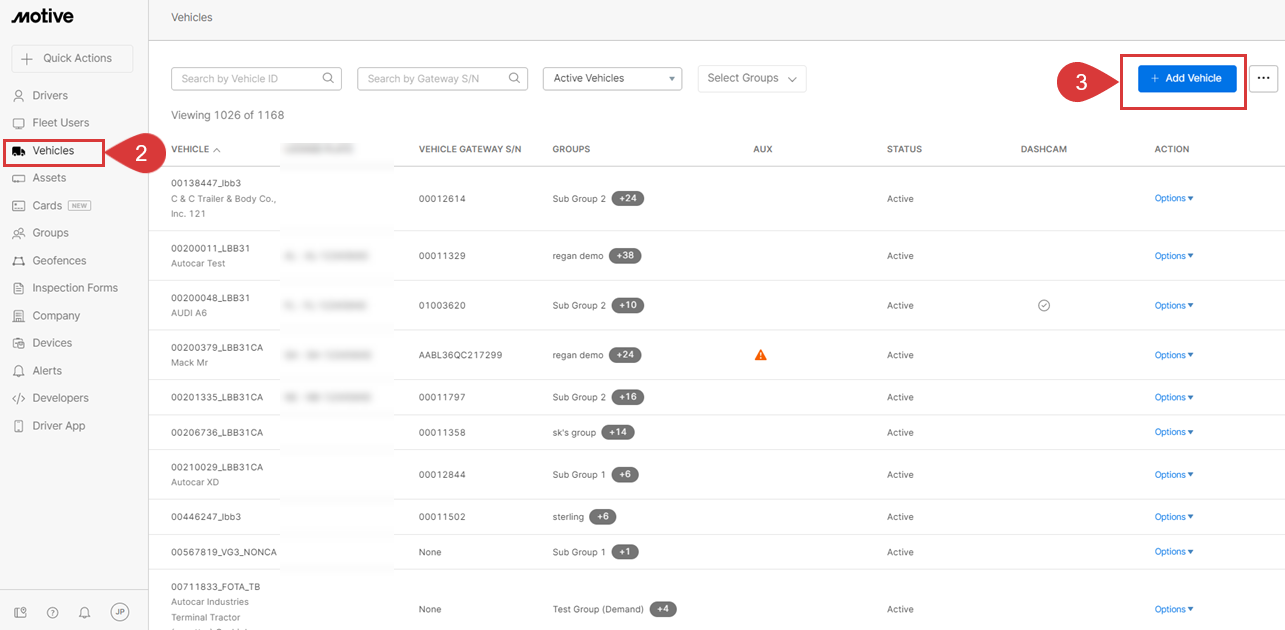 4. The Add Vehicle page displays. Under the General section, add the VIN number, and details like Year, Model, and Make would be filled automatically. Also add the required details such as Fuel Type, License, Odometer, and Inspection form.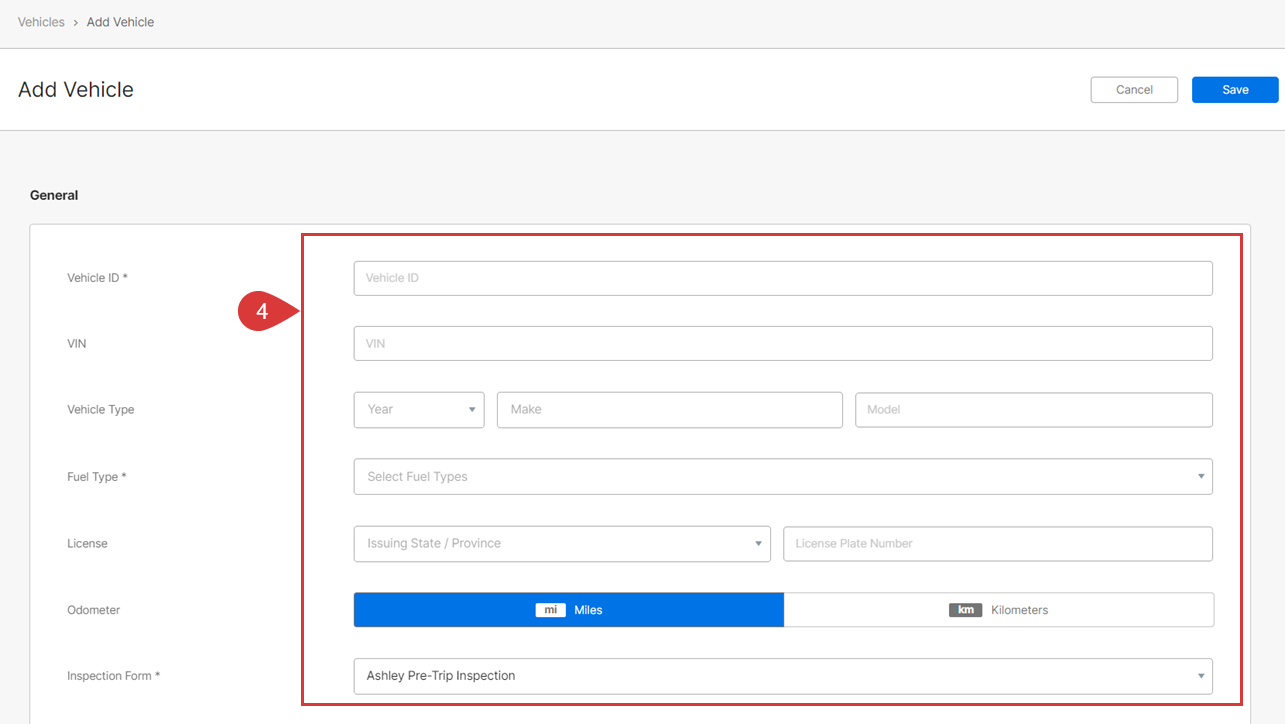 5. Fleet Managers can automatically populate the Year, Make, Model and Fuel Type by decoding VIN and also make the assigned VG to populate the VIN, Year, Make, Model and Fuel Type.
To automatically populate the Year, Make, Model and Fuel Type via decoding VIN, enter the VIN and wait till these fields are populated automatically.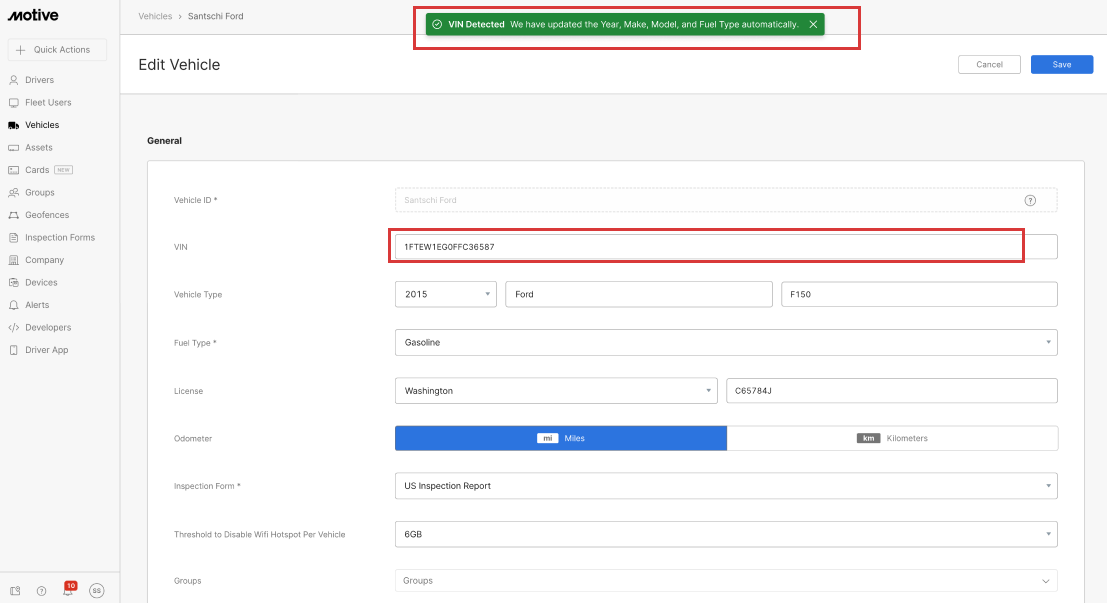 Note: You can also fetch this vehicle information automatically from the assigned VG. To do that, please assign a Vehicle Gateway (see steps below)
6. After filling in the necessary details, click on + Assign Vehicle Gateway under the Vehicle Gateway Assignment section.

7. Select the serial number of the intended Vehicle Gateway from the Assign Vehicle Gateway pop-up menu.
8. Click Assign once selected.
Note: Each Vehicle Gateway has a unique serial number printed on the bottom of the device under the bar code. Make sure the Vehicle Gateway you choose here is the same as the one installed in your vehicle.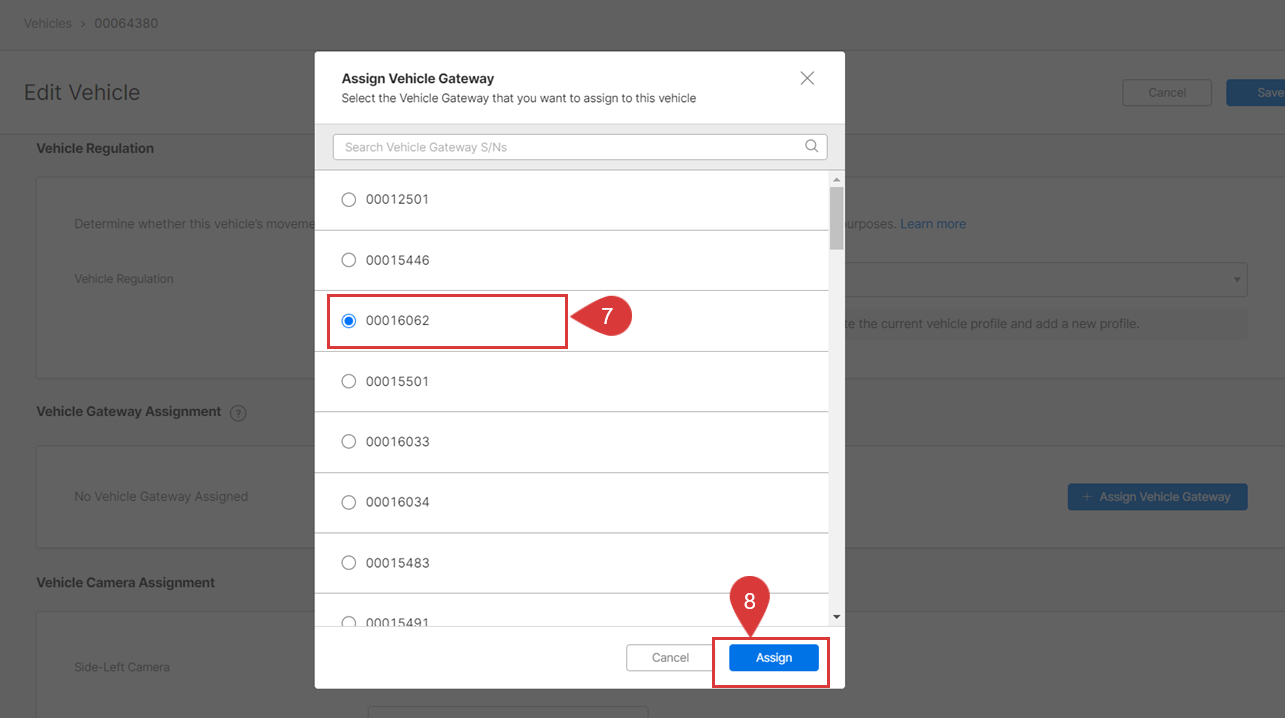 9. In the Vehicle Camera Assignment section select Side-Left Camera, Side-Right Camera, and Rear Camera from the drop-down menu.
10. Enter your vehicle details in the Odometer section.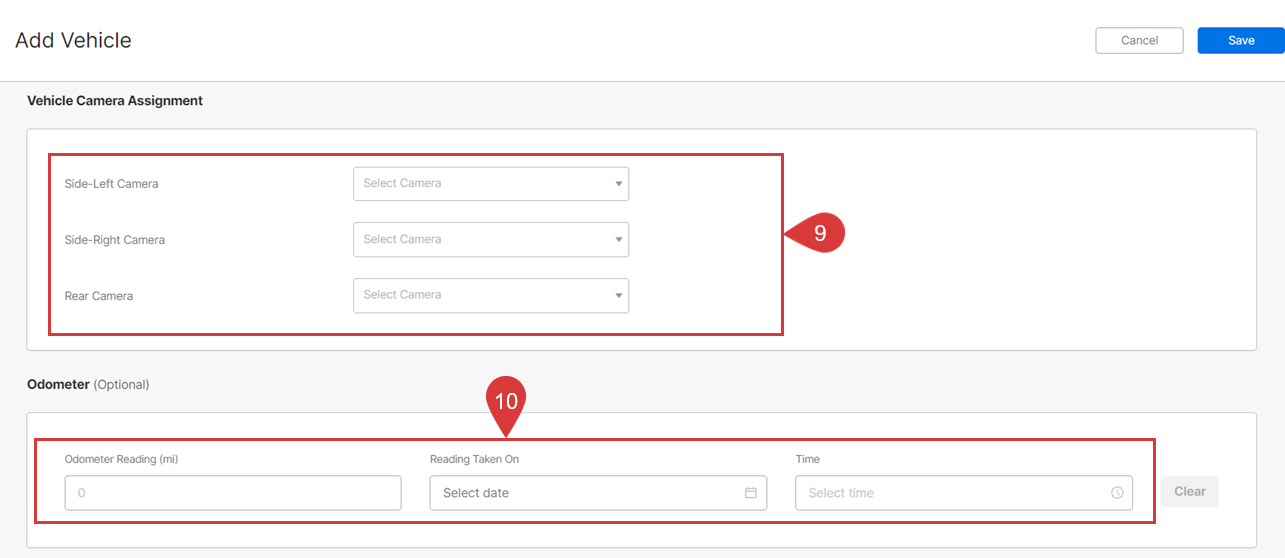 11. Enter your vehicle's Lifetime Engine Hours with the current date and time.
12. Choose the Vehicle Gateway Preferences of your choice.
Note: This option is only for drivers who are required to maintain logs for compliance.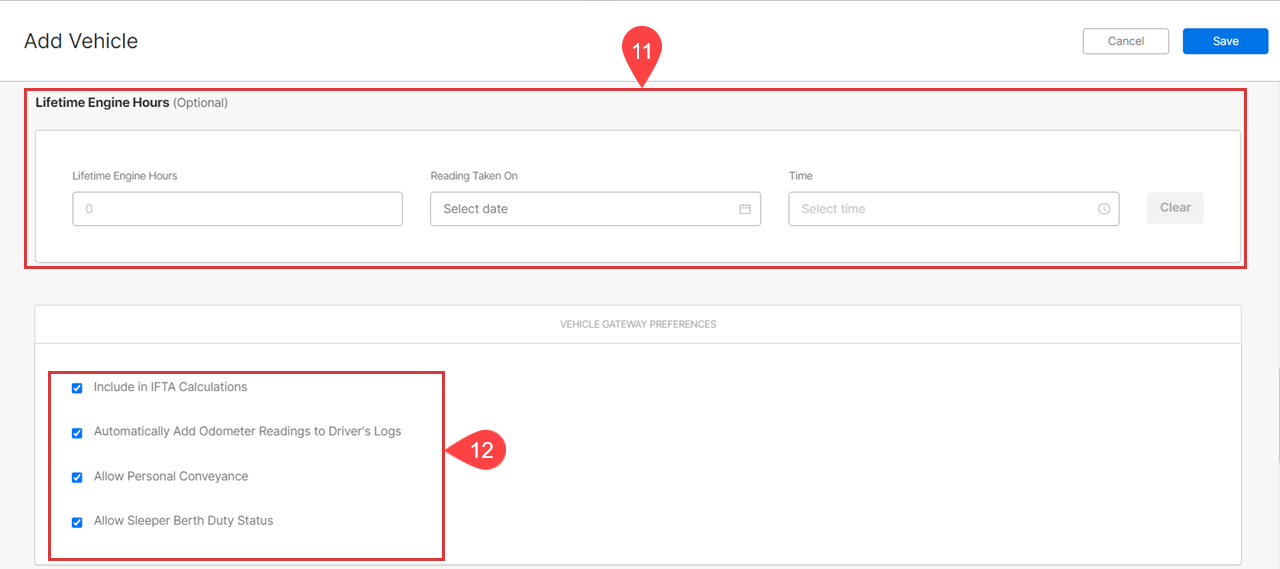 13. Select Speed Settings to Trucking Speed Limits.
14. Tick the Long Idling option.
15. Click Save.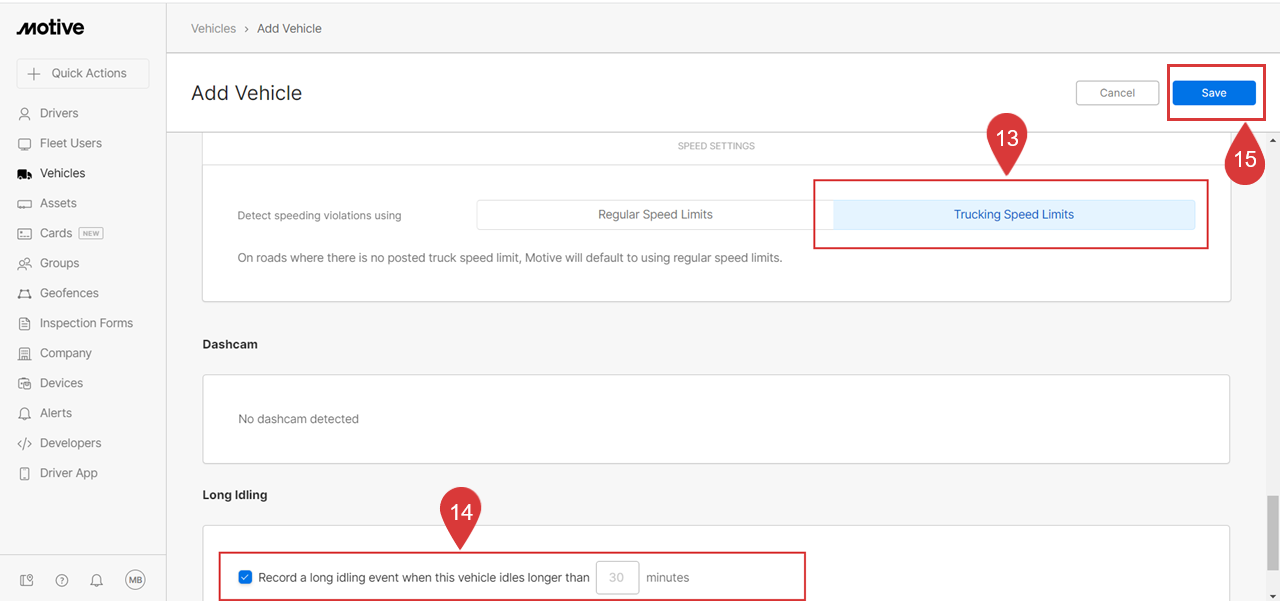 Related Content
Share this with others
This article also appears under: