| | |
| --- | --- |
| Audience | Fleet Admin |
| Applies To | Billing |
Billing Invoice Overview
1. Account Information
This is the customer account information which contains a unique invoice number and company number which is unique for every company.
The invoice date and due date are based on the customer payment term.
The payment method and payment term are also specific to the customer.
Note: refer to your Payment Method on the Invoice to confirm your payment type i.e. Credit Card, Check, ACH/Wire.
2. Customer Contact
This is the customer/owner's contact information. The company will use this information to contact you in case of payment issues.
3. Charge Summary
Product: Specifies the product the customer is paying for


Subscription: These are subscription charges to the software product
Purchase fee: Refers to hardware charges

Invoice period: Specific time period for which the customer paid
Quantity: Quantity of product/hardware
Price per unit: Basic price for a unit
Amount due: Quantity*price per unit= amount due
Shipping: It is calculated depending on the location
4. Balance Due:
Gross amount: The total amount due
Discount: If any discounts are applicable
Tax: Dependent on the state
Balance Due: The amount the customer has to pay
5. Transaction Summary
Identifies the date the payment was processed, payment number, type of payment, the amount that was successfully processed.
If the payment was completed successfully the invoice balance would be 0.
6. Payment Information
For customers set to Term Payments with more than 30 Vehicle Gateways through Check or ACH/Wire payment:
Payment via Check - please send to:
Motive Technologies, Inc.
DEPT CH 17110, PALATINE, IL 60055-7110
CONTACT NUMBER: 855-434-3564, EMAIL: billing@gomotive.com
Note: Please cut along the remittance payment information on your Invoice and fill out the payment amount and check number and include them with your check payment.
Motive Technologies, Inc
Account Number: 3302030700
Routing Number (ACH and Wire): 121140399
SWIFT CODE: SVBKUS6S

Note: To pay your invoice via a Credit Card, please call us at +1 855-434-3564.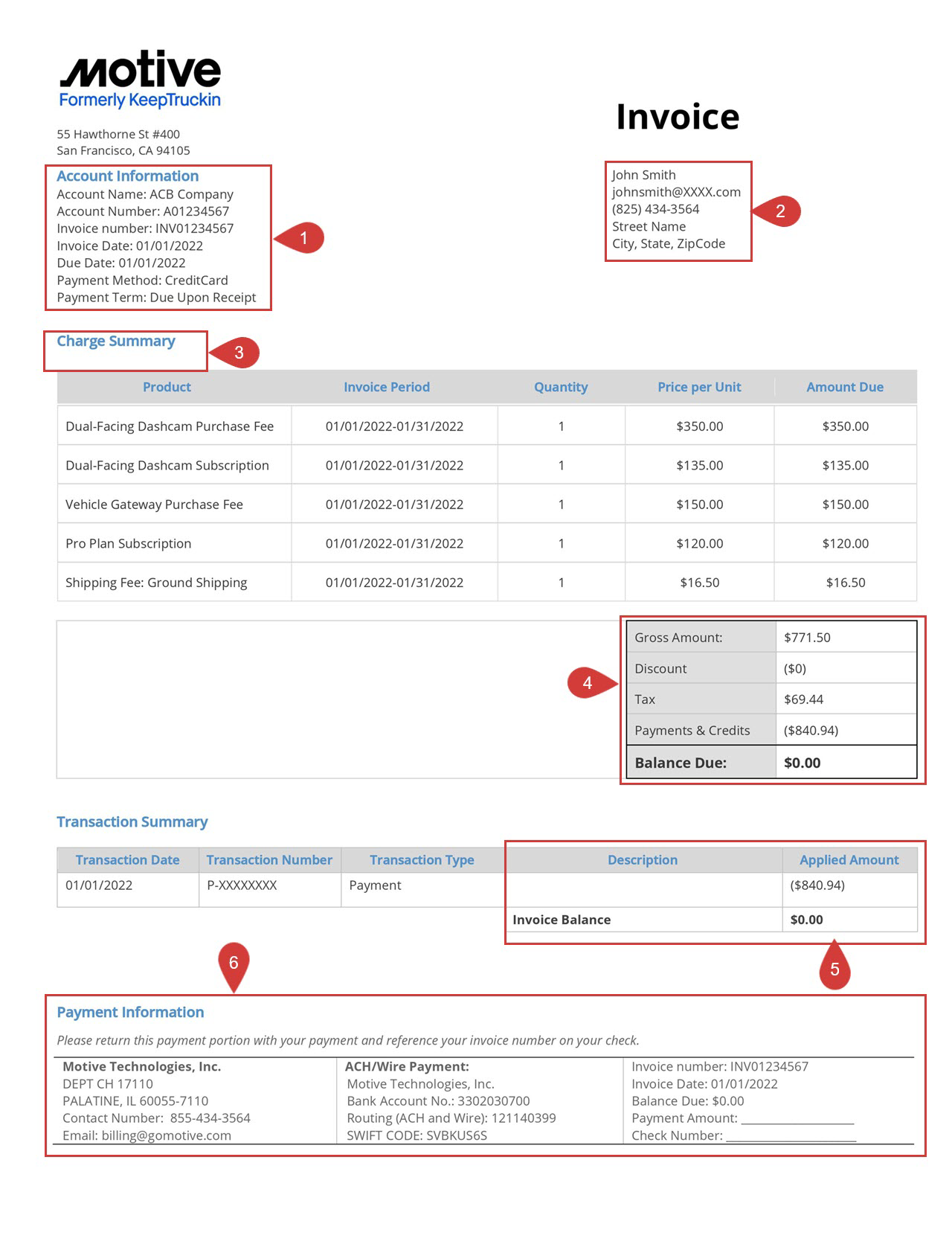 Related Content
Share this with others
This article also appears under: