| | |
| --- | --- |
| Audience | Drivers |
| Applies To | Driver App > Safety |
Introduction
For customers on the Pro or Enterprise subscription plan, Fleet Admins have the option to give Drivers visibility into their safety performance directly within the Motive Driver App through Safety Hub.
Within the Safety Hub, Drivers can:
View their current DRIVE score

Self-coach by reviewing all coachable video safety events they have generated
You also have the option for Motive to automatically send the Driver a push notification via the Driver App once a coachable safety event has been generated. This notification lets the Driver know they have coachable events to review. Learn more here.
Steps: 
1. Log into the Motive Driver App and access the Safety Hub through the hamburger menu and the Driver Hub.
2. To view the Safety Hub:
a. Tap on the hamburger icon in the left-hand corner and select Safety from the menu.
or
b. Scroll down on the Home screen and tap on the Safety section.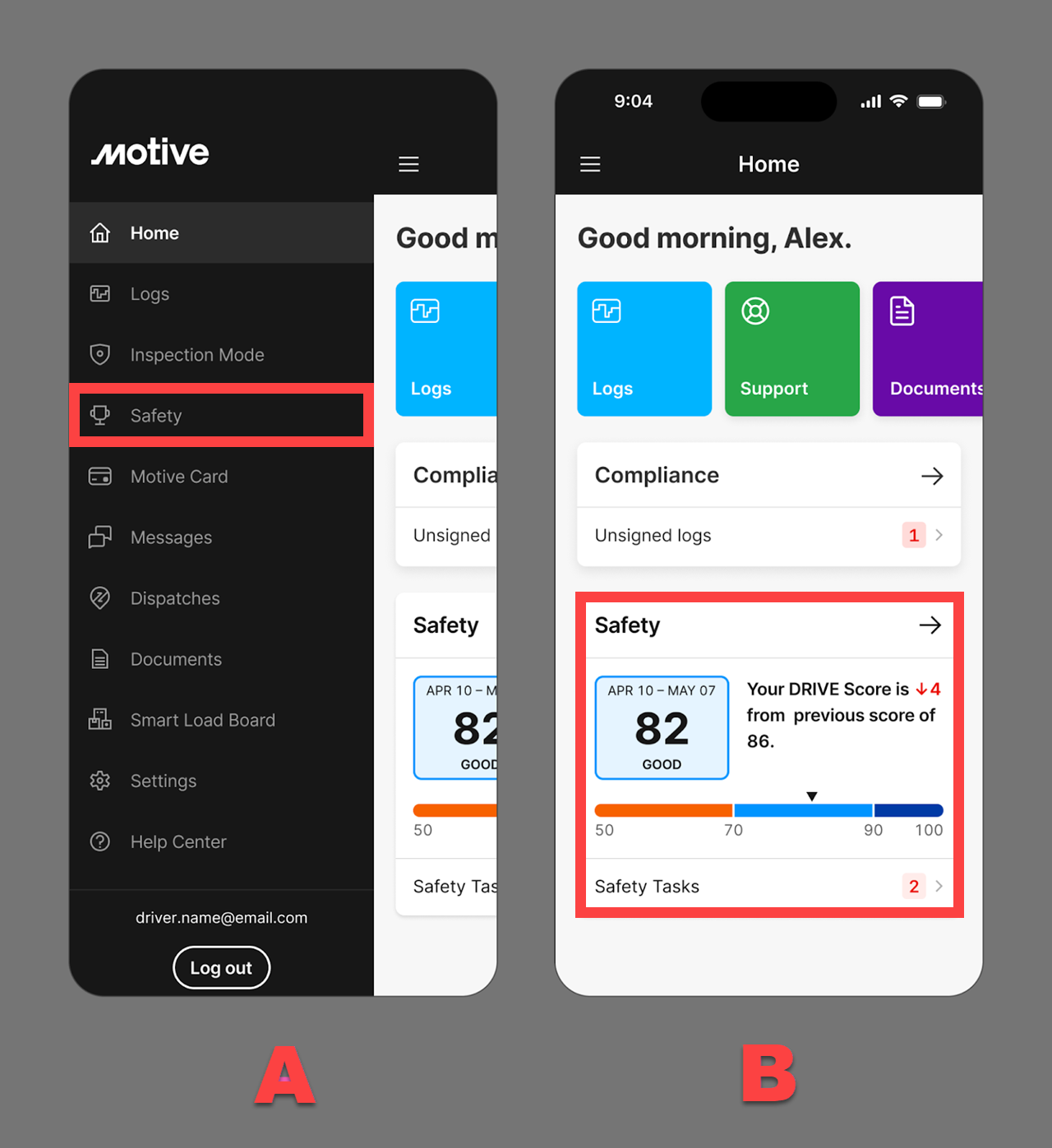 3. Tapping on the Safety section leads to the Safety Hub. The Safety Hub displays the DRIVE score details and safety tasks to be reviewed.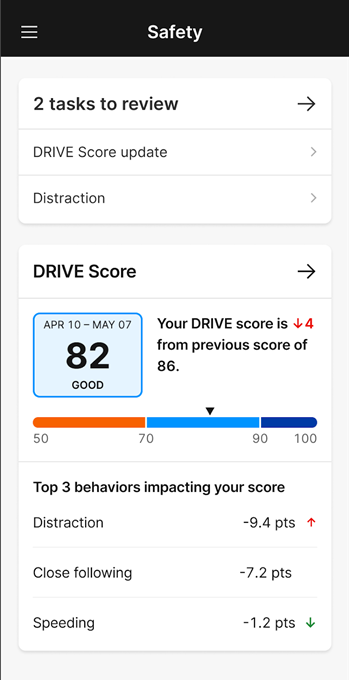 4. The DRIVE Score widget displays the current score of the driver for the indicated time period (rolling 4 week window). It also mentions how many points the score has increased or declined from the previous week.
5. Underneath the score, the top three behaviors impacting the score are mentioned with the subsequent impact value. The arrows indicate change in impact from the previous score period. A red up arrow indicates an increase in impact whereas a green down arrow indicates a decrease in impact.
6. To review a Safety Task, tap the individual task. This takes you directly into the task detail view, which includes all coachable events generated for that behavior that have not yet been reviewed.

7. Tap Mark as reviewed once you are finished.
Related Content
Share this with others
This article also appears under: