| | |
| --- | --- |
| Audience | Fleet Admins |
| Applies To | Fleet Dashboard > Admin > Company  |
Introduction
Smart Event Thresholds assess the safety events captured by the Motive Vehicle Gateway and AI Dashcam and then automatically prioritize the most important events to view in your Safety Hub. They ensure only the most relevant high-risk events are surfaced so you know where to focus your coaching.
These thresholds are dynamic and contextualized to your fleet's operations, factoring in event type, vehicle class, and event location.
Read more about Smart Event Threshold. Keep reading to learn how to set up Custom Safety Event Thresholds for your vehicles.
Steps: Setting up Custom Safety Event Thresholds for vehicles
For all vehicles in the fleet
1. Log in to Motive Fleet Dashboard and click Admin in the left-hand-side menu.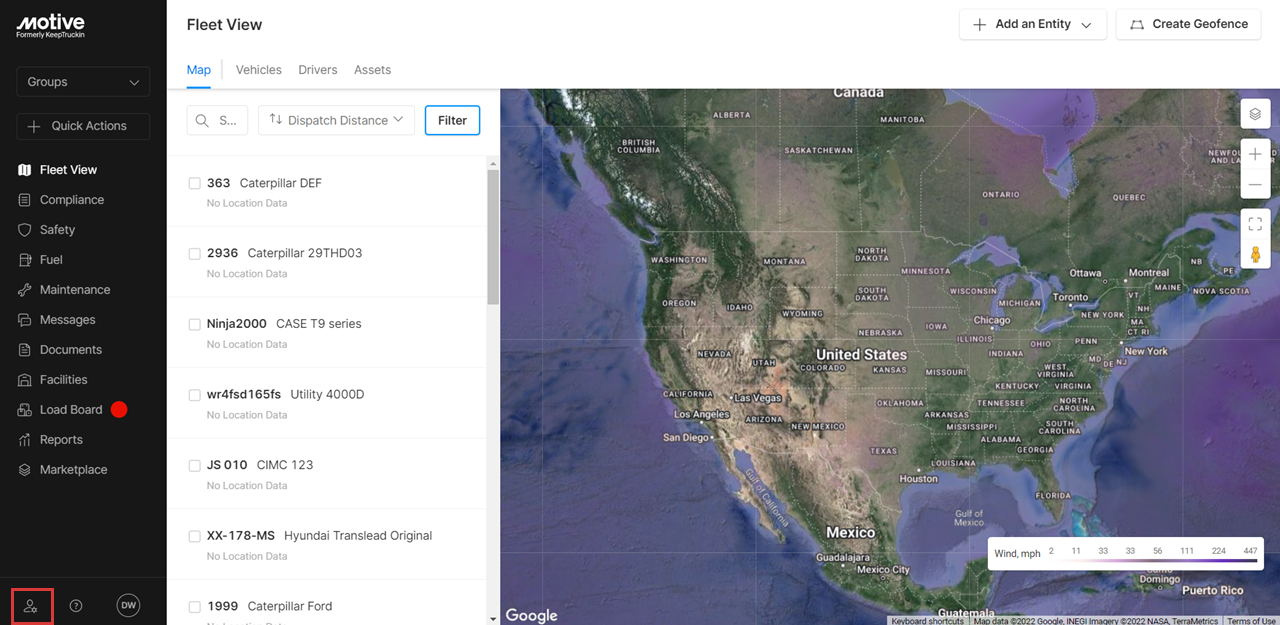 The Drivers page opens and displays a list of Drivers in your fleet.
2. On the left-hand side menu, click on Company to see your company settings.
3. Click on Edit Company Information.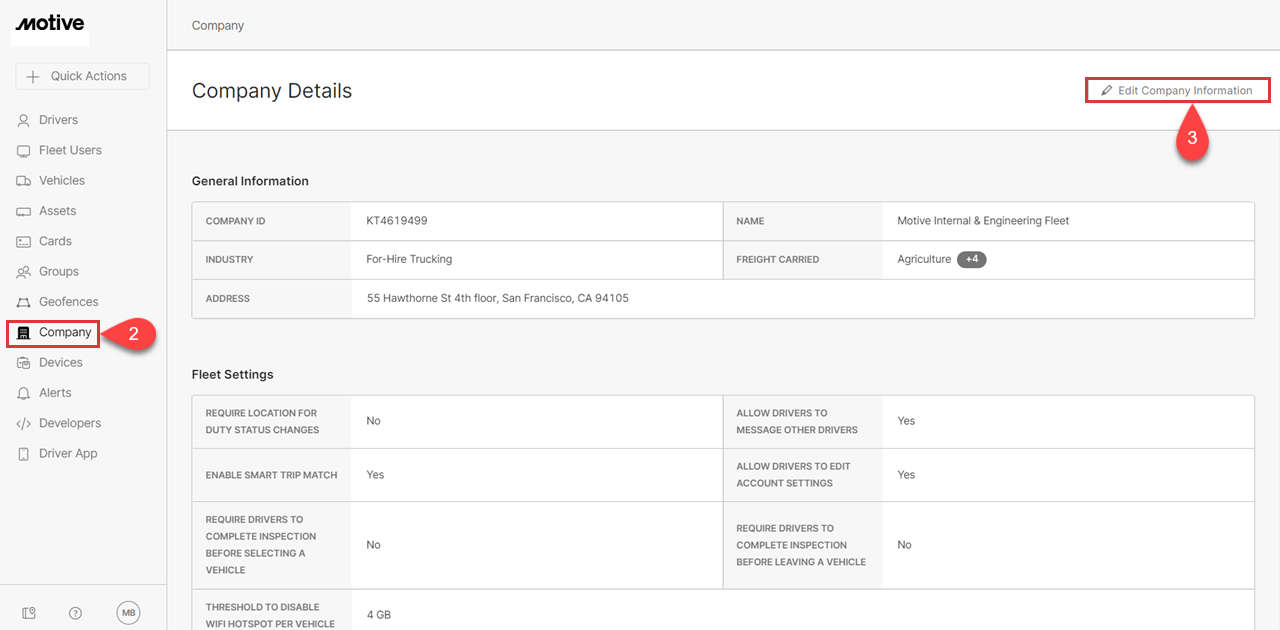 4. Scroll down to Event Feed Settings. Here, the Smart Event Thresholds settings are turned on by default.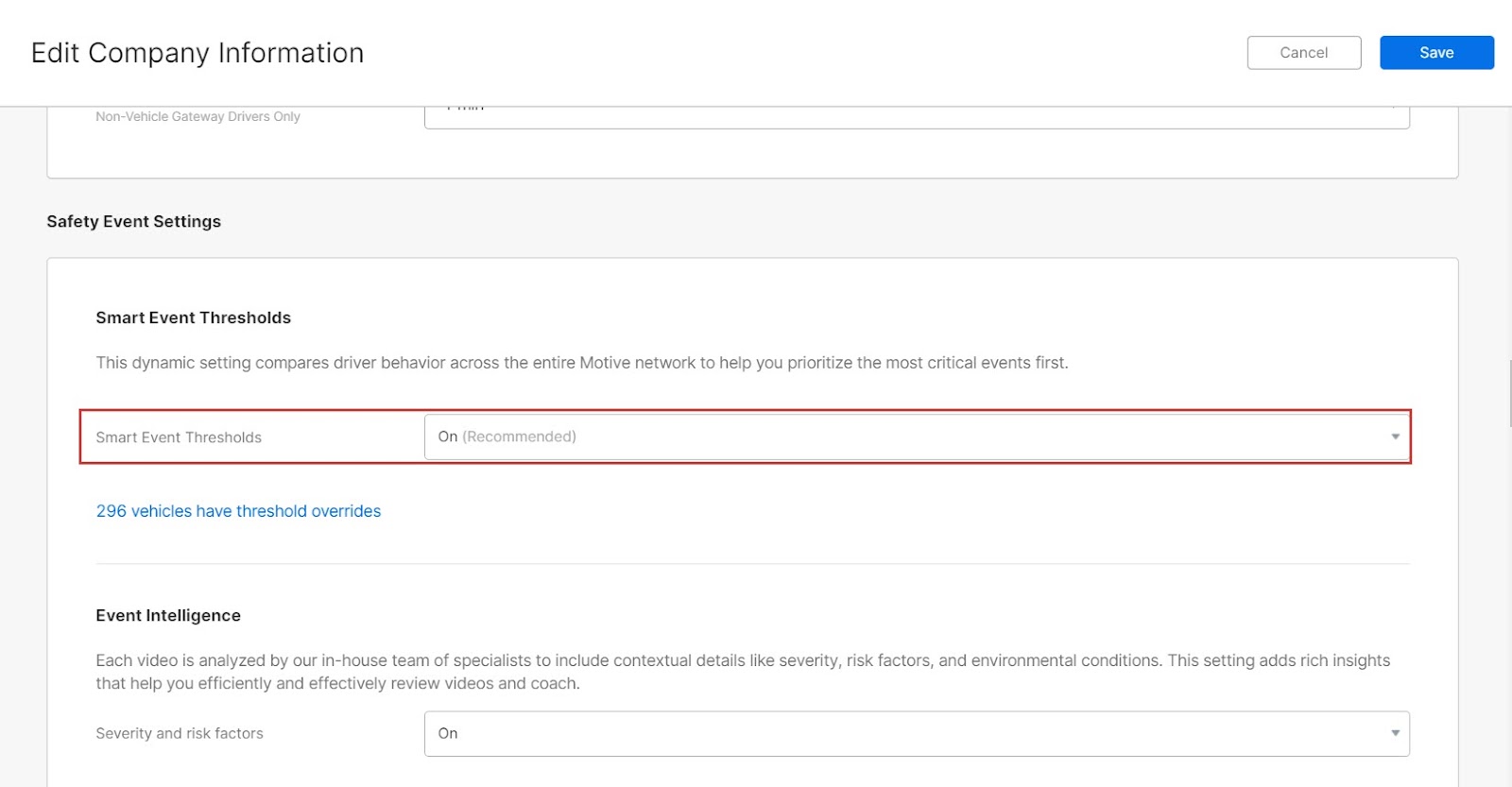 Note: Motive strongly recommends keeping Smart Event Thresholds On so you can take advantage of the dynamic thresholds recommended by our proprietary machine learning models. Custom event thresholds remain static and do not factor in contextual data like event location.
5. If you do not wish to use the recommended option, you can turn Smart Event Thresholds Off. This enables you to set custom threshold values based on the event type and vehicle class.
Motive defaults to the recommended value but you can move the sliders based on your preference. Setting your event threshold at a higher intensity will result in fewer events, and setting it at a lower intensity will result in more events surfacing in your Safety Hub.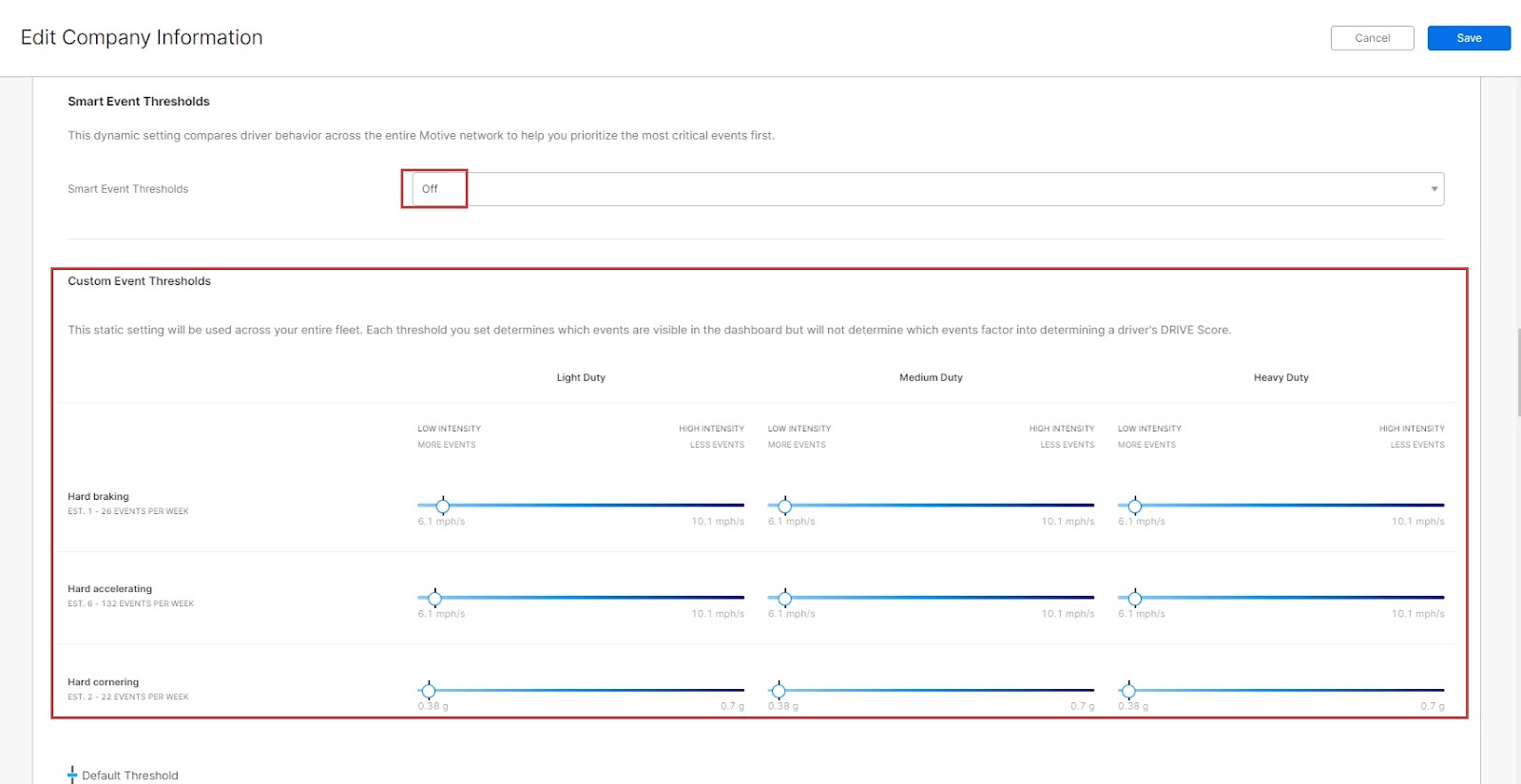 For a specific vehicle in your fleet
Note: You can only set custom thresholds for the vehicles with activated Dashcams.
1. Click on Vehicles in the left-hand side menu.
2. Click on the Options dropdown next to the vehicle you want to modify and select Edit Vehicle.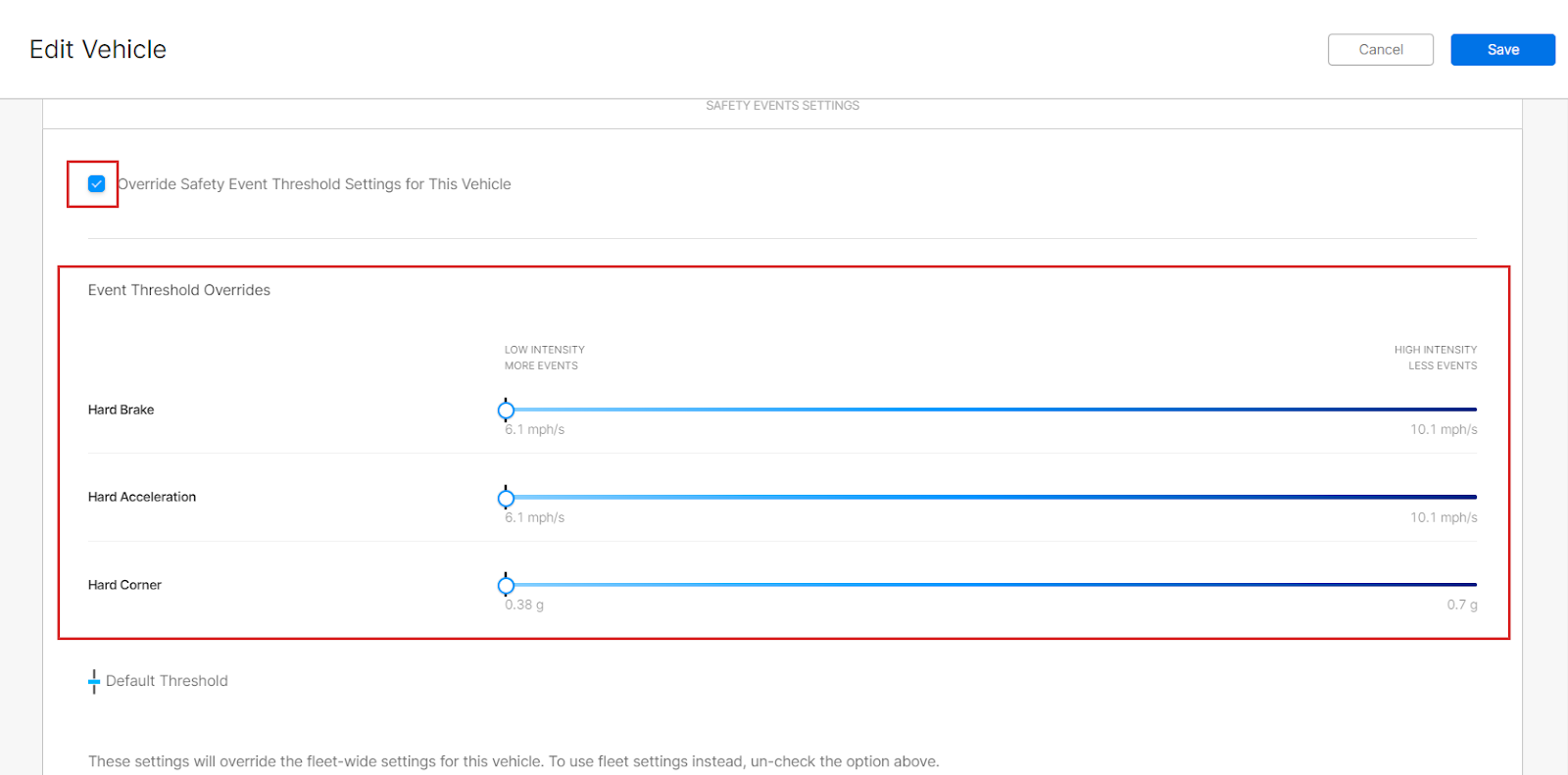 The Edit Vehicle page displays and lets you edit the selected vehicle's profile.
3. Under the Safety Events Settings section, check the Override Safety Event Threshold Settings for this Vehicle checkbox.
4. Set the threshold intensity of your choice.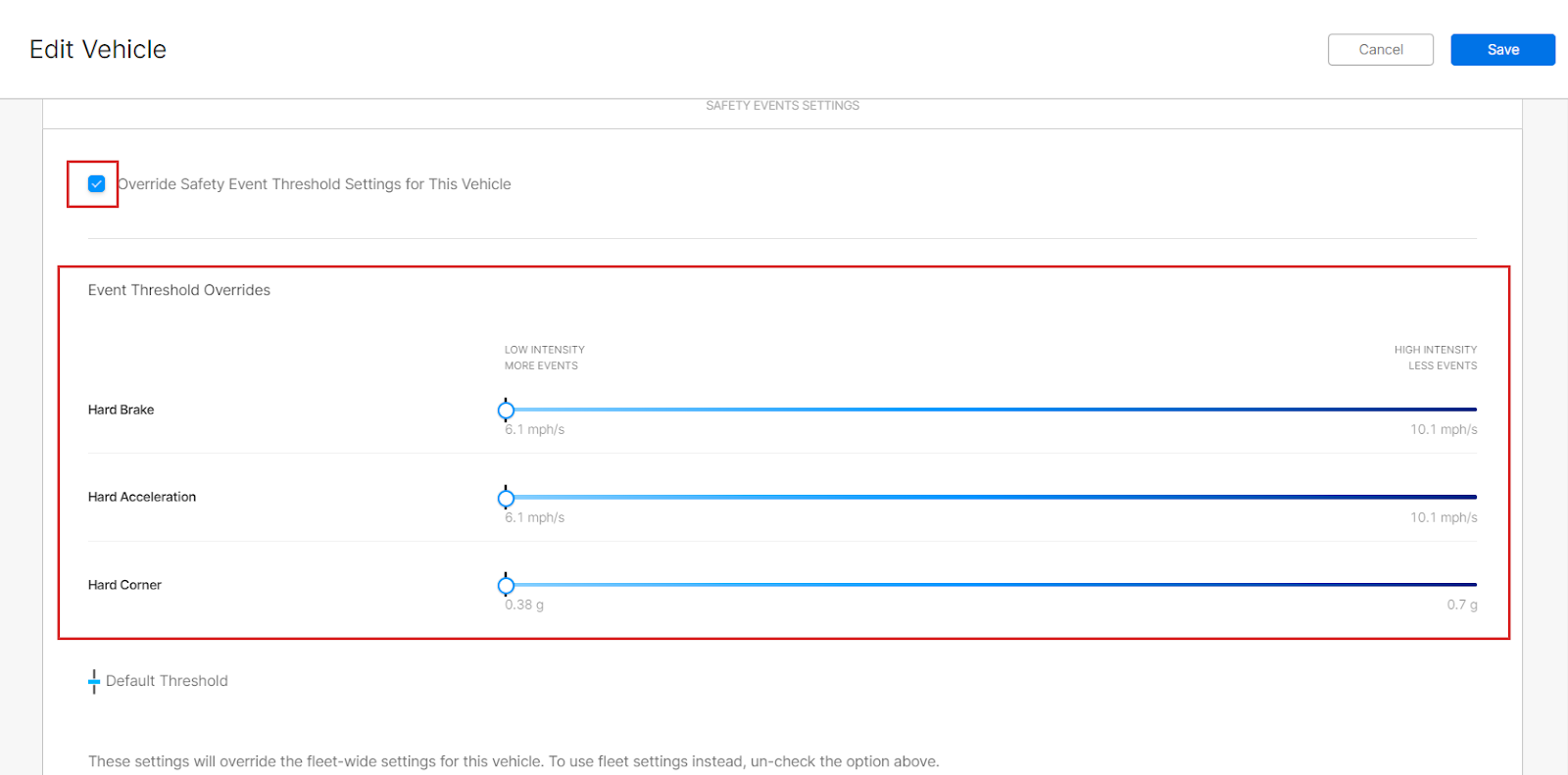 Related Content