| | |
| --- | --- |
| Audience | Fleet Admins, Fleet Managers  |
| Applies To  | Fleet Dashboard > Reports  |
Introduction
Motive allows Fleet Managers to view the Inspection Reports for the Drivers in their fleet. As a Fleet Manager, you can also view the related notes on the Motive Fleet Dashboard.
Steps: Viewing Driver's Inspection Reports 
1. Log into the Motive Fleet Dashboard and click on Maintenance on the left-hand side menu.
The Maintenance page displays and the Inspections tab opens by default. This tab displays all the Inspection Reports for vehicles and assets in your fleet.
2. To customize the view of your report, use the filters on the top of the page. You can view your report for a selected date, vehicles, and assets, types of Inspection Reports, and Drivers in your fleet.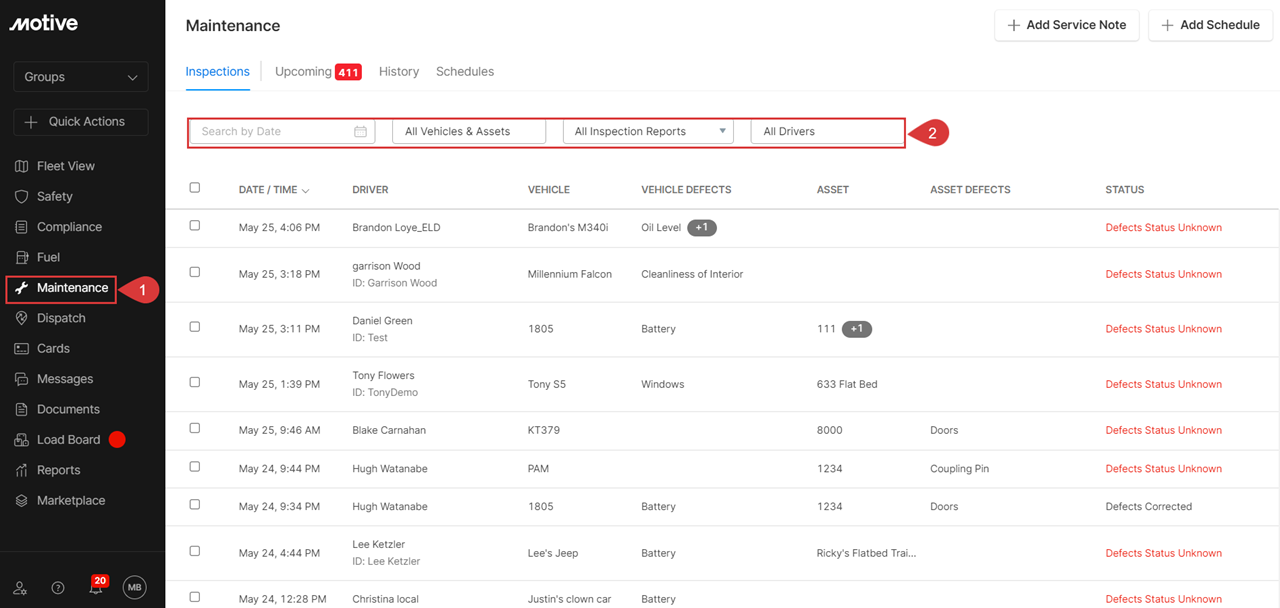 You can view Inspection Reports for All Vehicles & Assets or Assets.

3. In the All Inspection Reports filter,
Use the Inspection With Defects option to filter all the Inspection Reports that include defects.
Use the Inspection Without Defects option to filter all the Inspection Reports without defects.
Use the Defects Corrected option to filter all the Inspection Reports which have defects corrected.
Use the Defects Need Not Be Corrected option to filter all the Inspection Reports which had defects and are marked as need not be corrected.
Use Defect Status Unknown option to filter all Inspection Reports that have open defects and needs mechanic attention.

When you select Inspections With Defects, the page updates for the Inspections with defects.
4. Click on the defects Status of the row of your choice to view a detailed Inspection Report for the date/vehicle/Driver of your choice. Doing so opens the Inspection Report for the selected date/vehicle/Driver.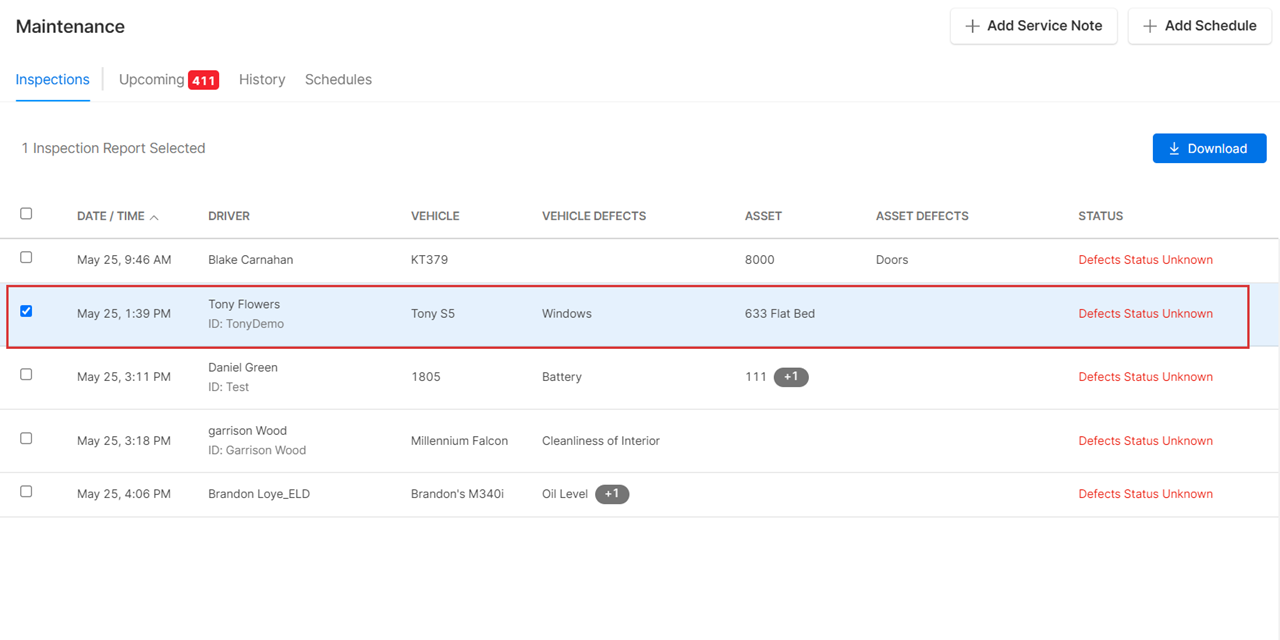 5. On the Inspection Report page, under the Defects section, the added defects are sorted into the Vehicle or Assets defects.
Under the Driver Signature and Repair Status sections, the status of the defects is listed along with the Driver's and mechanic's signatures.
Note: The mechanic signature can not be added when there are no defects.
6. Click on Add Mechanic's Signature.
7. Add the status of the defects and click on Save to save the signature.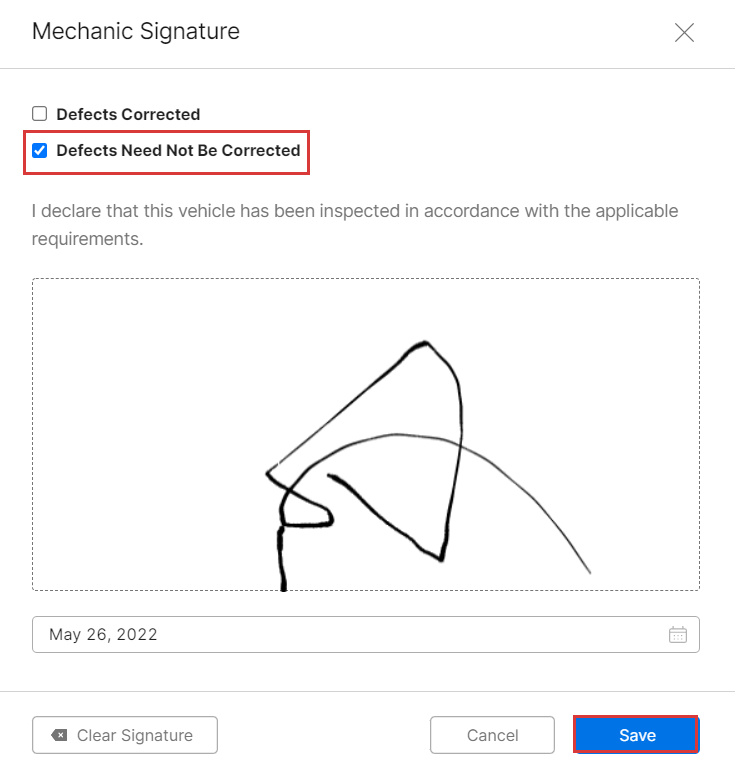 The signature will be saved. You can click on Edit Mechanic Signature to change the defect status.

You can also add notes to the Inspection Report.
8. Click on Note on the top of the page to add a note to the Inspection Report or view all the previous notes that have been added. This is helpful for mechanics who can add their own notes regarding the defects.

9. The Notes dialog box opens. Enter notes and click on Add Note.
10. To download the Inspection Report, press the Download button at the top of the opened Inspection Report.

Your Driver's Inspection Report downloads as a PDF file.
Note: To bulk download the Inspection Reports check the boxes next to the reports you want to download and then click on the download button. All Inspection Reports will be downloaded as PDF files.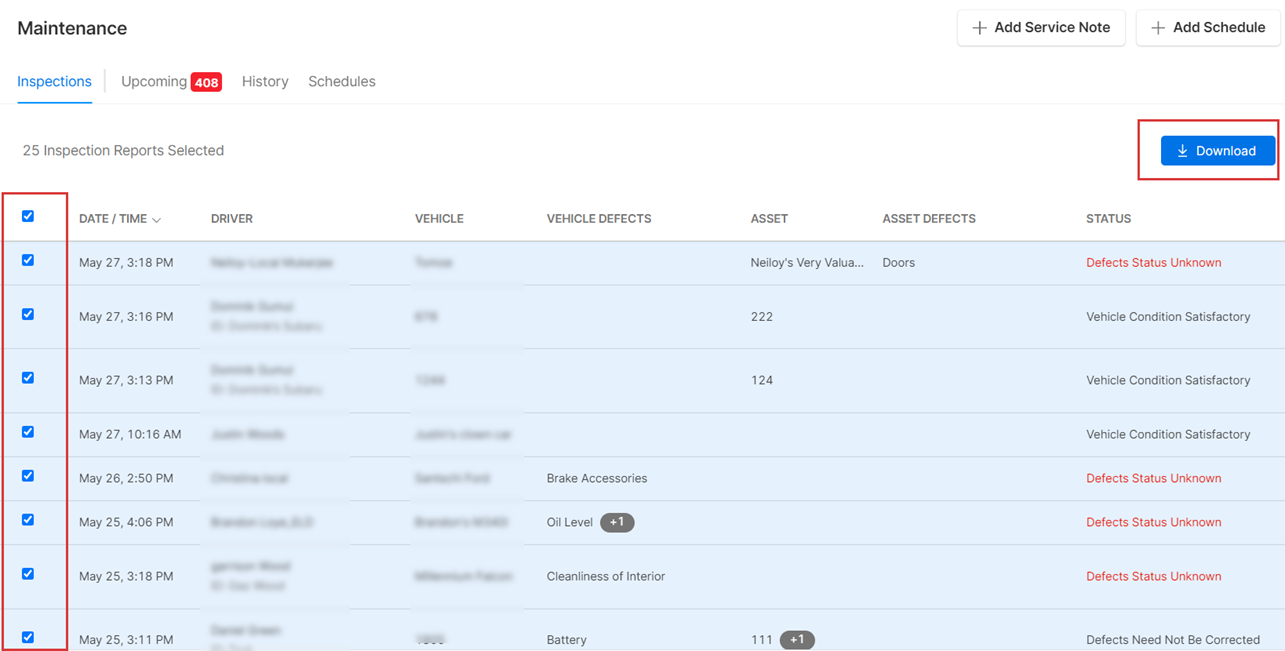 Related Content
Share this with others
This article also appears under: