| | |
| --- | --- |
| Audience | Fleet Admins, Fleet Managers |
| Applies To | Fleet Dashboard > Safety |
Introduction
The Safety tab on the Fleet Dashboard allows Fleet Managers and Fleet Admins to keep track of the overall health of their cameras across the Fleet. This lets them know the status of each of their cameras, and make sure that they are installed correctly and in working order.
Steps: Viewing the Health Status of AI Dashcam
1. Log into Fleet Dashboard and click Safety in the left-hand side menu.
2. Click the Cameras tab.
The Cameras tab opens up and gives an overview of all the cameras and their statuses.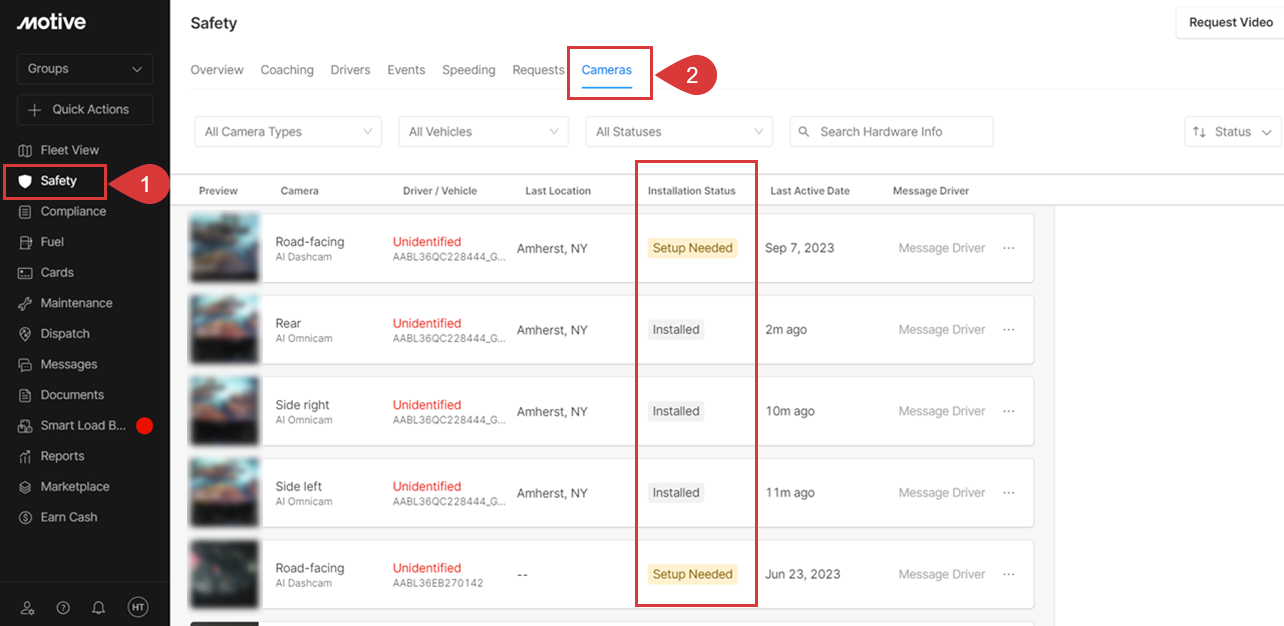 3. You can see the following types of statuses for your cameras:
Disconnected: The camera is not connected to the vehicle.
Recommendation: To fix this issue, the user should connect a camera.
Setup Needed: The camera is connected but requires AI calibration.
Recommendation: To resolve this issue, drive on a 3-lane highway for at least 30 minutes and press the manual event button to re-initialize your device.
Compatibility Issue: The camera is connected to an older Vehicle Gateway model.
Recommendation: This issue occurs when the camera is connected to a Vehicle Gateway LBB 3.55 or older model. To resolve the issue, contact us.
Install Issue: Where your camera may not have been installed in the right position.
Recommendation: Your camera may not be installed properly. Read the support article here for recommendations on the correct installation guide.
Connected: The camera is connected, secure, and AI-calibrated.
Related Content
Share this with others
This article also appears under: