| | |
| --- | --- |
| Audience | Fleet Admins, Fleet Managers |
| Applies To  | Fleet Dashboard > Compliance, Safety |
Introduction
Motive's Driver Identification Settings, powered by advanced AI technology, address the difficulties Fleet Admins and Fleet Managers encounter when identifying drivers who forget to log into their Driver App or verify their identity accurately. This solution simplifies determining the unknown driver, assigning their data to the corresponding trip, and ensuring safety and compliance.
Note: This feature is available for Enterprise & Pro subscription package customers. 
Driver Identification Settings Overview
Motive's Driver Identification Settings enable two distinct AI models - Driver App Data (formerly known as Smart Trip Match) and Face Match (formerly known as Driver Match). These methods, functioning either independently or together, facilitate automatic driver identification.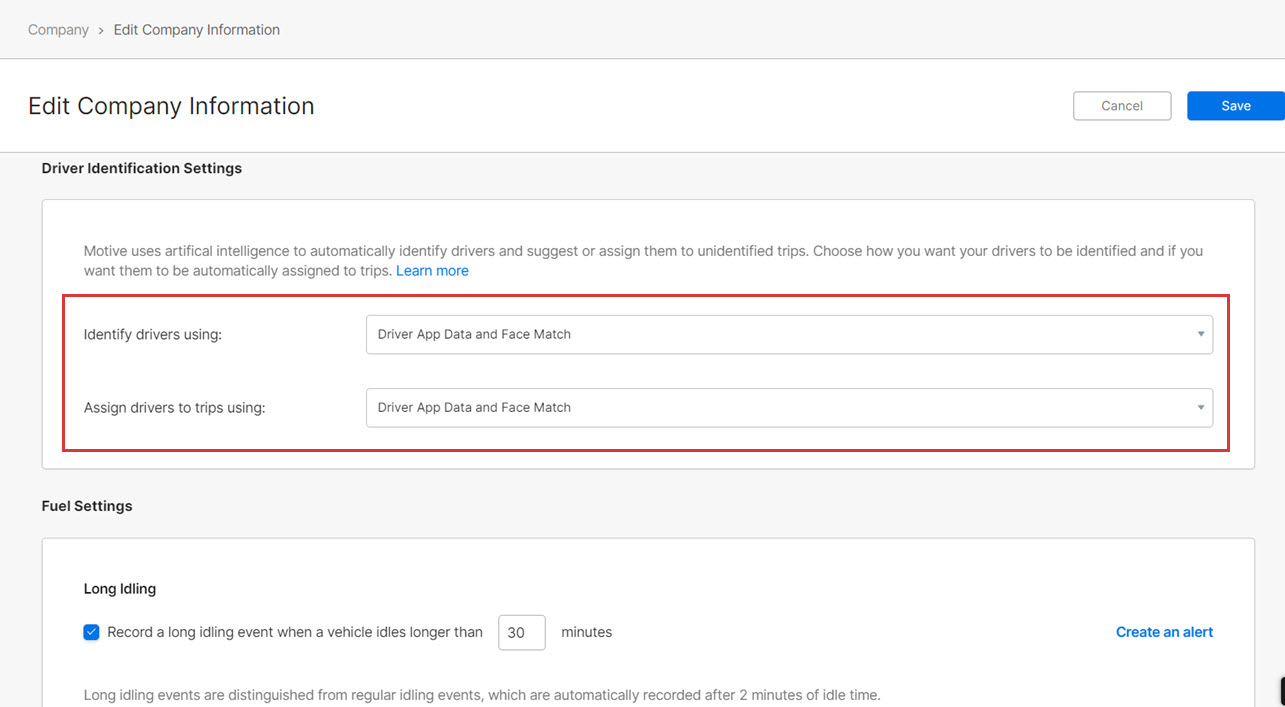 Driver App Data
Using historical data - from previous vehicle and driver mobile locations to inspection reports, previously assigned drivers, and last known drivers - the Driver App Data identifies drivers who might have forgotten to log into the Motive Driver App and, if enabled, assigns their trips automatically.
This method works best for fleets with drivers who regularly use the Motive Driver App.
Face Match
Face Match uses facial recognition to detect faces, create facial profiles, and automatically identify drivers. If enabled, it can also assign trips to the recognized drivers.
This method requires Motive's dual-facing AI dashcam (DC-54) and is suitable for all fleets and driver profile types.
Driver Privacy
Enabling Face Match AI requires confirmation that all necessary consents have been secured from vehicle operators in accordance with the law.
Note: Face Match does not function within the State of Illinois
Automatically Assign Trips using AI Identification.
Each AI identification method allows viewing an AI-suggested driver or automatically assigning the driver to the trip and safety events. Choose the AI identification method that best fits your fleet's profile. If selected, all future trips and safety events are automatically assigned post-trip.
Trips automatically assigned are marked as assigned by Motive. Drivers using Motive's ELD Compliance product for managing electronic logs receive log edit suggestions from Motive for review. They also need to certify their logs. Upon completion, drivers must accept the log edit to finalize the trip assignment.
For drivers not utilizing Motive's ELD Compliance product, trips are automatically assigned, requiring no review or acceptance from the driver to complete the assignment.
Related Content
Share this with others
This article also appears under: