| | |
| --- | --- |
| Audience | Fleet Admins, Fleet Managers, Drivers |
| Applies To | Motive Cards assigned to drivers |
Introduction
Motive Cards assigned to drivers can be unlocked through the Driver App and using text SMS if Mobile-Based Card Unlock is enabled. Let's talk in detail about both methods of unlocking Motive Cards.
Here is how you can enable or disable Mobile-Based Card Unlock feature.
Steps: Unlocking Motive Cards
Card unlock using the Motive Driver App
1. Log into the Driver App (version 63.0 or higher).
2. Tap on the Motive Card tile or tap on the Motive Card option in the left navigation menu.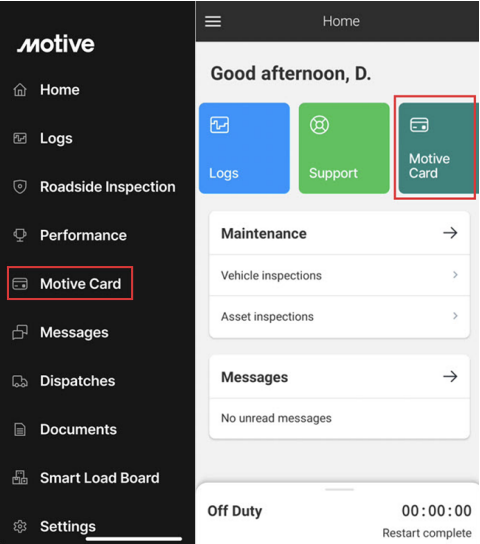 3. Tap on the banner to unlock the card for the next 30 minutes.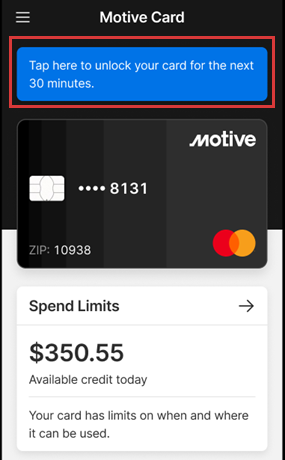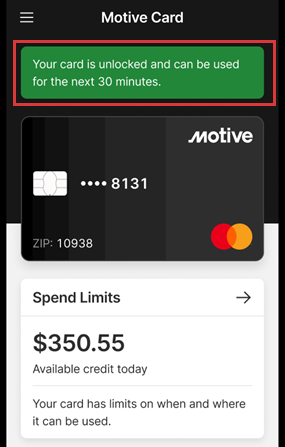 Note: An SMS is also sent to the registered mobile number confirming that the card is unlocked
4. After 30 minutes of unlocking the card, the card is automatically locked again.
Note: The Mobile-based unlock feature is not enabled for cardholders whose contact numbers are unavailable and the version of their Motive Driver App is lower than 63.0, and such cardholders can carry out transactions as earlier. Once the Admin provides the missing contact numbers or the cardholders update their Motive Driver App to version 63.0 or higher, the respective cards are locked automatically.
Card unlock using text SMS
1. Cardholders can send the unlock pin (last four digits of their Motive Card) via SMS to Motive at (408) 645-7882 before they swipe the card for usage.
2. Once the cardholder's mobile number and pin are verified, the card gets unlocked and a confirmation SMS is sent to the cardholder. The card is unlocked for the next 30 minutes and then it is locked again automatically.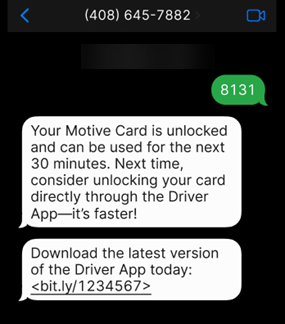 Related Content
Share this with others
This article also appears under: