| | |
| --- | --- |
| Audience | Fleet Admins |
| Applies To | Fleet Dashboard > Admin |
Introduction
Fleet Admins can create and manage email/SMS alerts and notifications for both Fleet Managers and external recipients through Motive Fleet Dashboard.
Note:
Only Fleet Admins can create email alerts for a specific Driver, Group or Vehicle, and for this, they need to have a Fleet Admin account on Motive. They can send SMS alerts to their stakeholders outside of the Motive products.
Steps: Creating and managing alerts/notifications
Create alerts for driver, group, or vehicle
1. Log into Fleet Admin account and click on Admin icon in the left-hand side menu.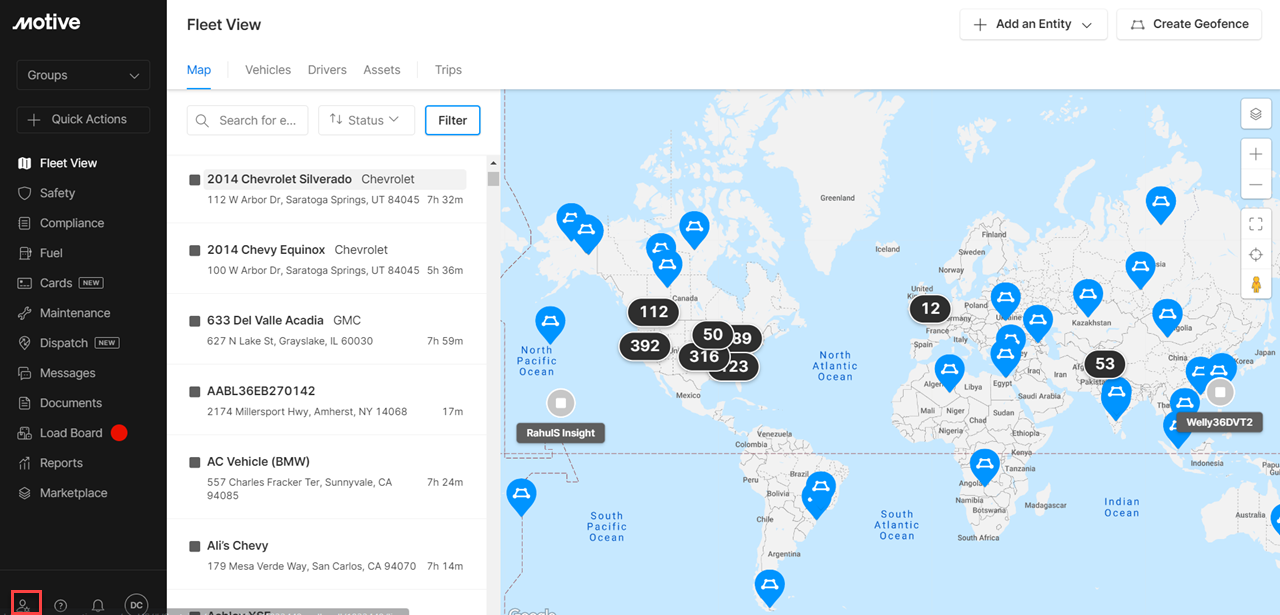 2. Click on the Alerts in the left-hand side menu.
3. Click on + Create Alert button to create a new Alert.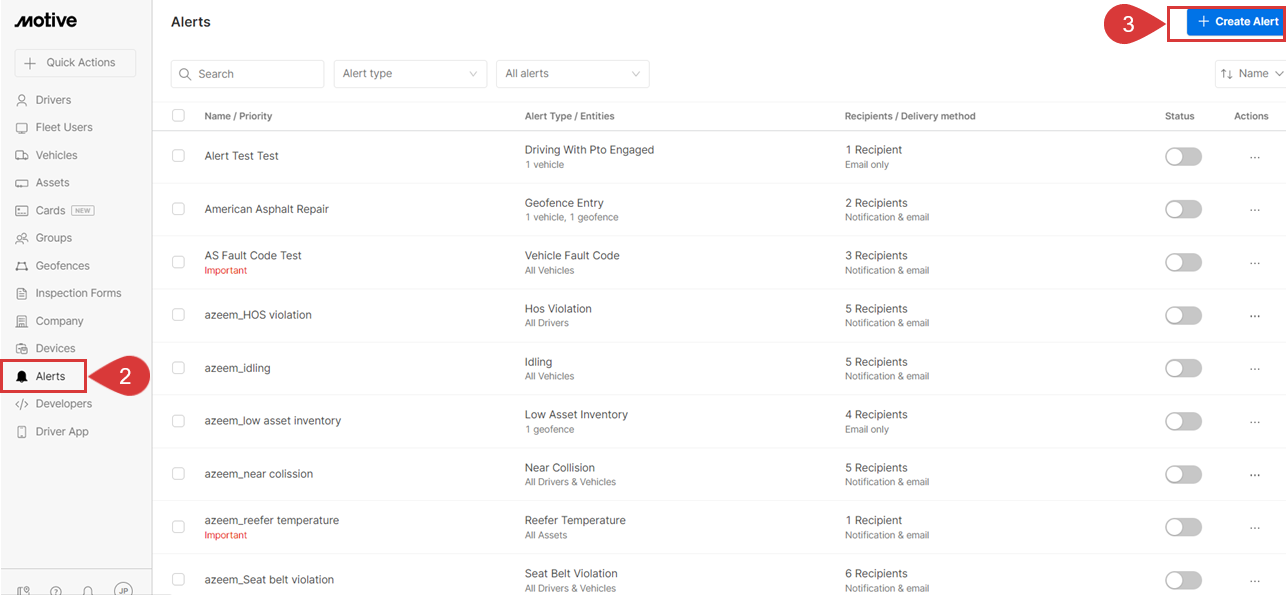 4. On the Create Alert screen, you have to type the Name of the alert and select Alert Type from the dropdown menu.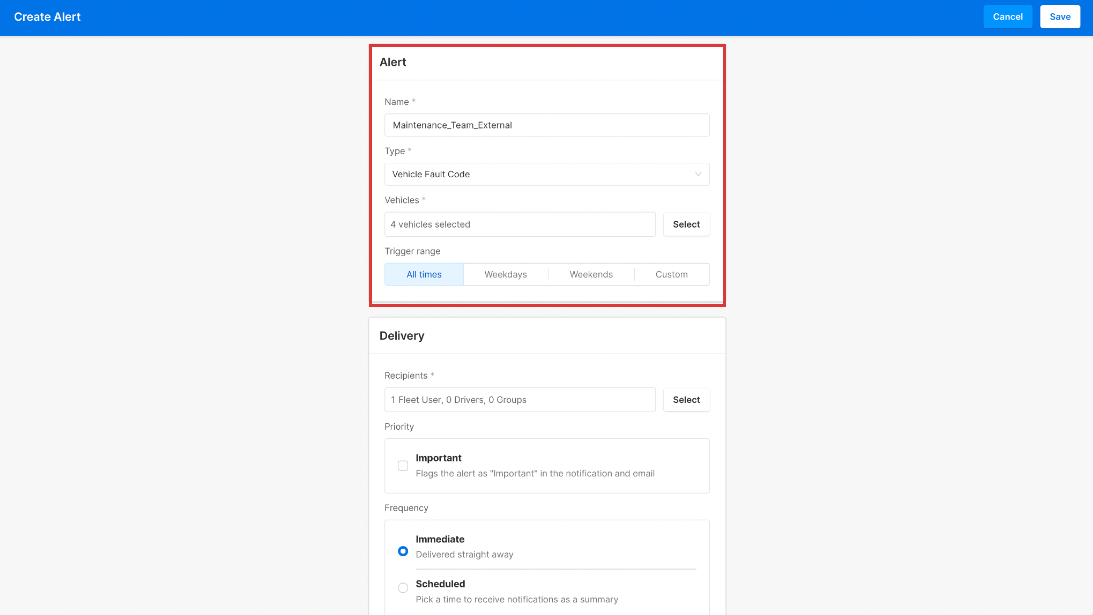 5. Once the alert type is selected, click on Select in the Vehicles bar and choose groups and vehicles that you want this alert to apply to.
Note:
You can apply the similar alerts to all vehicles if you want or set other alert types for other entities.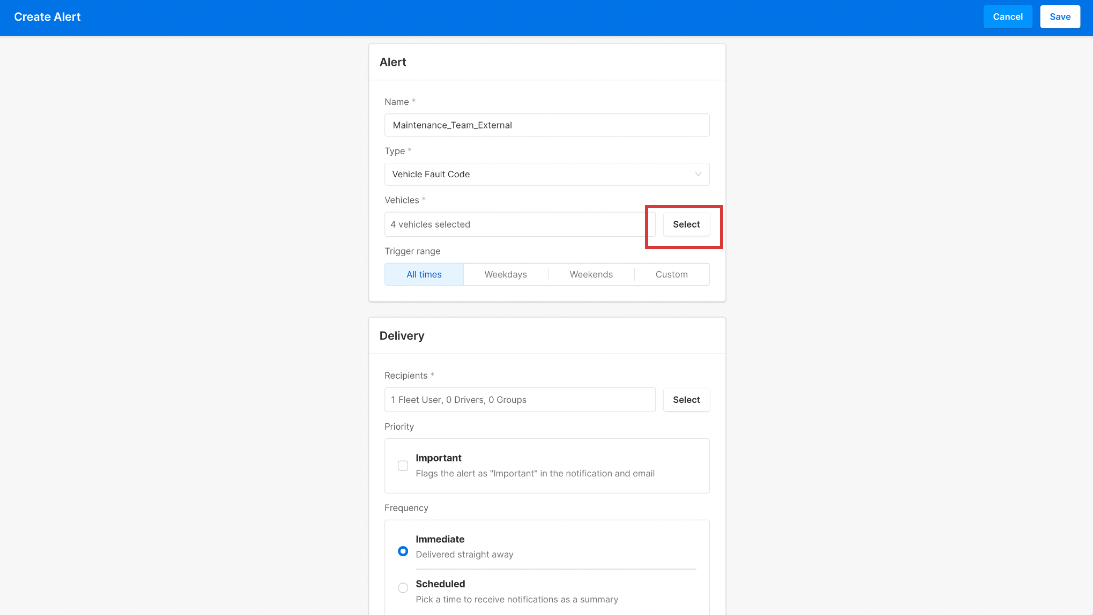 Set Delivery Method and Priority
1. To set Priority of the notification/alert check or uncheck the Important checkbox. When you prioritize the alert as important it will appear in the notification center whenever the alert is activated.
2. You can also set the Delivery frequency as Immediate or Scheduled.
3. The delivery method can be set between Email & notification, Notification only and Email only.
4. You can set the priority of the alerts on how you want them to appear in the notification center.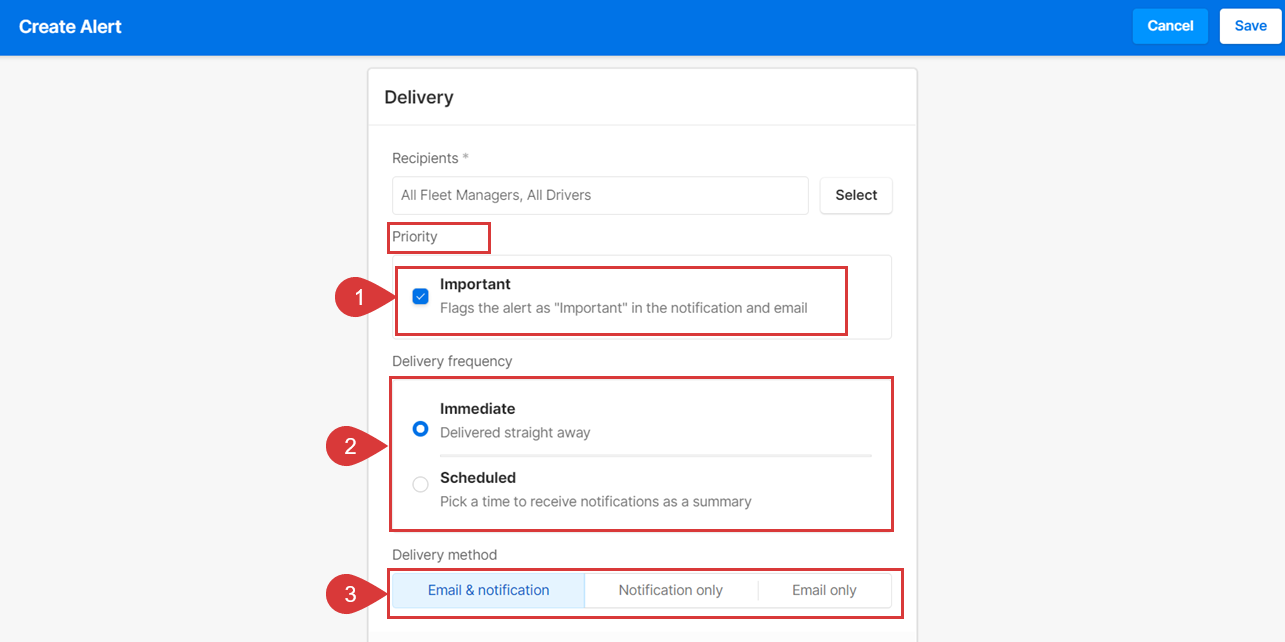 Specify recipients for Alerts
Admins can also specify recipients to receive the alerts through the Delivery section on the same screen.
1. Click on Select in the Recipients section and add Fleet Users, Drivers, or Groups.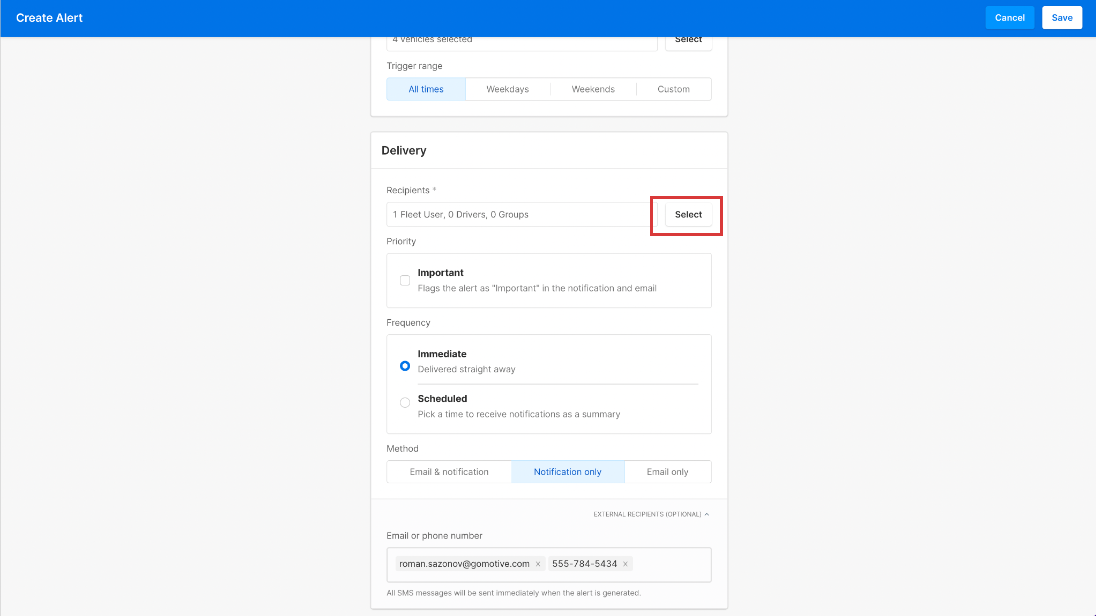 Note: You can add All Fleet Users, Drivers, or Groups to the alerts or any specific ones by checking in the box from the list below.
2. Click on Update once all the selections are complete.
3. If you want to add external recipients, click on EXTERNAL RECIPIENTS (OPTIONAL) dropdown.
4. Enter the email address or phone number for the recipient. Currently, SMS can only be sent to US or Canadian phone numbers.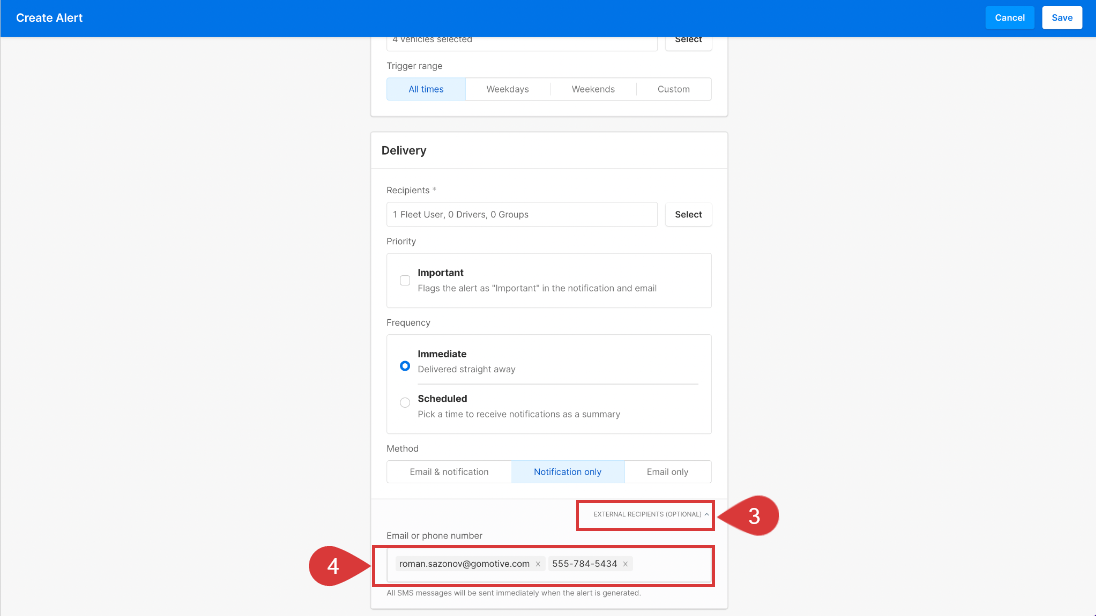 Note:
SMS Alerts are sent near real-time at the time of the triggering event. You cannot schedule or batch SMS Alerts.
5. You can add as many numbers as you want.
6. Once all the information is added, click Save.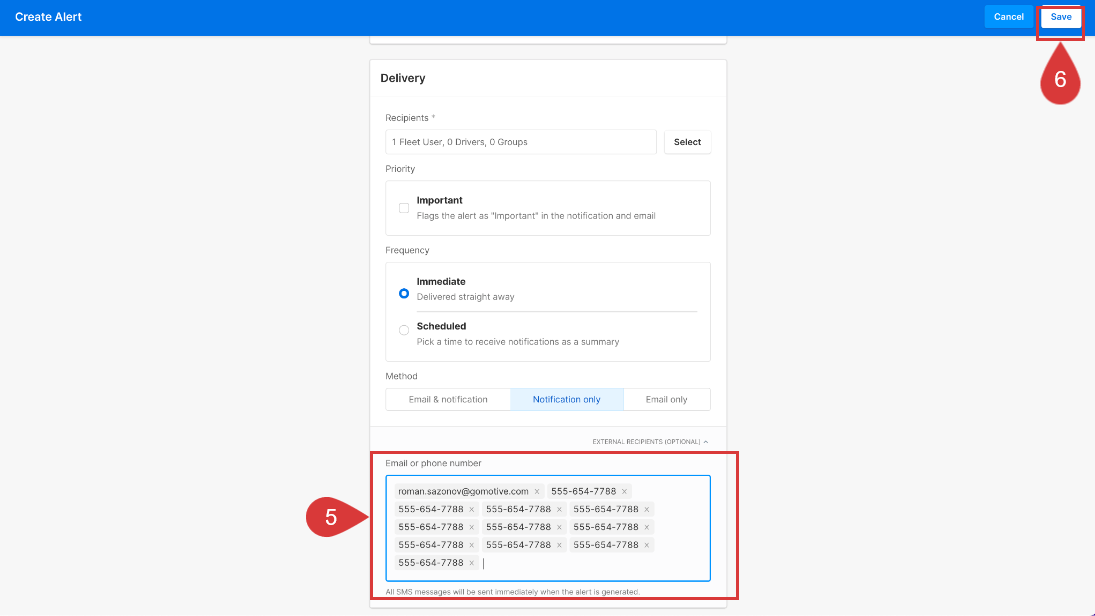 In compliance with SMS regulations, Motive supports the ability for SMS recipients to opt-out of future messages sent from our platform. Upon sending a message to a new recipient, Motive sends an additional, standard opt-out message:
Reply STOP to unsubscribe. Msg & Data Rates May Apply.
Recipients who reply STOP no longer receive SMS messages from our platform and receive a confirmation message:
You are unsubscribed from Motive alerts. No more messages will be sent. Reply HELP for help or email support@gomotive.com
Share this with others
This article also appears under: