| | |
| --- | --- |
| Audience | Fleet Admins |
| Applies To | Fleet Dashboard > Admin |
Introduction
Custom roles and permissions allow the fleet admins to manage, access, and improve the security of their fleet's data.
These features allow the admins to easily assign users one of our pre-built roles or create a custom role for them.
They can also limit roles to specific groups in order to ensure work is delegated to the right people.
Steps: Managing user Roles and Groups
Assign roles and groups to a user
1. Log into the Motive Fleet Dashboard, click on the Admin icon in the left-hand side menu.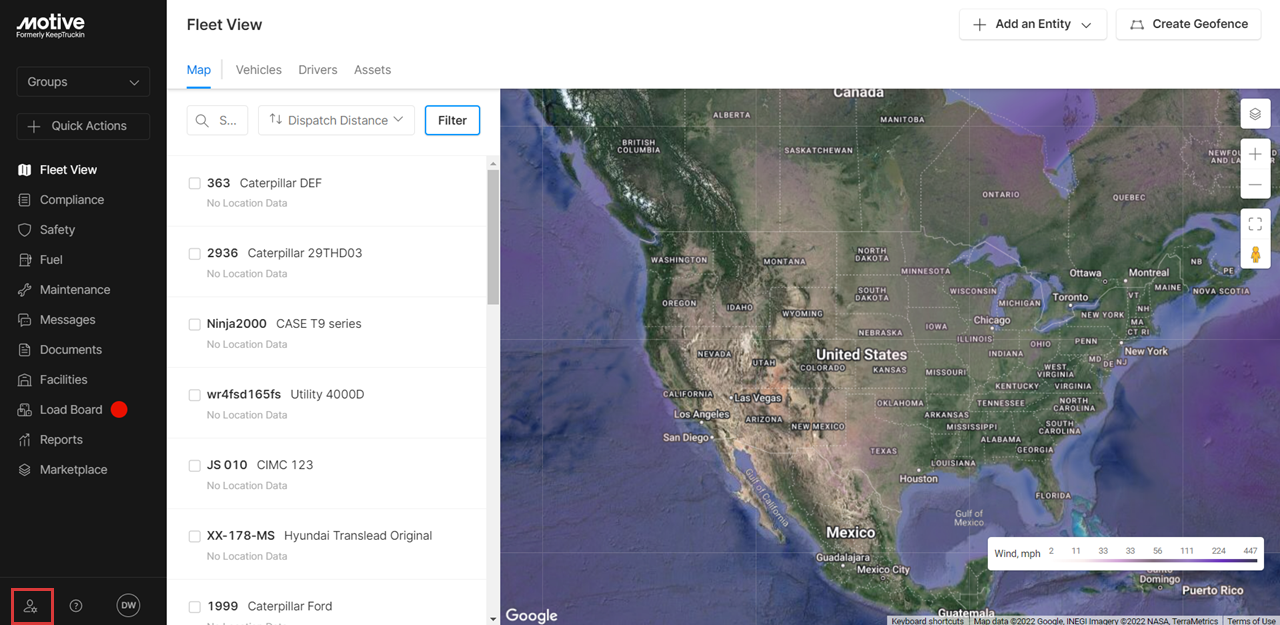 This displays the Drivers page.
2. Click on Fleet Users in the left-hand side menu.
3. Under the Roles/Groups column, the existing roles for all the users in your fleet display.
4. To change or edit a user's roles, click on Options. Now, click on Edit Roles & Groups in the dropdown menu.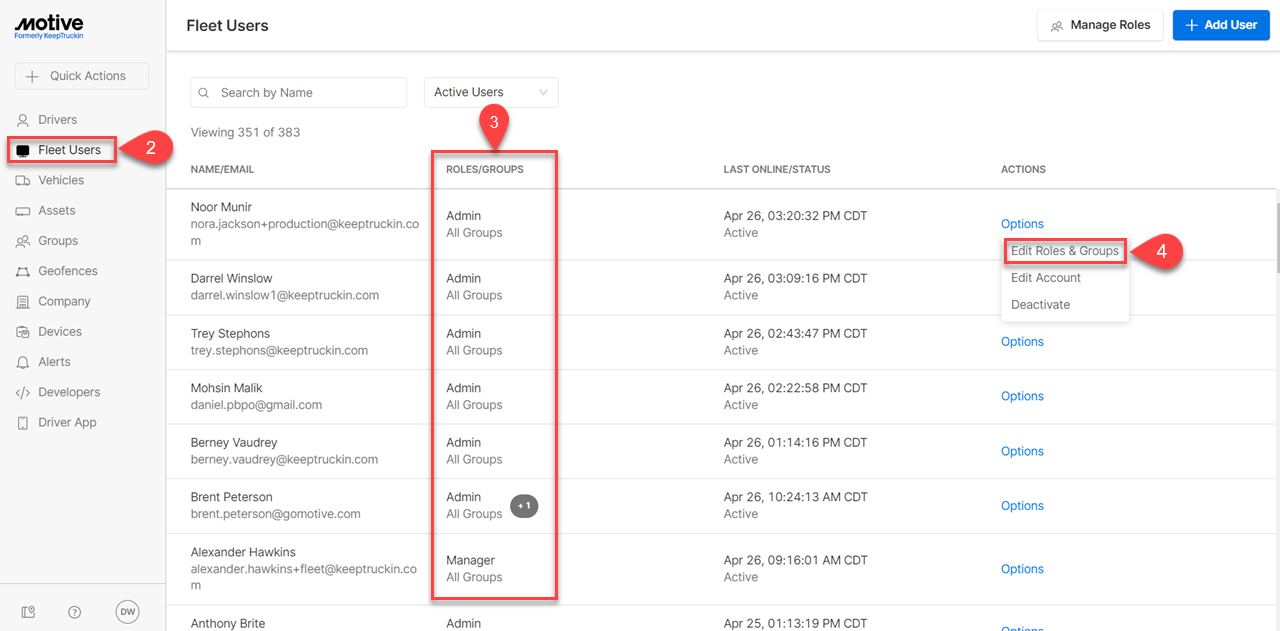 5. This opens a dialog box where you can set a Role for the user in the primary field and a Group in the secondary field.
6. By clicking on the + (plus) icon, a new dialog box appears, allowing you to assign multiple roles and groups to the same user.
7. You can add multiple roles and groups by clicking on the + (plus) icon. Once done, click on Update to save the changes.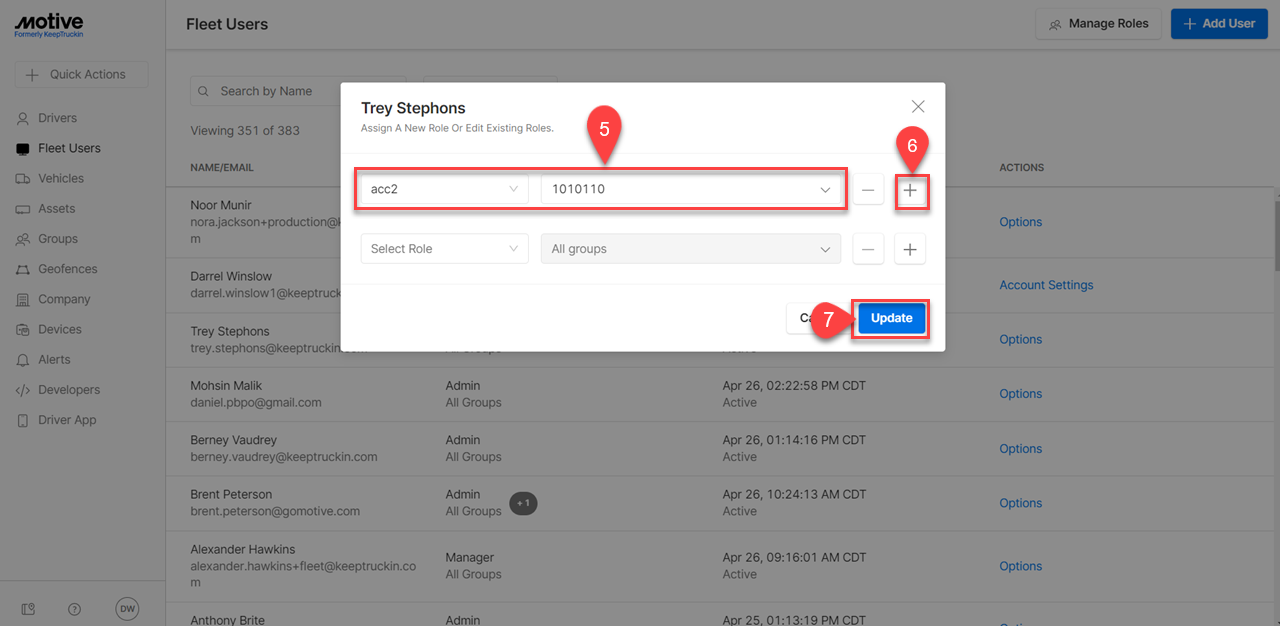 Note: You can also click on the - (minus) icon to remove a role that you just added for the user.

Manage user roles
Through managing user roles you can view, duplicate, or deactivate user roles created for your fleet.
1. Click on the Manage Roles button on the Fleet Users page to view default roles.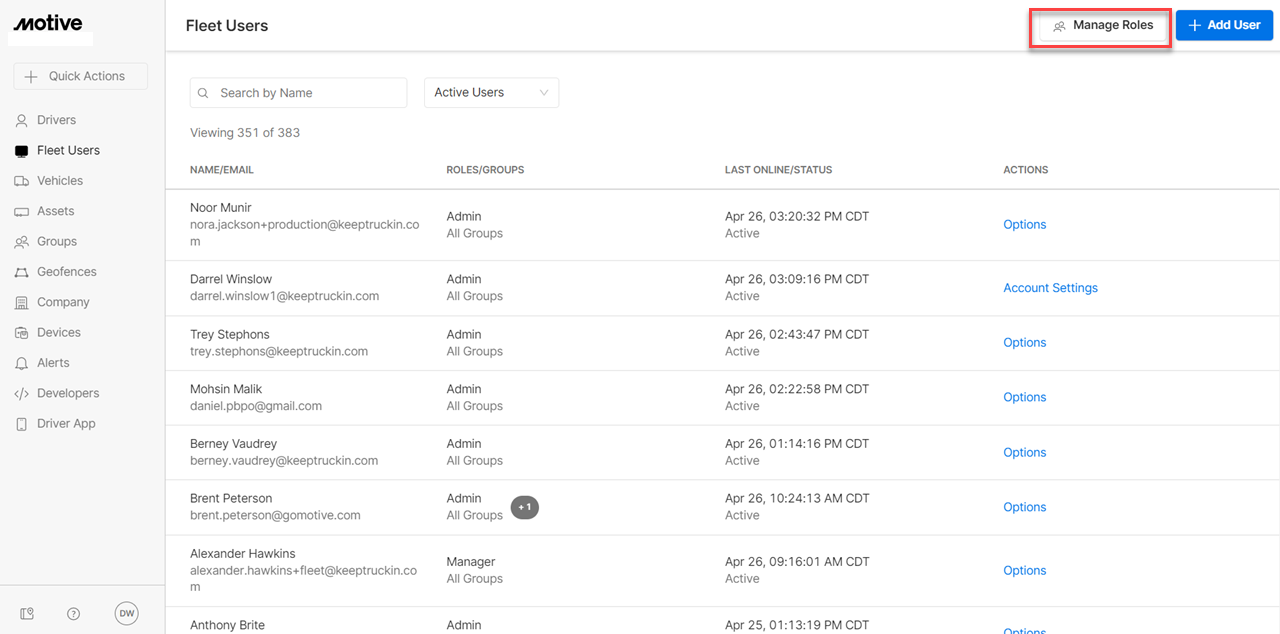 2. On the Manage Roles page, the default and custom roles display. In the Roles/Status column, you can see a filtered list of users who are already assigned to that role.
3. To duplicate a role, click on Options for the role you want to duplicate. Select Duplicate from the dropdown menu.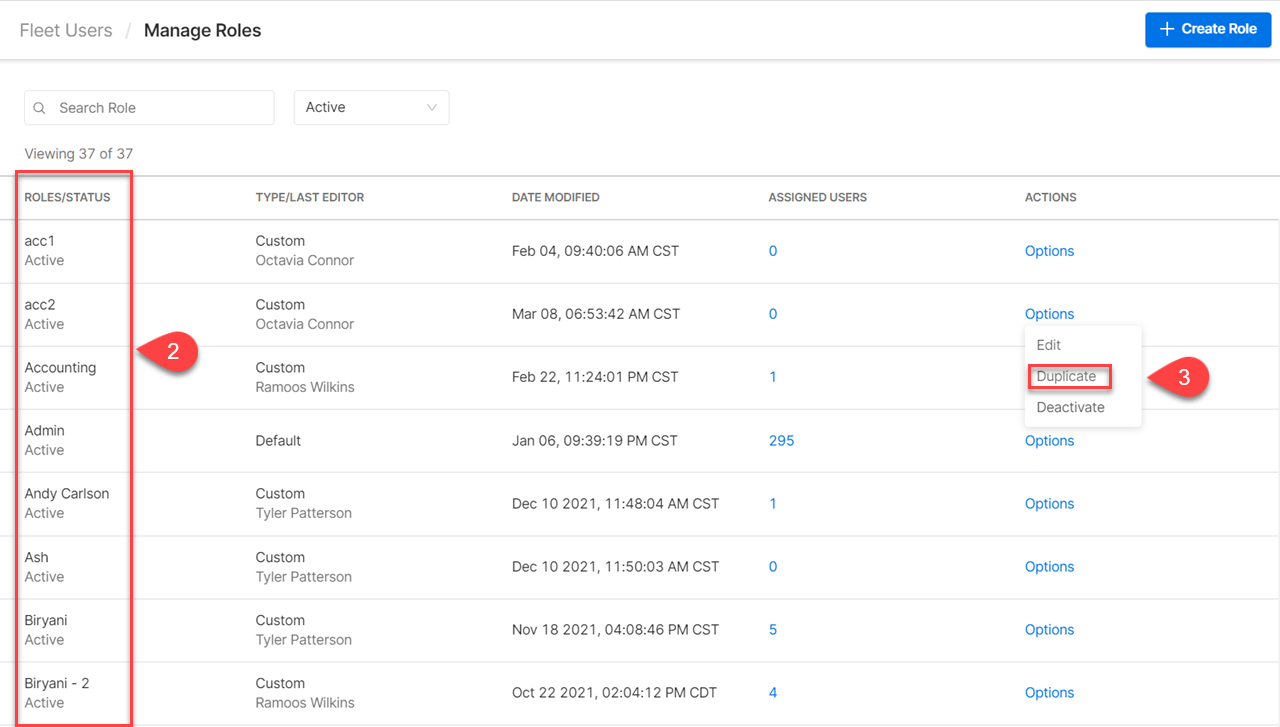 4. A duplicate role is created of the selected role with the same set of permissions. You can set a new name for the duplicate role and adjust the level of access they have to your fleet data by checking or unchecking the boxes.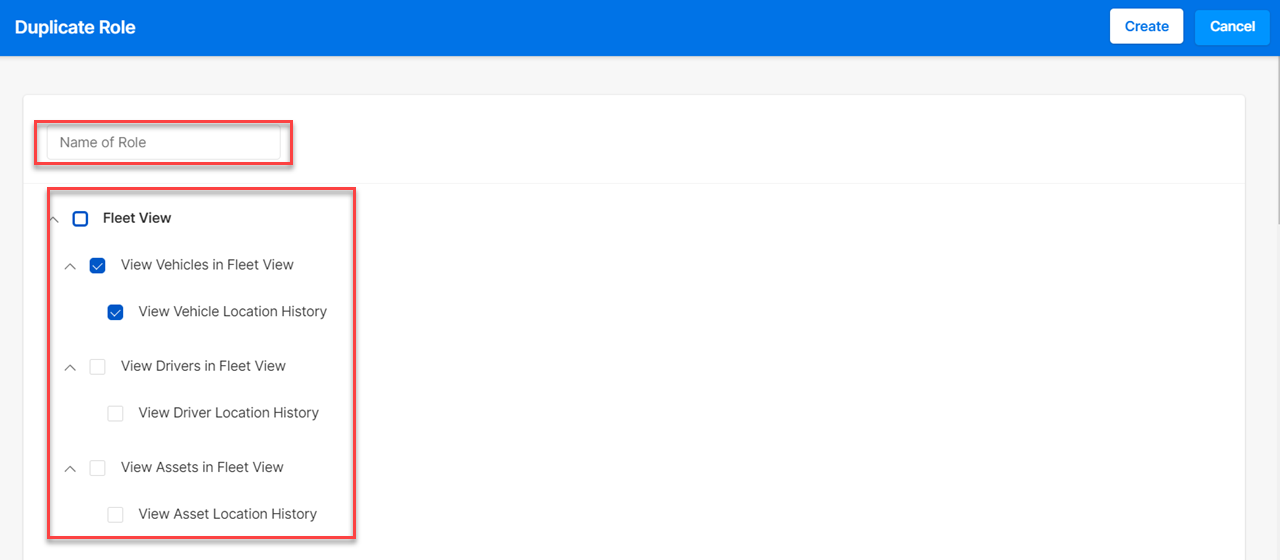 Note: A duplicate role with the same name cannot be created. A new name always needs to be assigned to the duplicate role.
5. You can also deactivate a custom role at any point. Click on the Options dropdown for the role you want to deactivate and select Deactivate.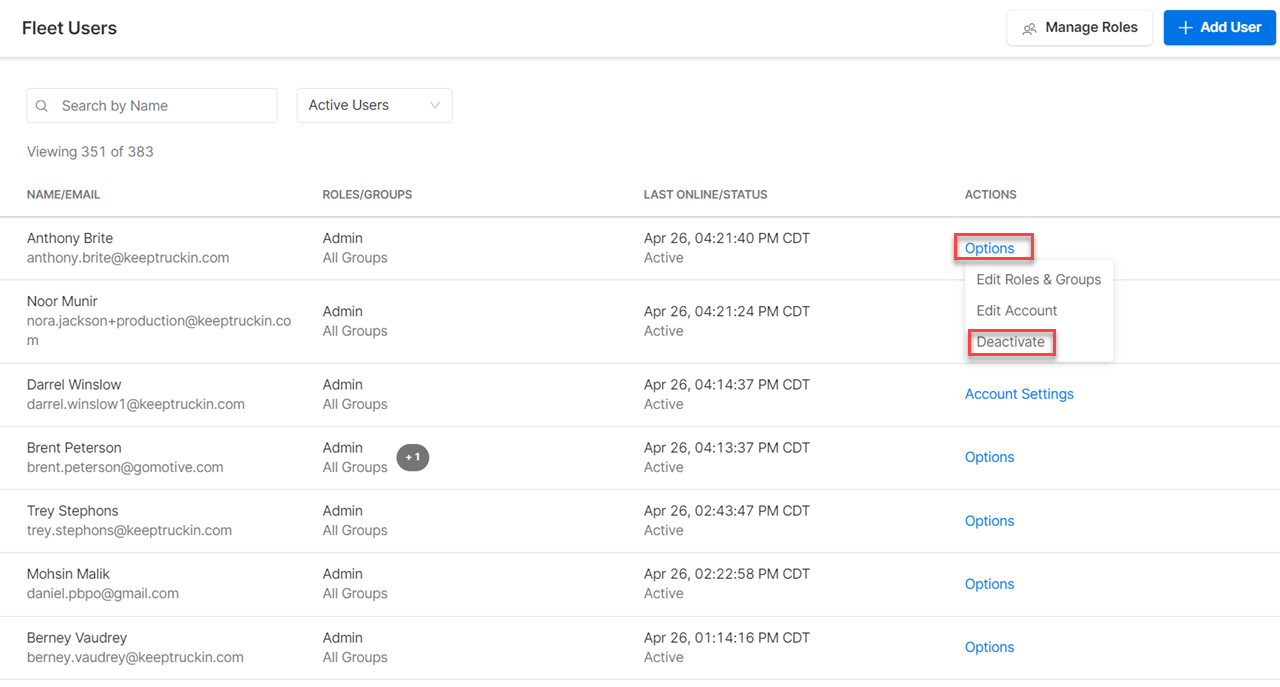 Related Content
Share this with others
This article also appears under: