| | |
| --- | --- |
| Audience | Fleet Managers, Drivers |
| Applies To | Fleet Dashboard > Fleet View > Trips, Driver App |
Introduction
Motive's Smart Trip Match uses advanced AI technology to match Drivers to unidentified trips and automatically assigns them to the Driver within hours. Drivers managing electronic logs receive these notifications as 'Log edit suggestions' and are required to review and accept these assignments via the Motive Driver App.
However, Drivers that are exempt from electronic logs are assigned automatically and do not require review. These trips can be viewed on Fleet Dashboard and Driver App.
Note: This feature is available for customers on the Enterprise & Pro subscription packages. This feature is ON by default.
Steps: Viewing Smart Trip Match
How to view Smart Trip Match in the Dashboard
1. Log into Fleet Dashboard and select the Trips tab from Fleet View.
2. Filter the Trips Report by selecting Trips Pending Approval. Approval is required for Smart Trip Matches for Drivers that maintain Electronic Logs.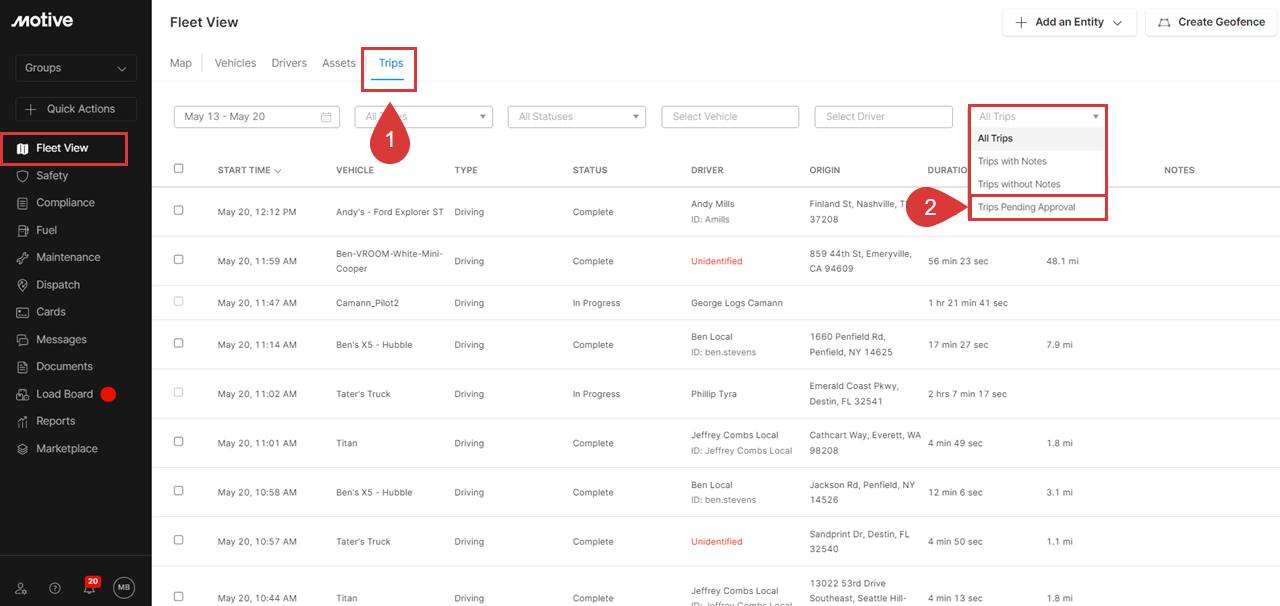 3. All Smart Trip Match trips will display an AI label with the suggested Driver's name in the Driver column.
4. Hover over the yellow clock icon in the Notes column to view the Smart Trip Match annotation, Assigned by Smart Match.

5. Smart Trip Match trips will be sent to Drivers as an edit suggestion from user MT Support and require the Driver's approval before the assignment can be completed. For Drivers that are exempted from electronic logs, approval won't be required.
Example for Drivers required to maintain electronic logs:
Example for exempted Drivers: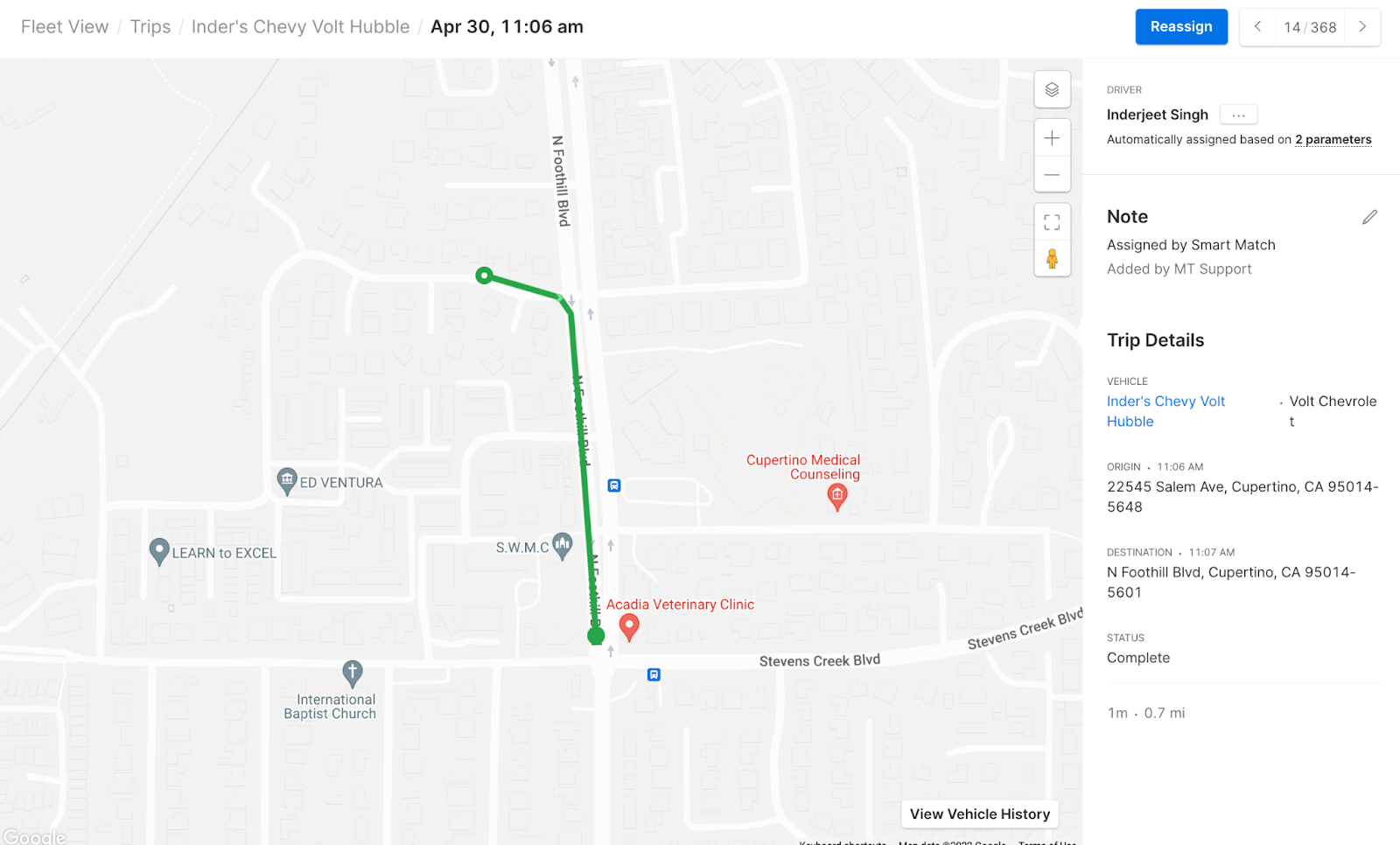 6. To view trips that have already been assigned by Smart Trip Match and accepted by Drivers, filter the Trips Report by Trips with Notes. The Notes column will show trips Assigned by Smart Match.
How to view Smart Trip Match on the Driver App
Drivers can review the log suggestion created using Smart Trip Match.
1. Drivers will receive alerts of pending Log edit suggestions in the Compliance section when opening the Motive Driver App.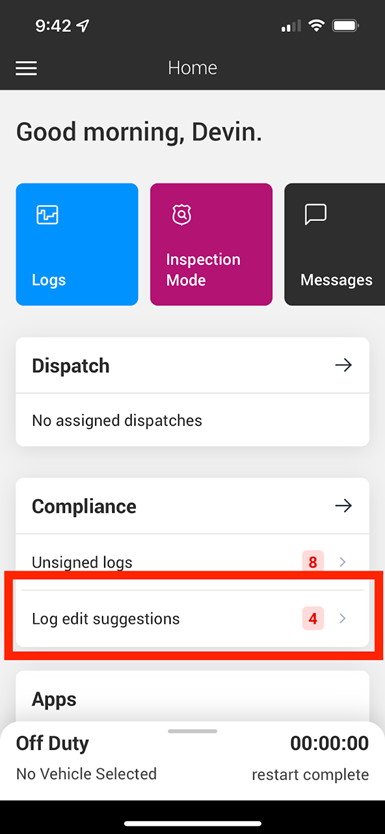 2. When reviewing the Log edit suggestions, in the Notes section of the unidentified trip event, find a note stating that this trip was Assigned by Smart Match.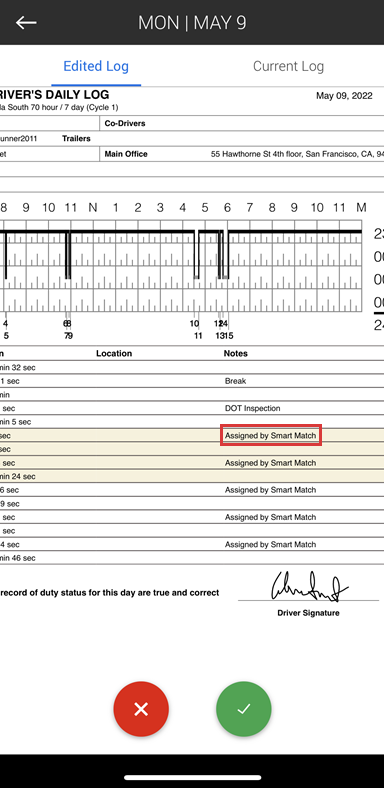 3. Once the Driver has accepted the log suggestion created by Smart Trip Match, it will be reflected as a driving event on their logs accordingly.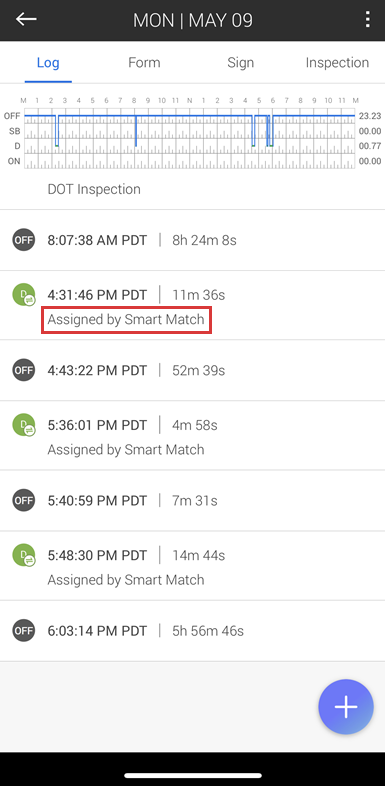 Related Content