| | |
| --- | --- |
| Audience | Fleet Admin |
| Applies To | Fleet Dashboard > Admin > Vehicles |
Introduction
Fleet Admins can view and edit the Odometer readings and Lifetime Engine hours for the OBD-II vehicles.
Note: You can only update the Odometer and Lifetime Engine Hours reading for vehicles whose Motive Vehicle Gateway is unable to fetch the readings from the Vehicle ECM.
Steps: Viewing edited Odometer and Lifetime Engine Hour readings OBD-II vehicles
The edited readings and hours can be seen in these sections of the Fleet Dashboard and Driver App.
Fleet View
You can find these updated readings on the Fleet View tab for the vehicle whose Odometer reading and Lifetime Engine Hours you updated.
To see the changes:
1. Click on the Vehicles tab in Fleet View.
2. Select the vehicle for which you edited these two readings.

3. In the Live tab, scroll down to the Other Details section to see the updated values.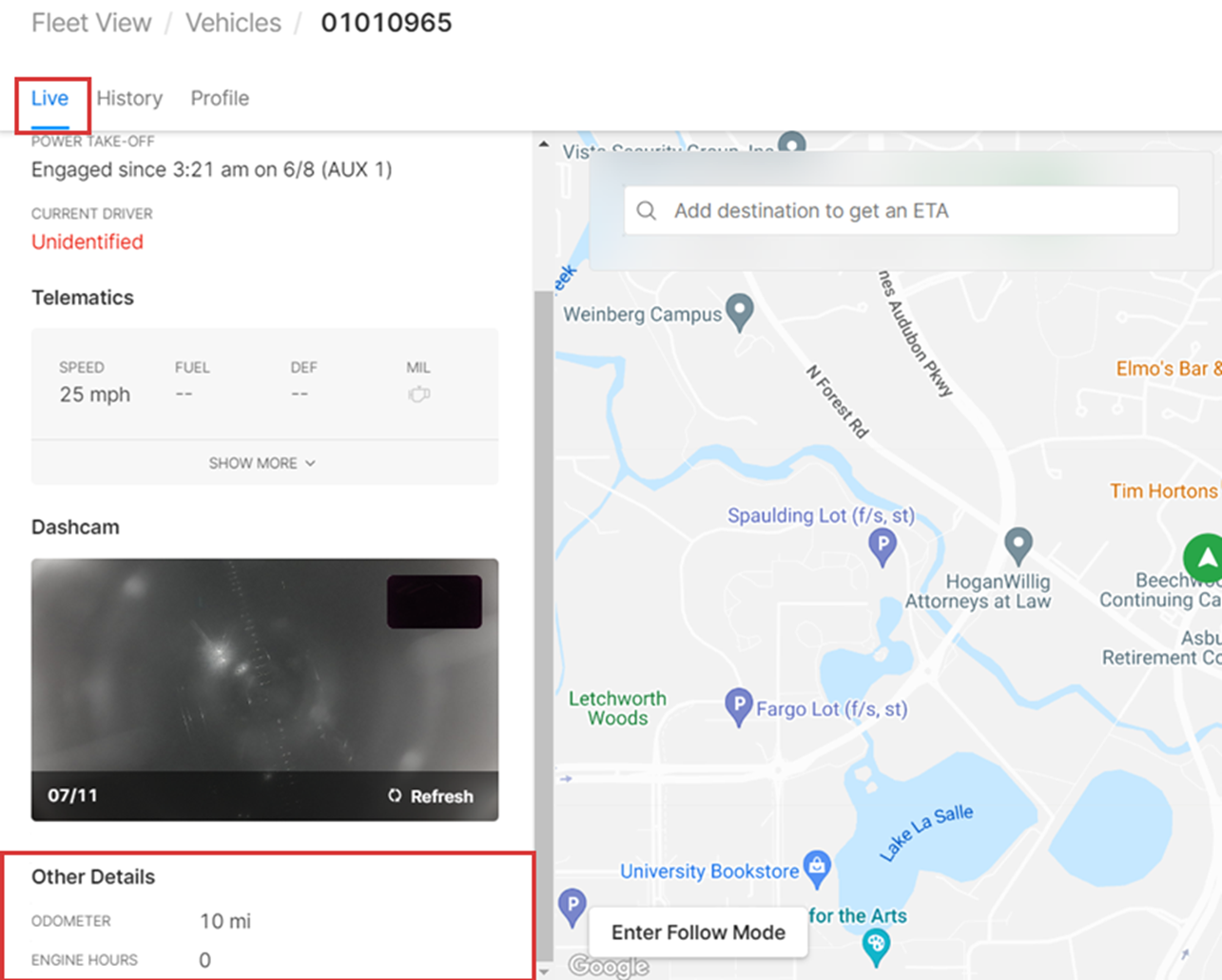 Vehicles Detail Report
1. Click on Reports on the left-hand side menu.
2. Under the Browse section click on the Vehicles tab.
3. Now, scroll down and click on Vehicles Detail to find the latest vehicle report.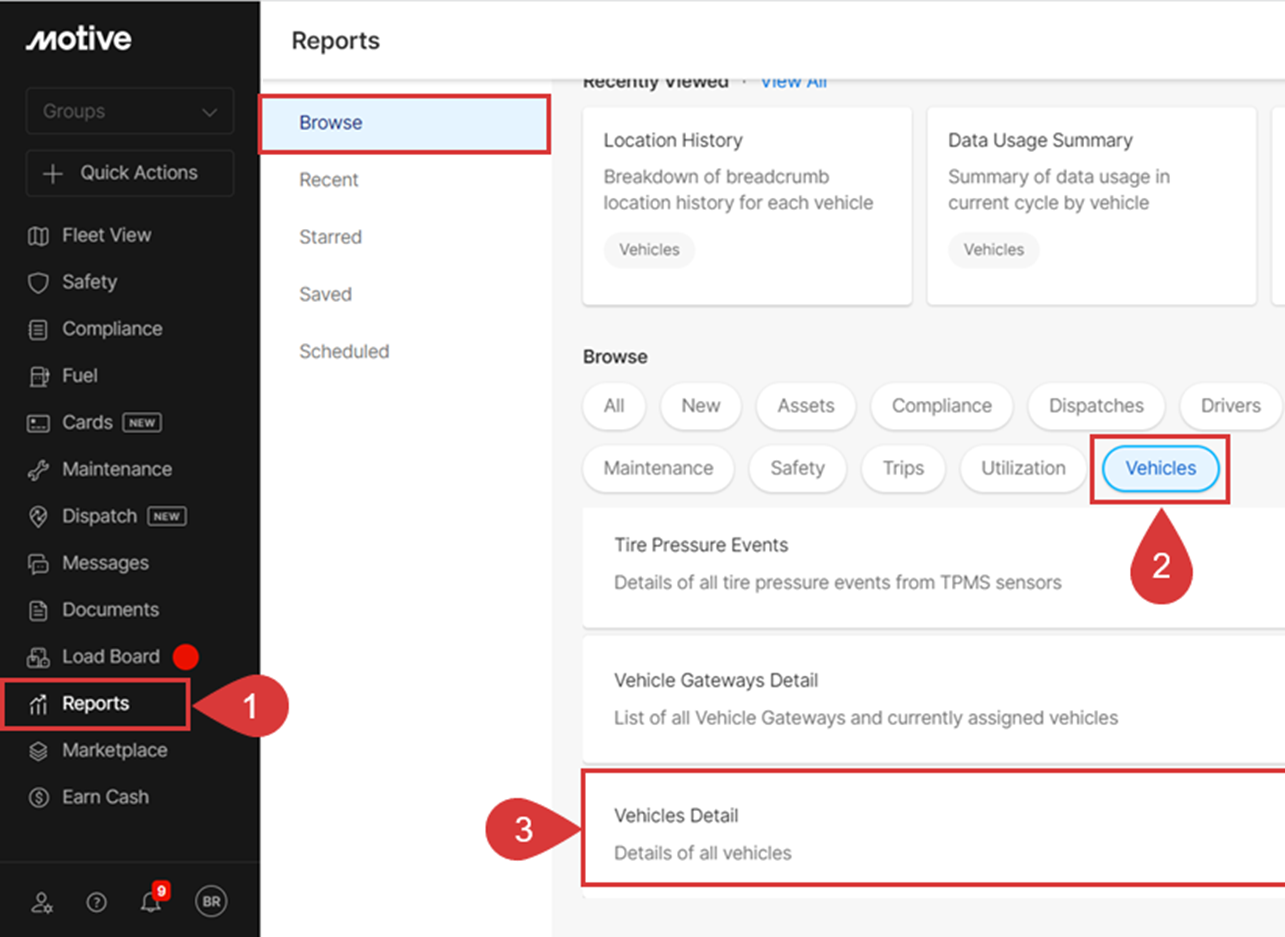 4. Here, you can find the updated readings in the newly added ODOMETER and LIFETIME ENG HRS columns.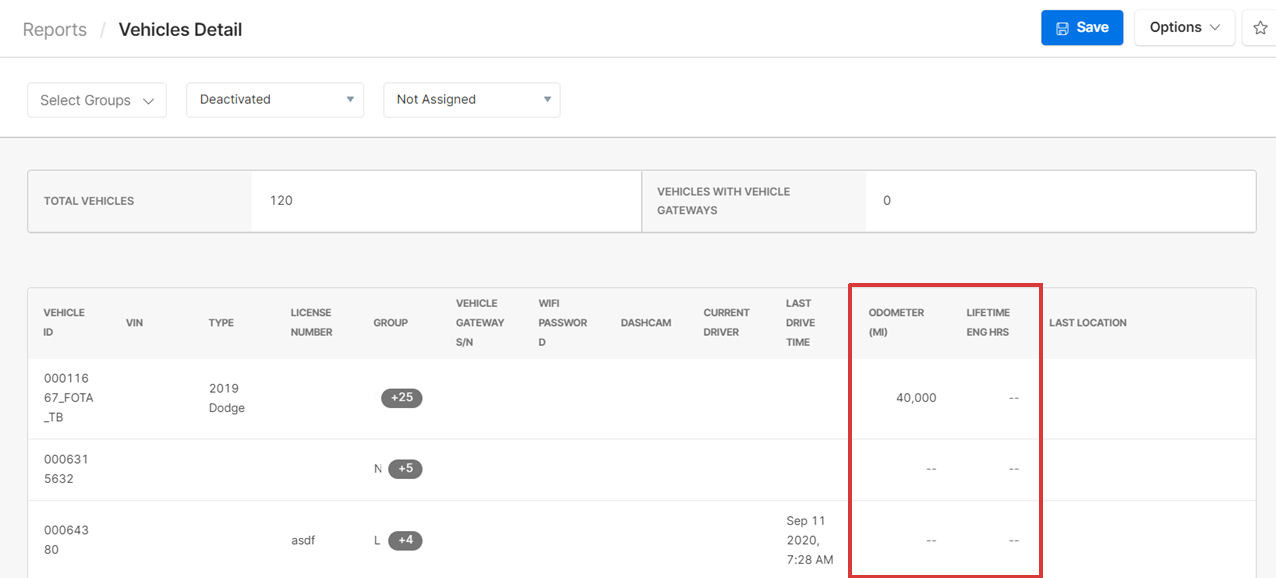 Learn more about How to view the Vehicle Details Report for all your Vehicles.
Maintenance
The vehicle maintenance reminders are based on the edited odometer and the lifetime engine hour readings.
1. Click on Maintenance on the left-hand side menu.
2. Select the Upcoming tab. Here, you can see the changes reflected under the Status column.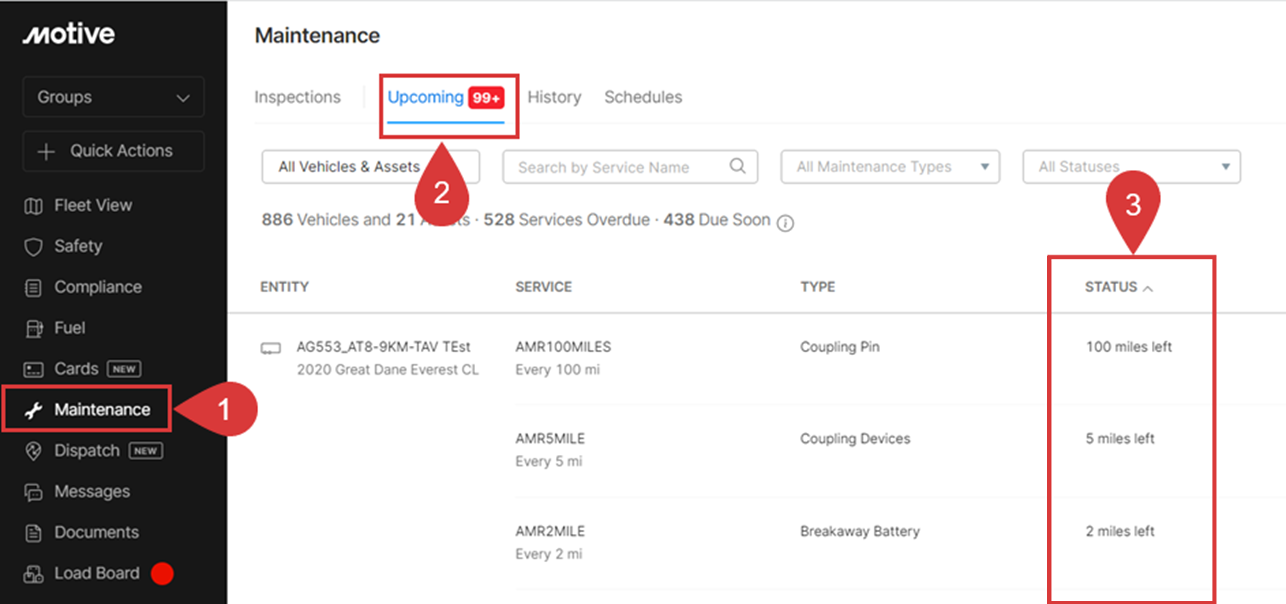 3. To view the edited readings in the Schedules tab click on Options in the Action column for your desired engine or asset.
4. In the dropdown menu, click on Edit to open the edit schedule page.

5. View your Current Odometer reading in the Vehicles section.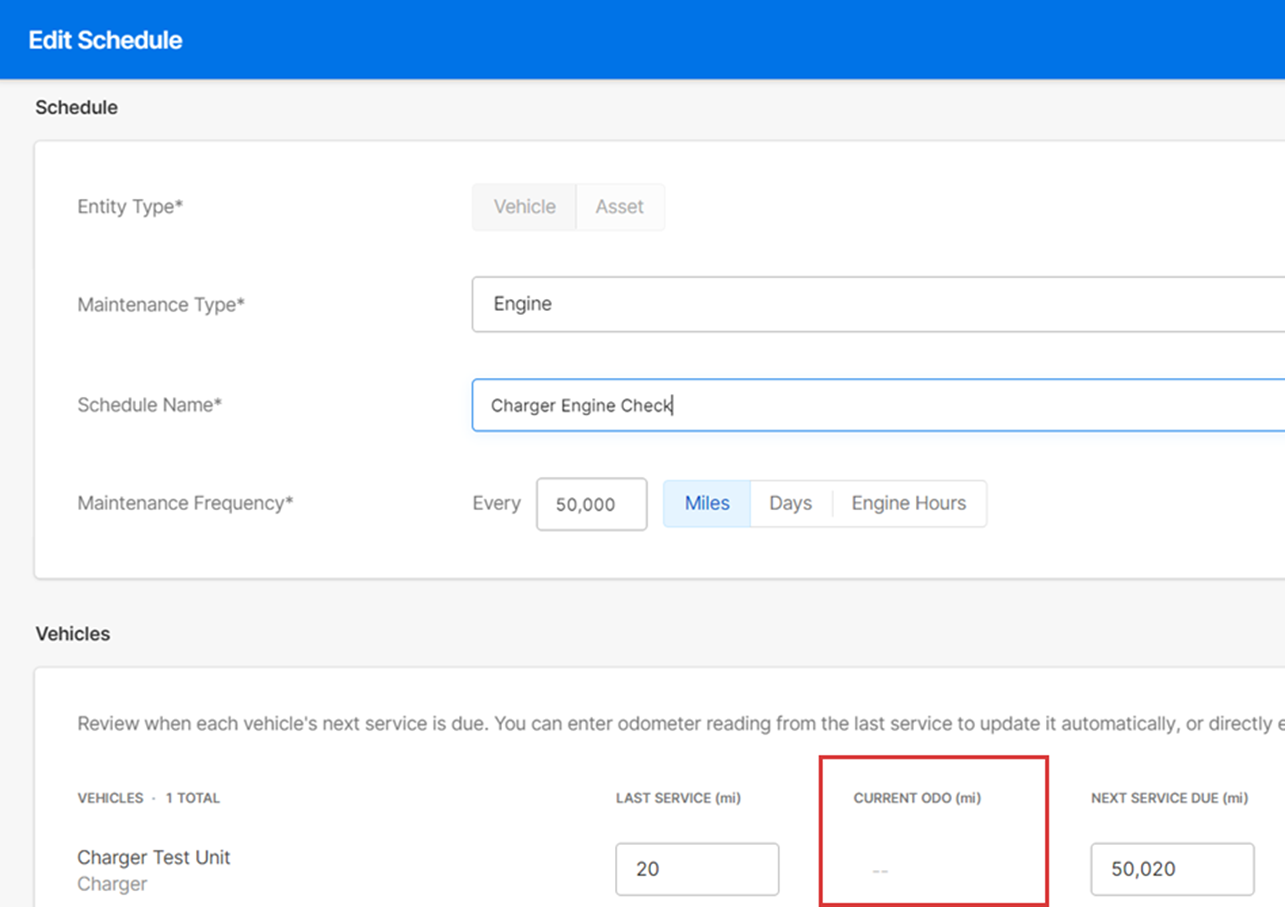 Trip Reports
Updated Odometer values are reflected in the IFTA Trip Reports tab and

1. Log in to the Fleet Dashboard and select Fuel from the left-hand side menu.
2. Click on the Trip Reports tab to view odometer start and end readings.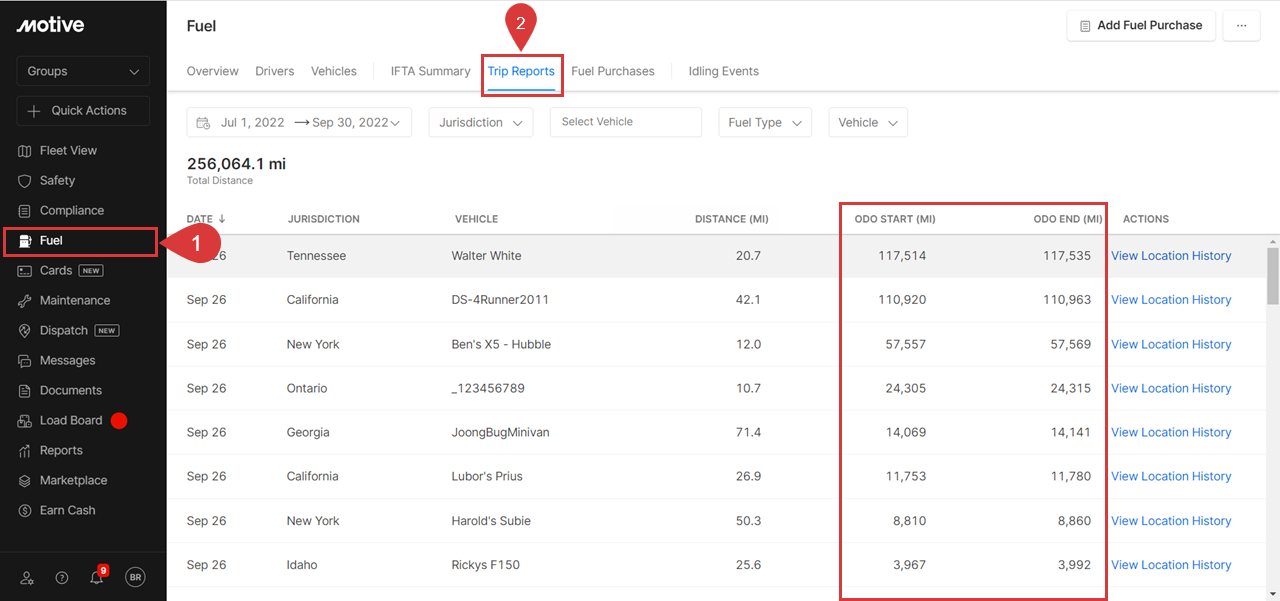 You can also view edited odometer and lifetime engine hour readings in the Motive Driver App Inspections and Documents tabs.
Related Content
Share this with others
This article also appears under: