| | |
| --- | --- |
| Audience | Fleet Managers, Fleet Admins |
| Applies To | Fleet Dashboard > Safety |
Introduction
Utilize the Fleet DRIVE Score Report to track the Fleet DRIVE score over time. 
Steps: Viewing Fleet DRIVE Score Report
1. Log in to the Fleet Dashboard and click Reports in the left-hand side menu. 
2. Click Safety in the Browse section. 
3. Click the Fleet DRIVE Score Report.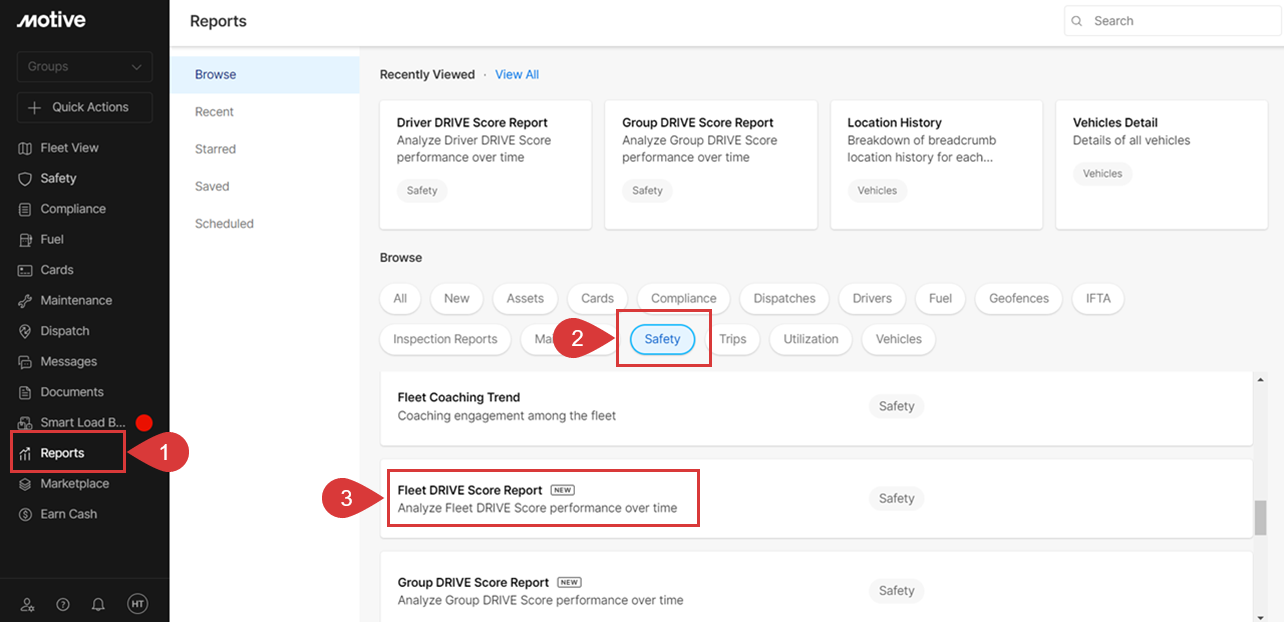 4. You can filter the report by Date Range and DRIVE Score Performance Band.

The Fleet DRIVE Score Report shows the following fields:
Column
Description
Score update day
The day the score was last updated. 
4-week period
The start and end date of the score period
Miles driven
Total miles driven within the score period
Scored Drivers
Count of Drivers in the Fleet with a DRIVE score for the score period
DRIVE Score
Fleet's DRIVE Score for the score period
Performance Band

Excellent, Good, or Fair

Learn how performance bands are determined here

Behavior impact

Impact the behavior had on the score for the 4-week period. 

Behavior impact is measured as (total points available - total points received). 
Note:
The behaviors included in the score are dependent on the camera setup of the Fleet.

For example: If you only have road-facing Dashcams, behaviors like Distraction are not included in the score.
Related Content
Share this with others
This article also appears under: