| | |
| --- | --- |
| Audience | Fleet Admin |
| Applies To | Fleet Dashboard |

Introduction
Add a driver to your company through the Motive Fleet Dashboard so they can connect themselves to a Vehicle Gateway on their Motive Driver App. This way, they can complete their inspection reports, send messages, and even upload documents such as fuel receipts.
Steps: Adding a driver
Add a Logs Required Driver
1.  
On the Motive Fleet Dashboard, click on
Admin
in the left-hand side menu.
This displays the
Drivers
page with a list of drivers in your company.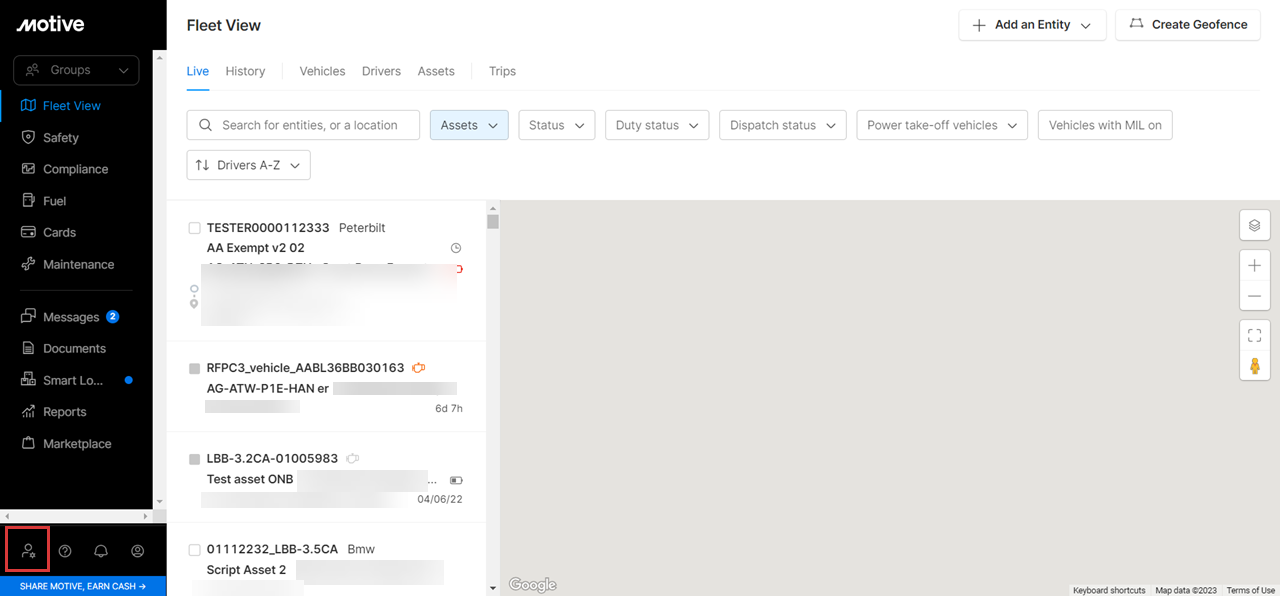 2. To create a driver profile, click on
Drivers
in the
Organization
drop-down menu and click on
Add Driver
 in the top-right corner.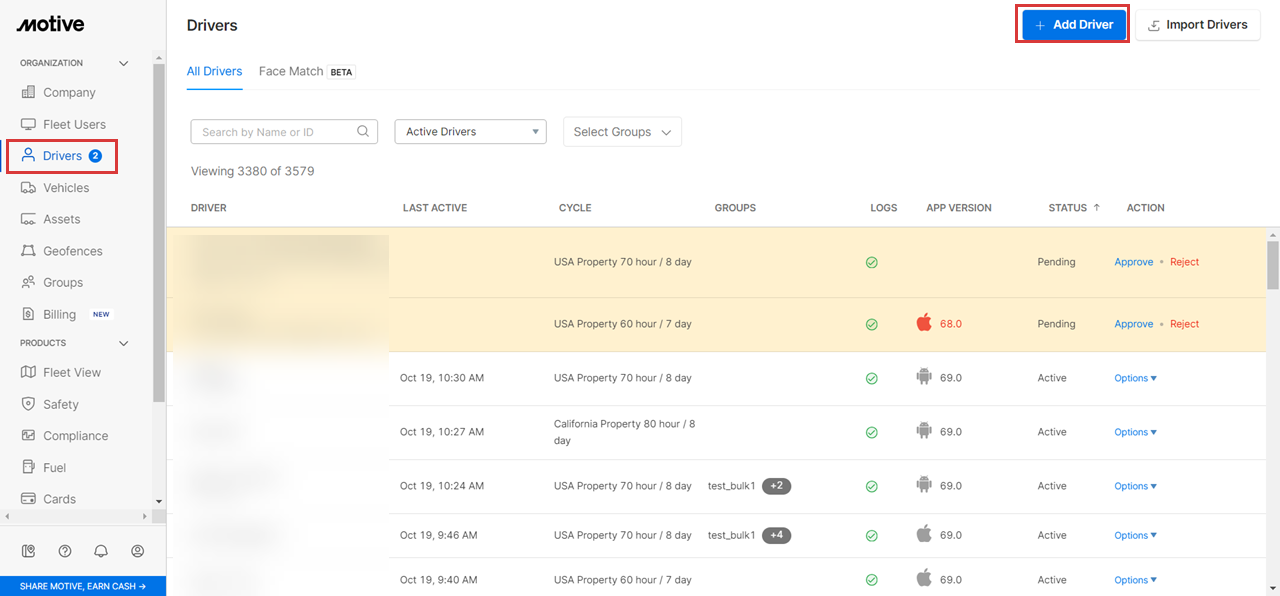 3. Under the 
Account and Security
section, fill in the required information.
4. Enter the
Name, Driver ID
 and 
Phone
.
5. Select a license issuing state from the License drop-down and type a License number in the field next to it.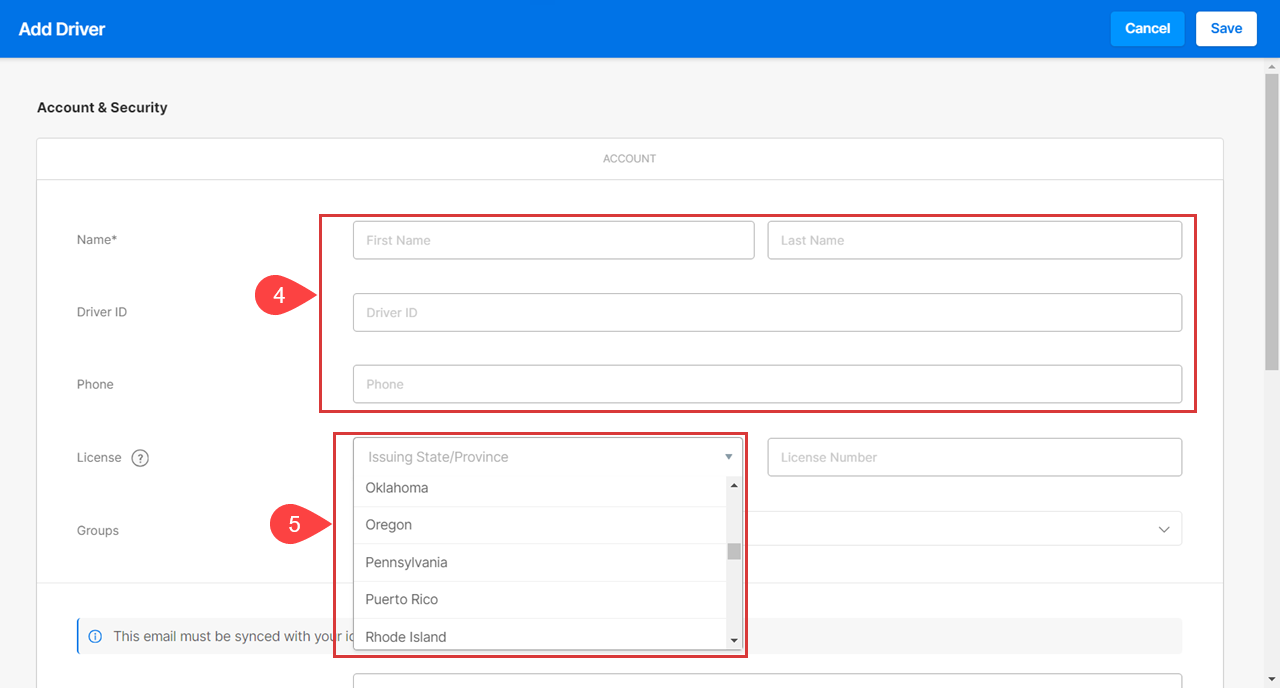 Note:
License and Jurisdiction are
required
for ELD mode-enabled drivers in order to remain in compliance.
6. In the Security section, enter an email and Password for the driver account or click Generate Password to create one.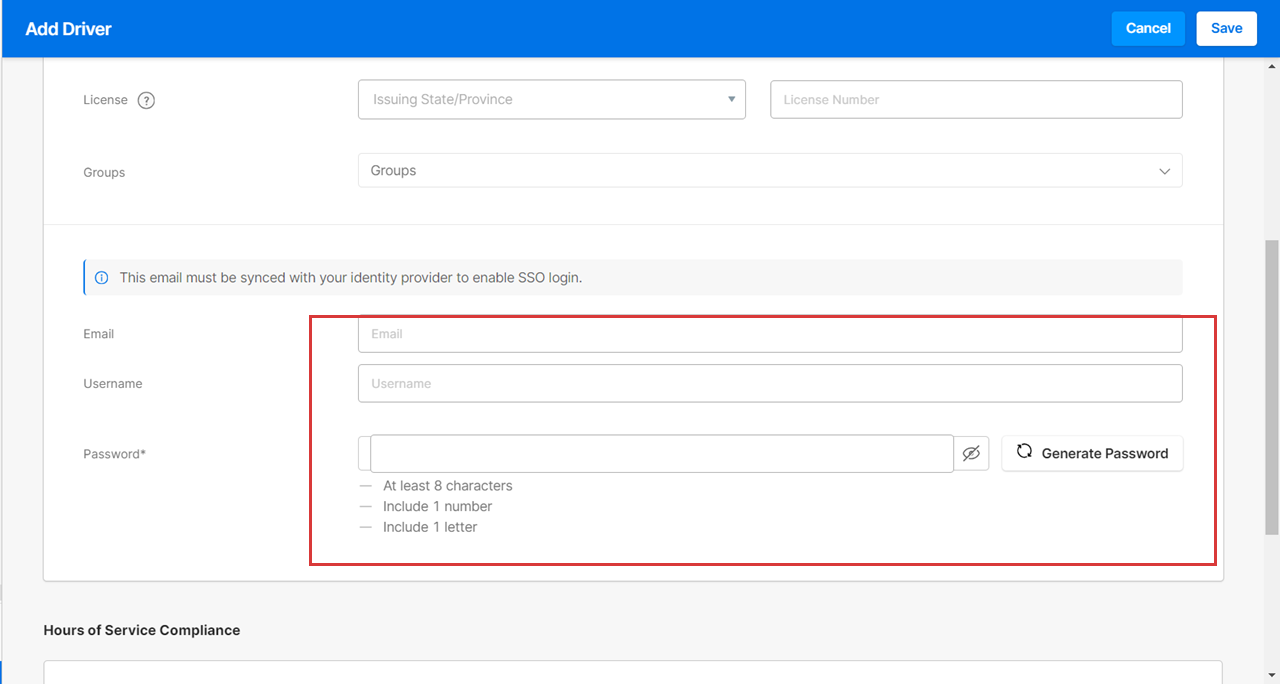 7. Under the section
 Hours of Service Compliance
, select the
 Required
tab.
Note: If your driver does not require logs, use the steps in Add a Logs Not Required Driver instead.
8. Select between the
ELD
 and 
Electronic
Logbook
.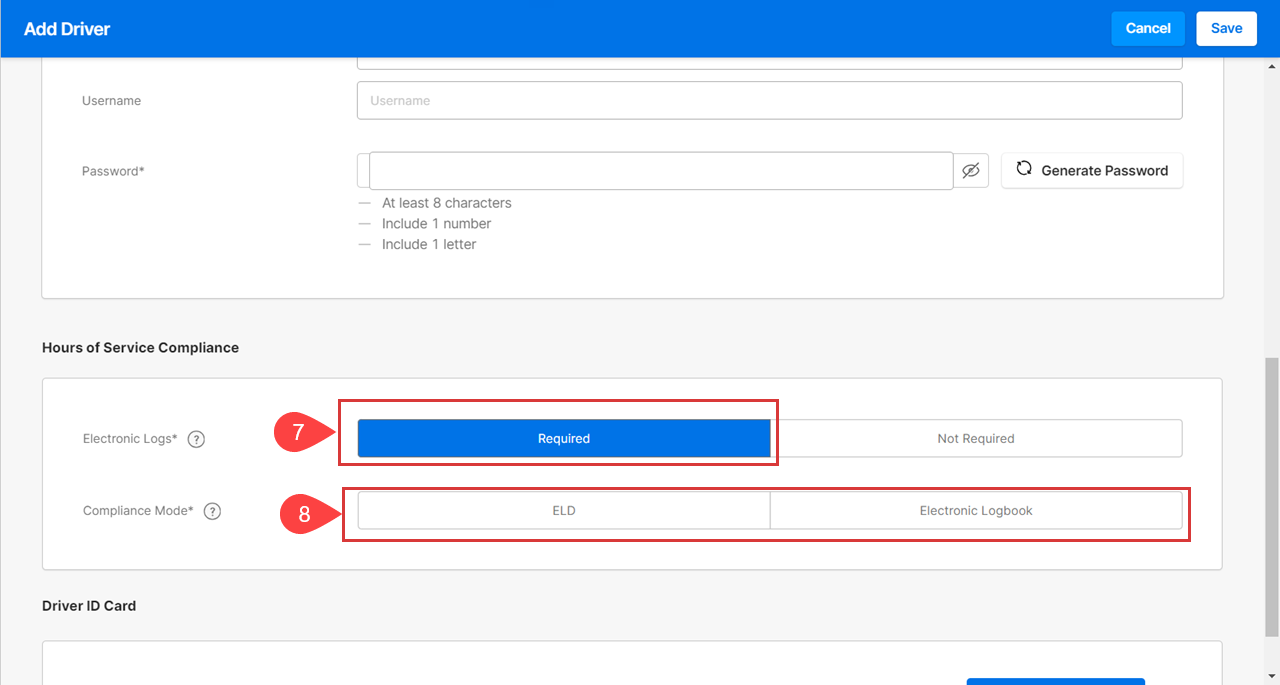 9. Select a Home Terminal Time Zone by clicking on the dropdown given for it.
10. Choose the option for Odometer from Miles and Kilometers tab.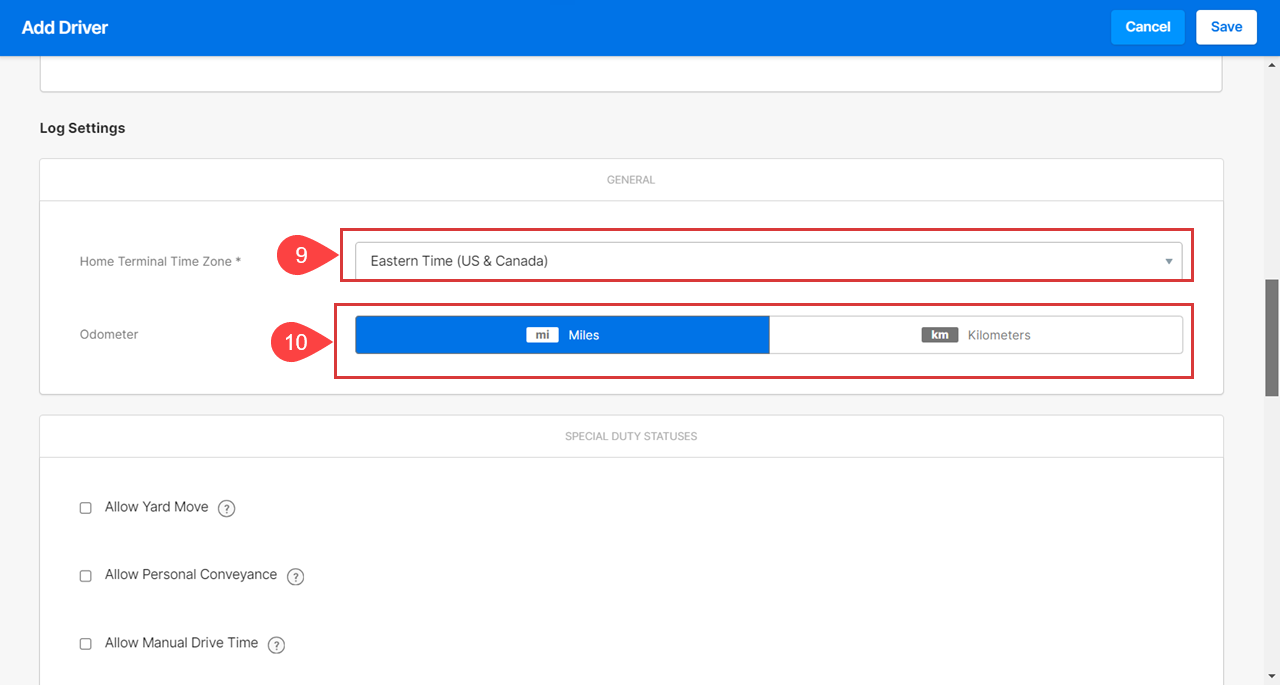 Add a Logs Not Required Driver
1. Follow steps 1 to 6 from the section above.
2. Under the Hours of Service Compliance section, click on the Not Required box.

3. Add the Exempt Reason. 

4. Click on +Assign Vehicle to assign a vehicle to the driver.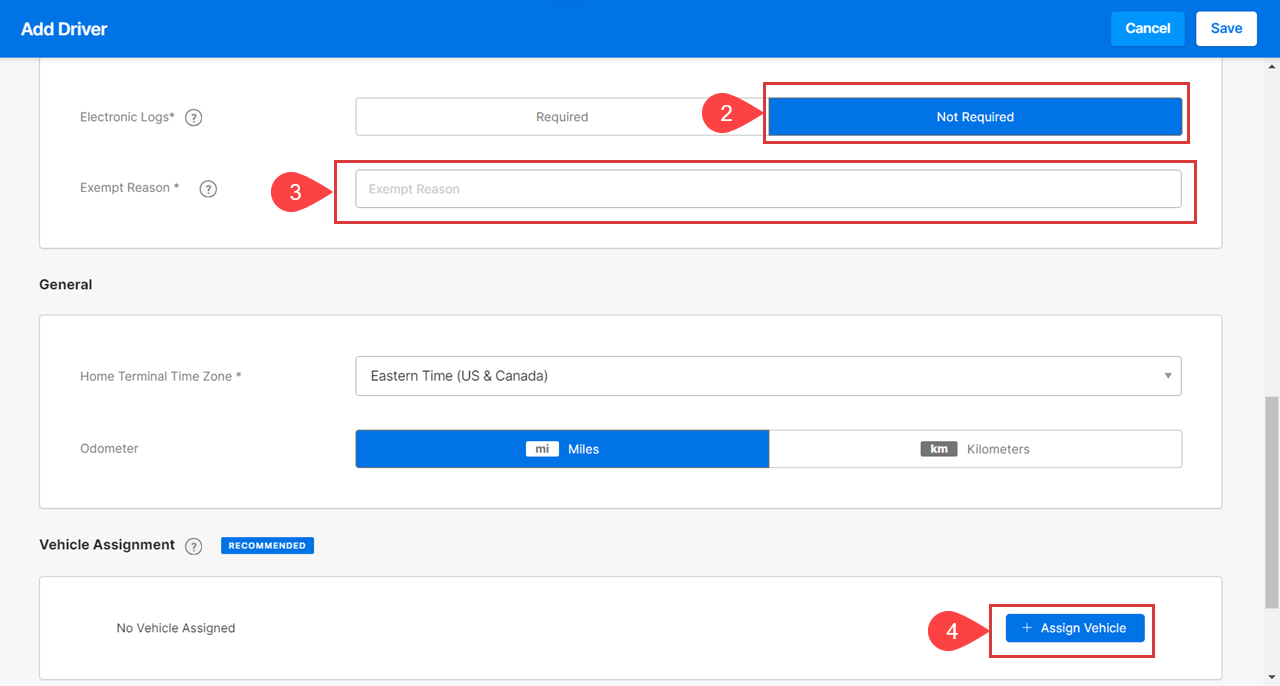 Doing so will open the Assign Vehicle dialog box with a list of vehicles.
5. Click on the radio button of the vehicle you want to assign.
6. Click on the Assign button.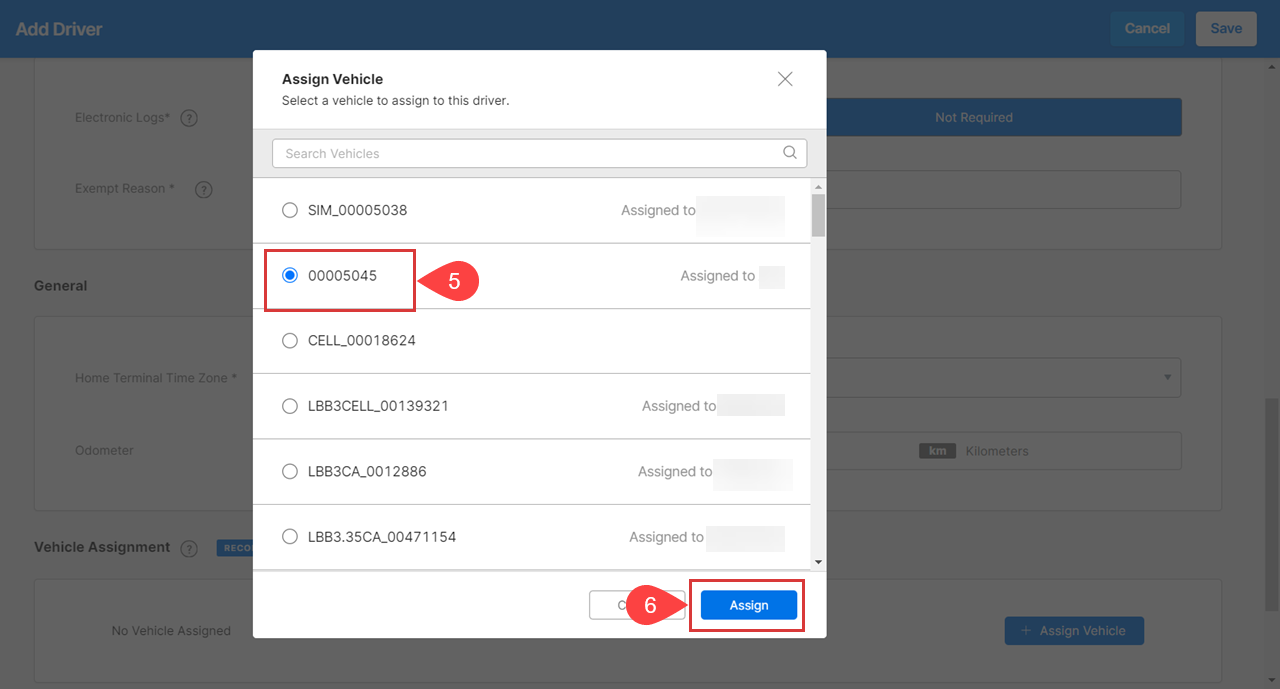 7. Click on the Save button when done.

Related Content
Share this with others
This article also appears under: