| | |
| --- | --- |
| Audience | Fleet Admins, Fleet Managers |
| Applies To | Fleet Dashboard > Reports |
Introduction
The Vehicle Gateways Detail Report gives you a birds-eye view of all the Vehicle Gateways in your fleet. This report will help you better manage your fleet with less time spent on the lengthy diagnosis of the fleet.
Steps : Viewing the Vehicle Gateways Detail Report
1. Log into the Motive Fleet Dashboard, click on Reports in the left-hand side menu.
2. Click on Vehicles under the Browse section.
3. Scroll down to the Vehicle Gateways Detail section and click on it. A list of all Vehicle Gateways in your fleet displays.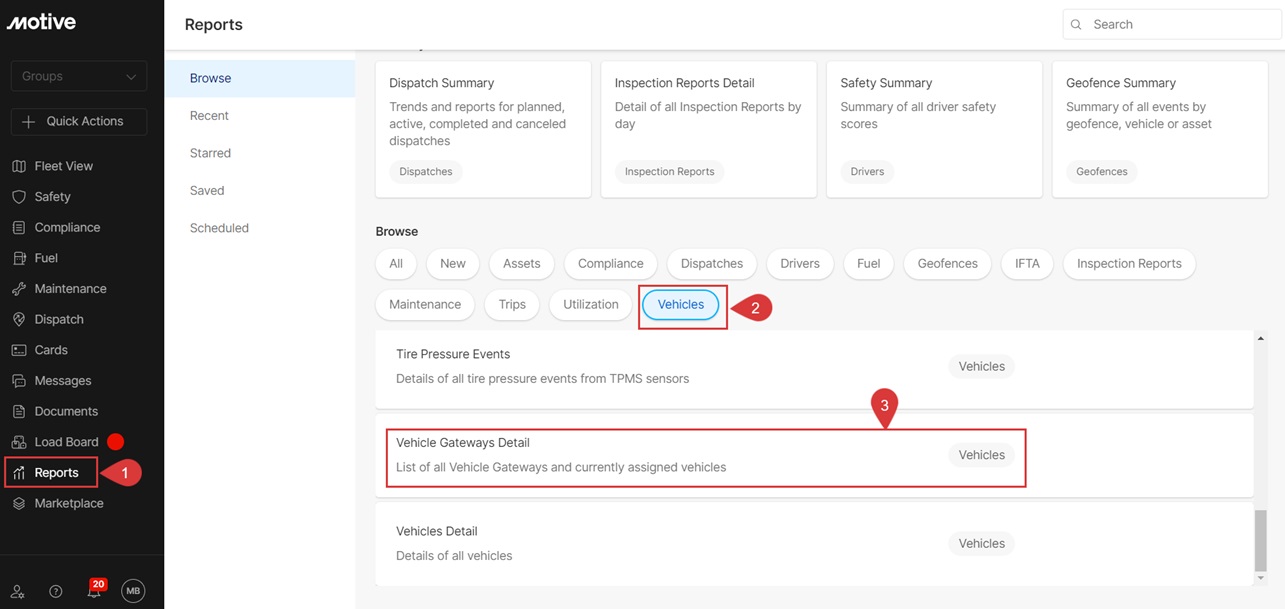 4. You can see the following details in the Vehicle Gateways Detail view:
Vehicle Gateway S/N: Unique identifier for your Vehicle Gateway.
Current Assigned Vehicle: The current vehicle the Vehicle Gateway is assigned to.
Last Assigned Vehicle: The last vehicle the Vehicle Gateway was assigned to.
Assigned Date: The date on which the Vehicle Gateway was assigned to a vehicle.
Unassigned Date: The date on which the Vehicle Gateway was unassigned from a vehicle.
Last Activity: Last activity registered by the Vehicle Gateway.
Firmware Version: The Firmware version currently installed on the Vehicle Gateway whereas a red label stands for an outdated version.
Equipment Status: The current status of the Vehicle Gateway such as Allocated, RMA Received, and In-Transit.
Shipped From Date: The date on which the Vehicle Gateway was shipped by Motive.
Current Driver: Current driver connected to the Vehicle Gateway.
Malfunctions & Diagnostics: Any identified errors or faults.
5. Use the filters at the top of this page to customize your view of the report:
Search by Gateway S/N
Search by Vehicle ID
Select Groups
Filter for Vehicle Gateways
Filter Firmware Versions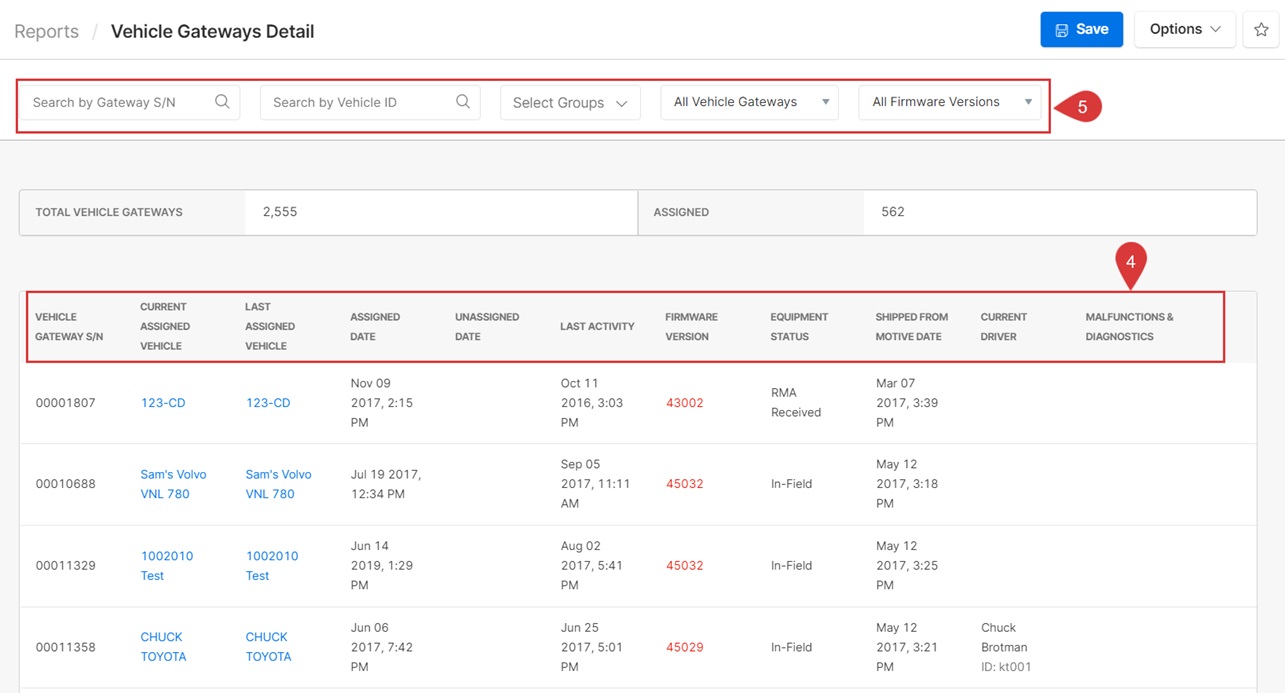 6. Click on Options in the top-right corner and select your preferred format to export the details. You can choose from Export as CSV or Export as PDF.

7. Once done, you will receive a download link for the report at your email address registered with the Fleet Dashboard account. This information displays as a notification at the top of the page.

Find the email from Motive in your inbox and click on the link inside to download the report.
Related Content
Share this with others
This article also appears under: