| | |
| --- | --- |
| Audience | Fleet Admins |
| Applies To | Driver App > Logs |
Introduction
The Fleet Admin can turn on this feature which will prevent drivers from editing their logs once they have certified them for the day.
Drivers will be unable to make edits on logs once they have certified their entries by the end of each day. A prompt will show up on the Motive Driver App to warn the driver before proceeding further.
Note: The Fleet Admin will not have the option to enable this feature on their own and will have to call our 24/7 support line: 855-434-3564 to have this feature activated.
When this setting is activated, the drivers will see a warning when they attempt to sign their logs as shown below.
Steps: Preventing drivers from re-editing logs
1. Once the driver has signed off a log, a warning will appear to the driver about the inability to make edits after certifying the log.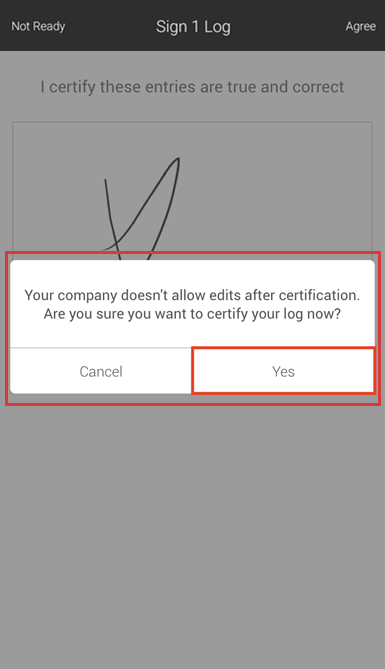 2. After certifying the log, drivers will have to contact the Fleet Admin to be able to edit that log.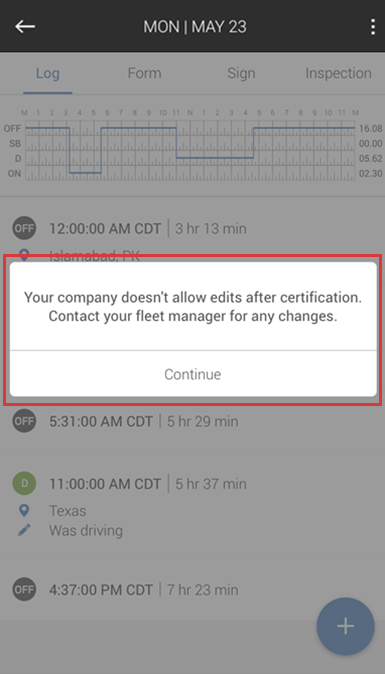 Related Content