| | |
| --- | --- |
| Audience | Fleet Managers, Fleet Admins |
| Applies To | Fleet Dashboard > Admin |
Introduction
Motive allows Fleet Admins and Fleet Managers to control how the Drivers are using the Motive Card. Fleet Admins can set and edit the spending limits from the Fleet Dashboard.
A Fleet admin can create & manage spend profiles. Editing the spend profile would update the controls for all the cards linked to the profile.
Steps: Customizing Spend Controls for Motive Cards
1. Log into Fleet Dashboard and click the Admin icon at the bottom left corner.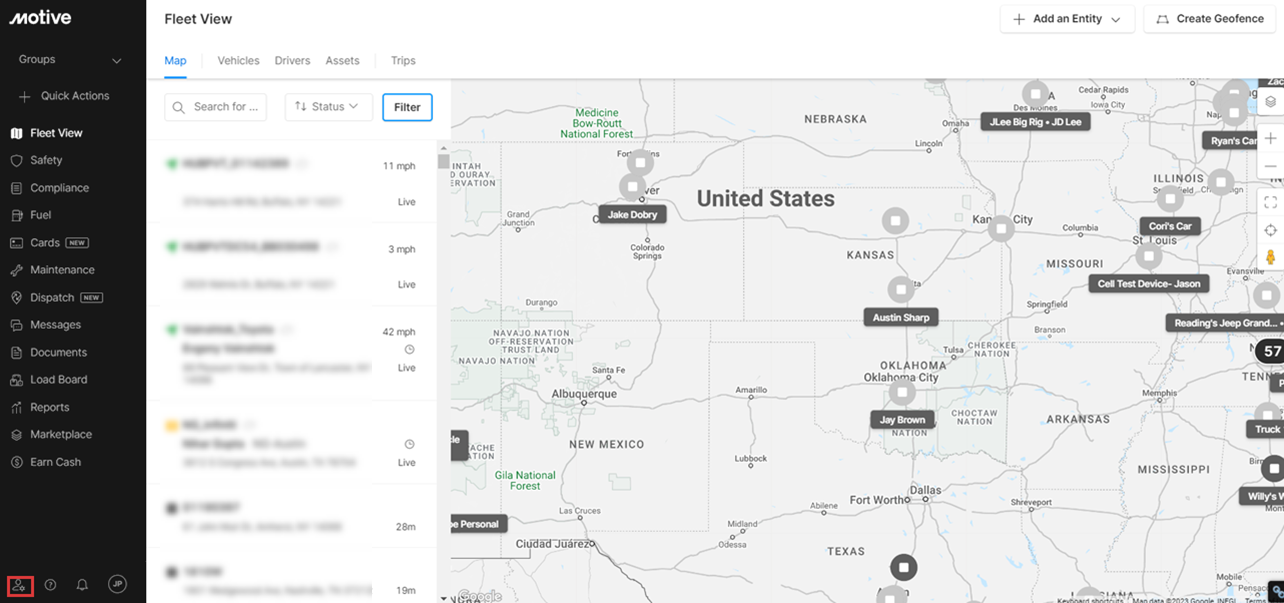 2. Click Cards from the left-hand side menu.
3. Click the Card Management tab.
4. To edit the spend controls in a spend profile, click the three dots in the Actions column.
5. Select Change spend profile from the drop-down menu.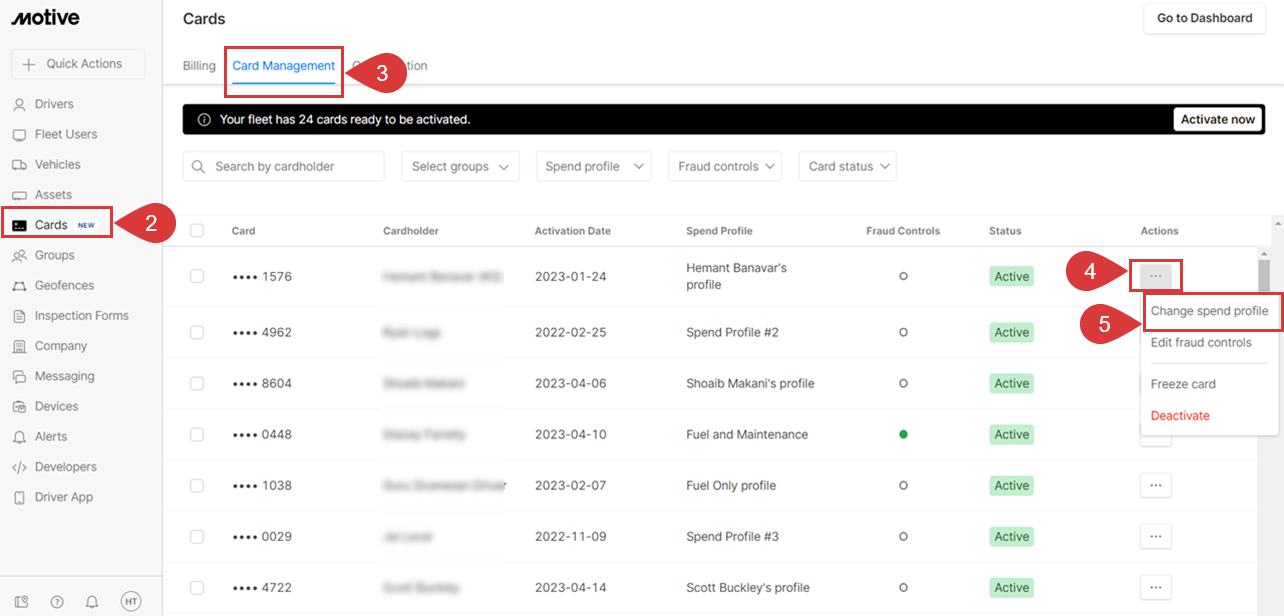 6. The Change spend profile screen displays. This gives a few options.
The fleet admin can change the current spend profile for the card to a different spend profile by selecting an alternate profile from the dropdown.
The fleet admin can create a completely new spend profile & specify new spend settings for this particular card.
Edit the spend profile for this card - which will also update the spend controls for all other cards linked to that profile.
Here, we focus on how you could update the spend profile for this card & for all other cards linked to the profile.
Click Edit spend profile.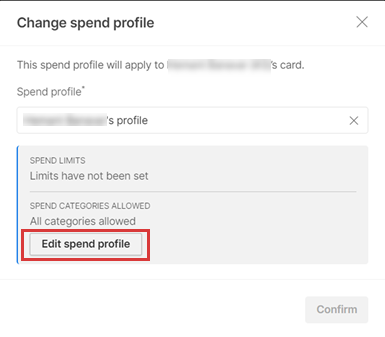 Note: Follow the steps mentioned in

this article

to edit spend profiles for individuals or groups of cardholders.
7. The Edit Spend Profile screen displays three primary categories Time Limits, Spend Limits and Spend Categories.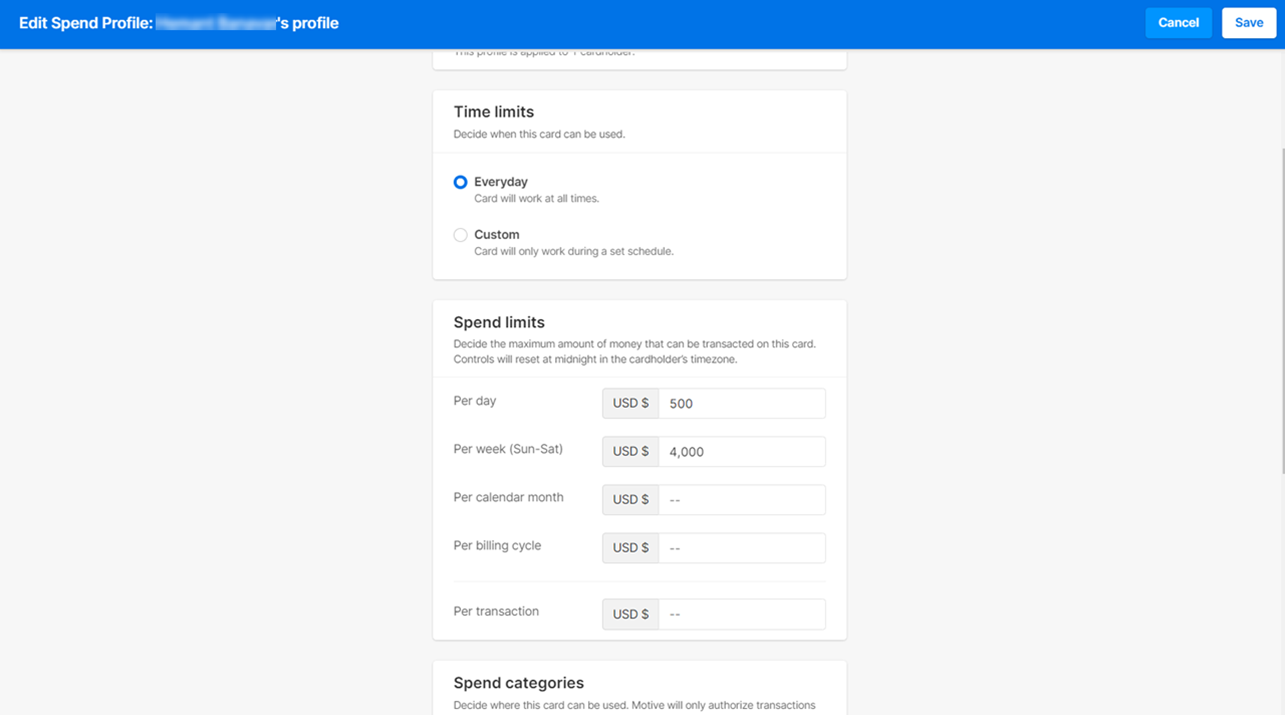 The Time limits category allows you to control the time of the days, weeks, or even hours at which the Drivers can use their cards.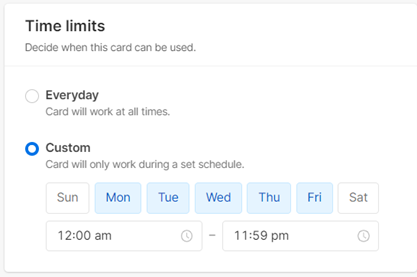 The Spend limits category allows you to control the amount they can use per day, week, month, or each billing period.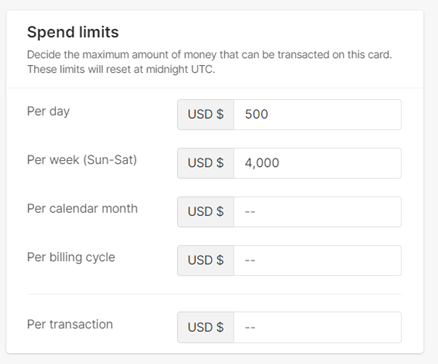 Spend categories allow you to control the types of purchases that the Driver can make using the Motive Card such as Fuel, Fleet expenses, and Travel expenses with subcategories allowing you to select the options of your choice.
Note: If the In-store fuel purchases option is enabled, the Driver can purchase anything that is in the store apart from the fuel.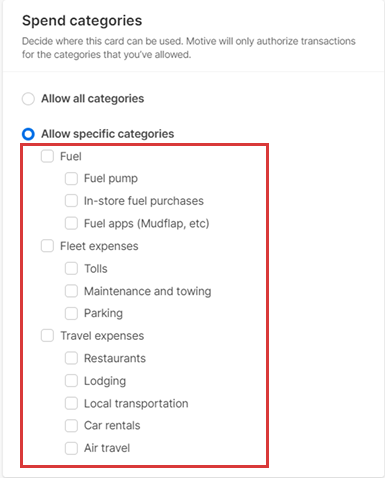 7. Once you are done customizing the controls on your desired card, click the Save button at the top right corner of the screen to save your changes.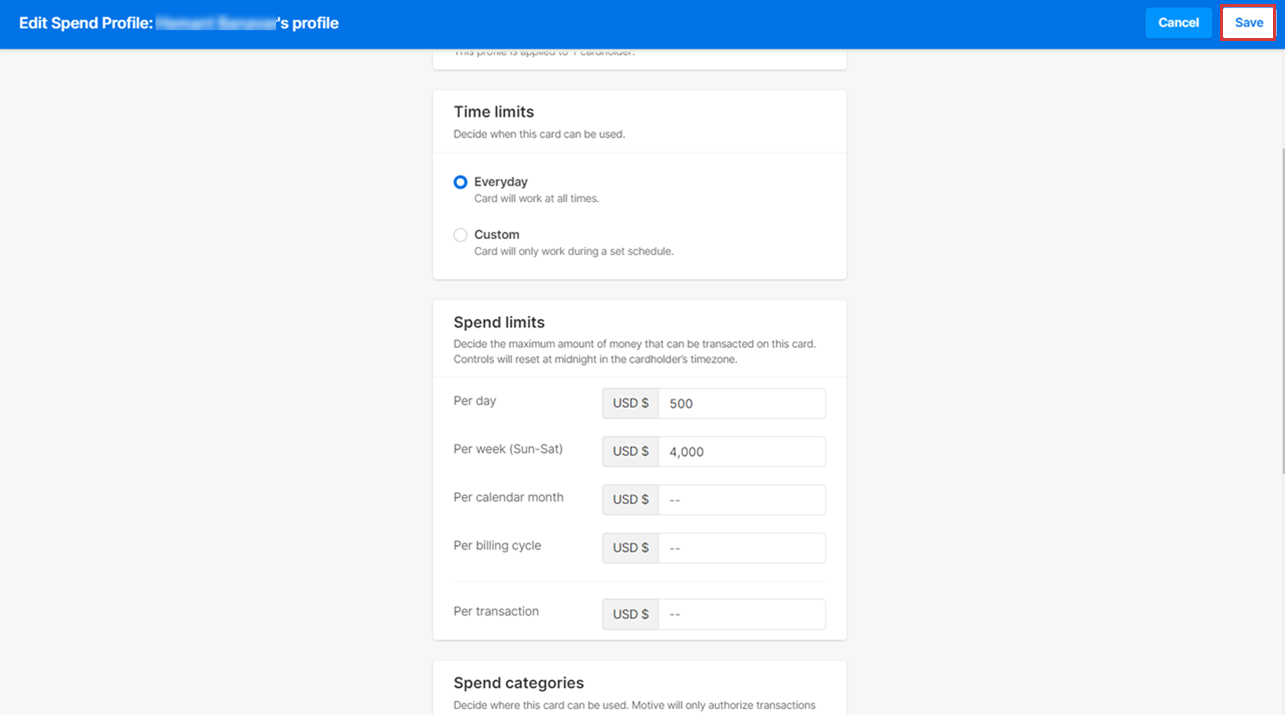 Now the Drivers can only use the card for the categories that you've allowed them on the set dates and credit limit.
Related Content
Share this with others
This article also appears under: