| | |
| --- | --- |
| Audience | Fleet Managers |
| Applies To | Fleet Dashboard > Cards |
Introduction
The Motive Card can be used by drivers to purchase fuel from any location within set parameters (if applicable). You can view a card's transaction history based on purchase and posted date through the Fleet Card section.
Steps: Viewing and downloading Motive Cards Transaction History
Viewing transaction history
1. Log in to the Fleet Dashboard and click on Cards from the left-hand side menu.
2. The Overview tab displays by default and provides an overview of Total Spending, Savings, Spending Breakdown, and Top Spenders.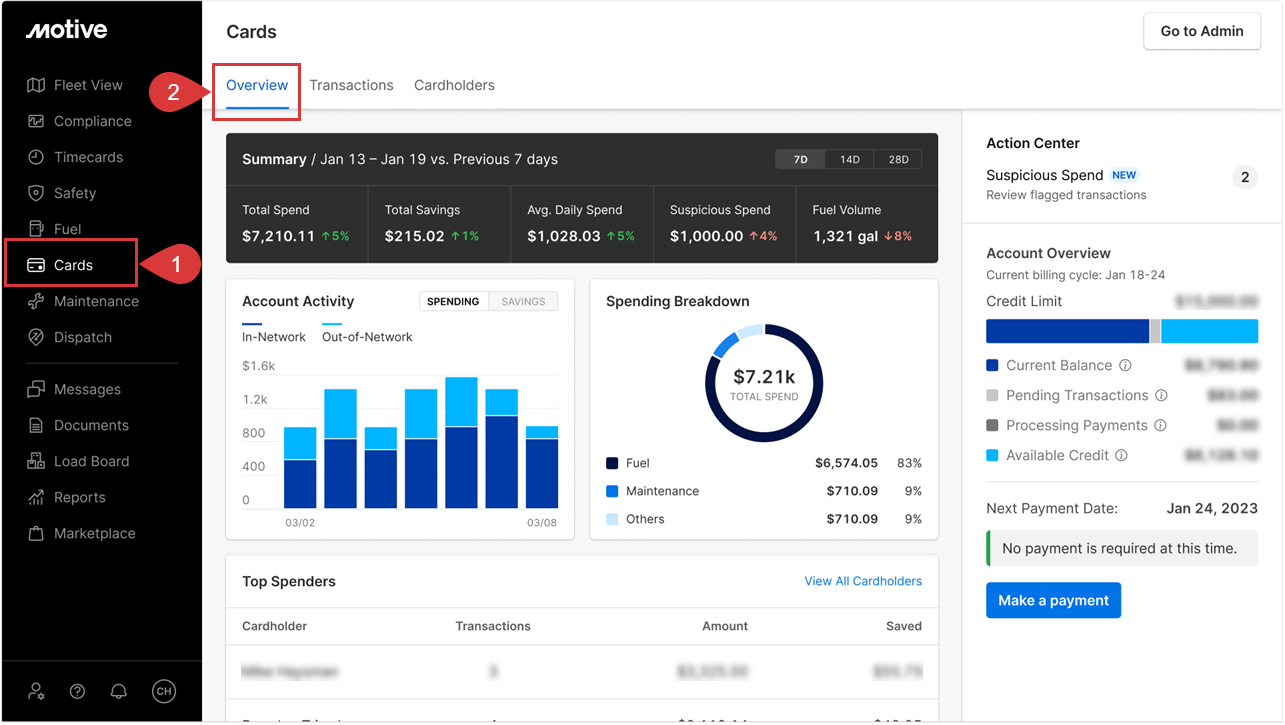 3. Click Transactions to get an overview of your driver's transaction history.
Note: Select a driver or a card to get detailed insights into a driver's transaction history.
4. You can filter out the transactions of a specific cardholder by clicking on the Search by cardholder option and filtering by the specific user.
5. You can also view the transactions based on the Purchase date and Posted date.

Applying the filter for Posted date changes the column to Posted Date.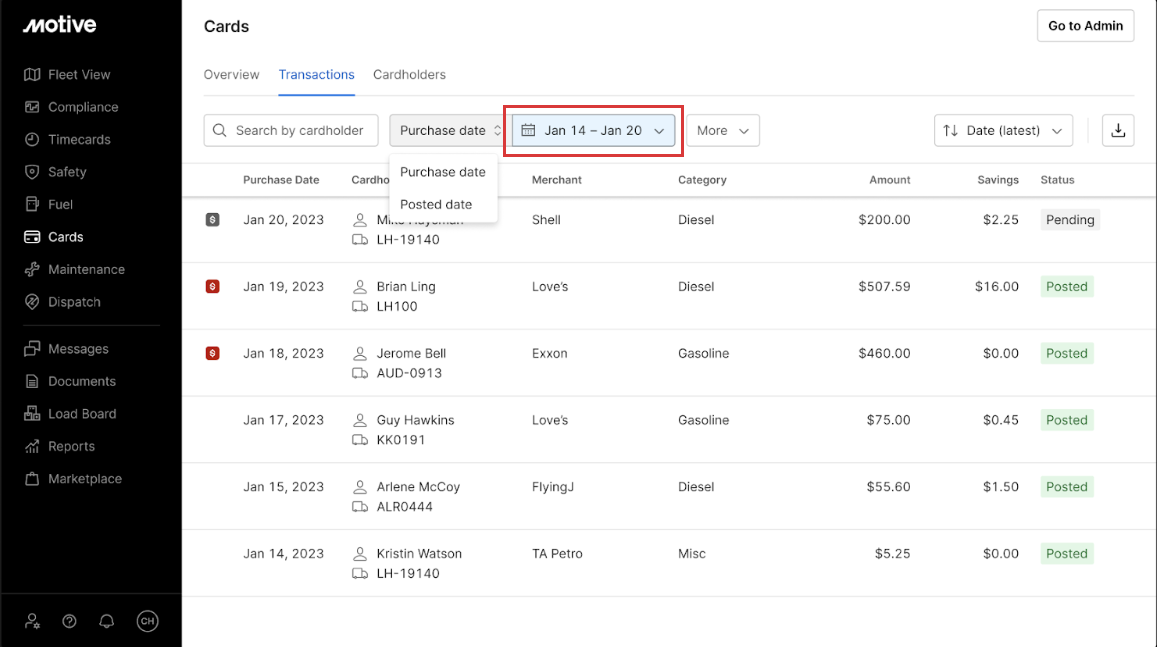 6. You can also use the Date filter to view the transactions between a set date parameter or the entire history of the card.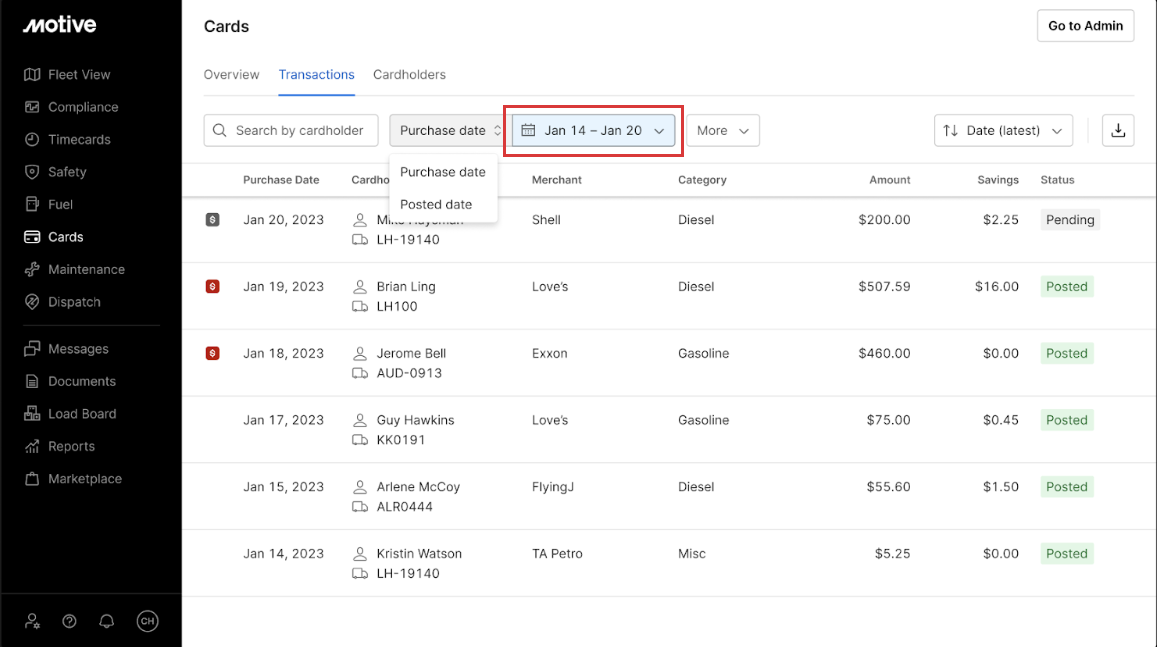 Downloading transaction history
1. To download the Transaction History report, click the download icon in the top right corner.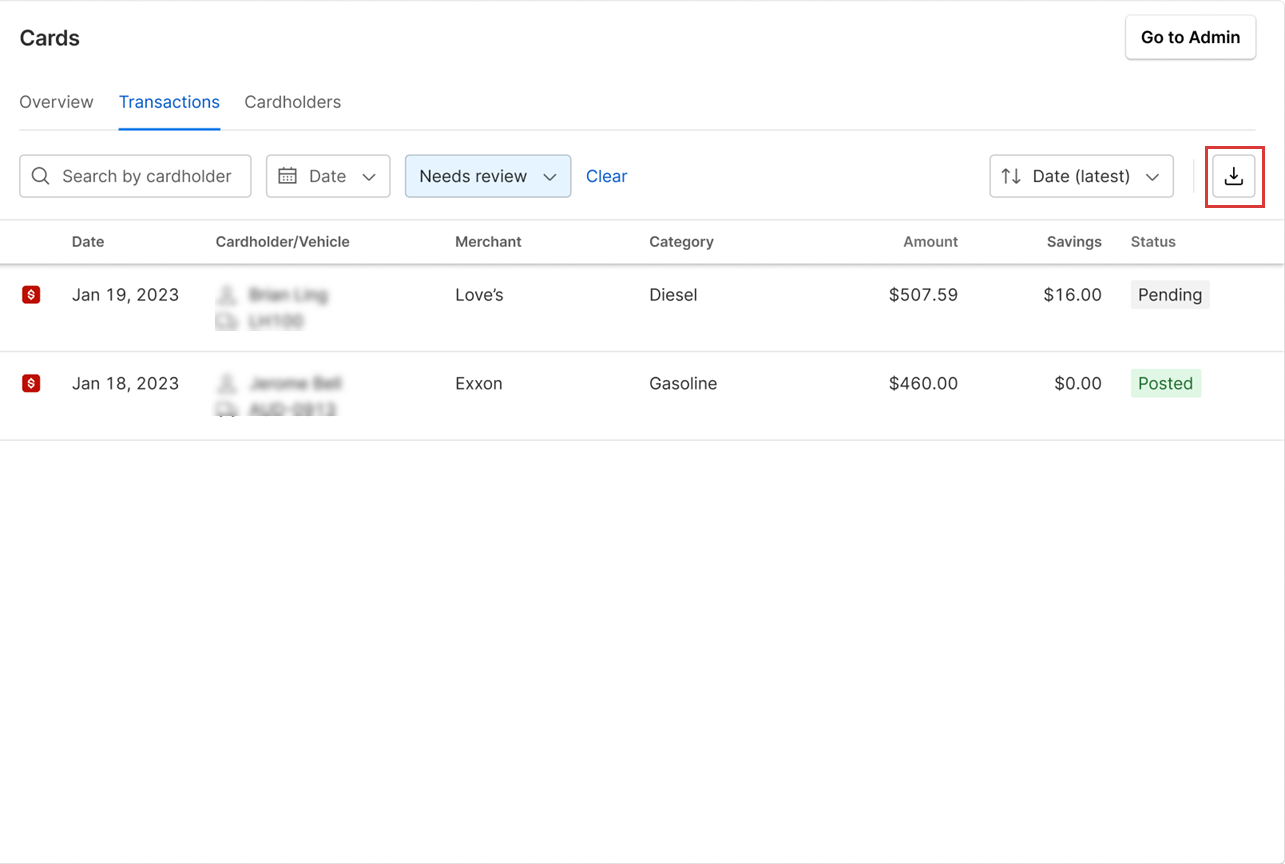 The report gets downloaded as a CSV file including the following details:
Transaction Date: The date when the card transaction was made.
Transaction time (billing timezone): The time the card transaction was made.
Posted Date: Transaction posted date
Posted Time (billing timezone): Transaction posted time
Cardholder: Name of the cardholder
Vehicle ID: Vehicle being driven at the time of transaction
Merchant name: Name of the merchant where the transaction was made.
Merchant ID: ID of the merchant
Merchant Category Code: Attributed as MCC of the merchant location
State: Current Jurisdiction info
Status: Transaction status (Pending, Posted, Declined, etc.)
Amount (in $): Amount at the item level
Savings (in $): Savings at item level
Net Amount (in $): Amount minus the Savings
Invoice Number: Invoice number of the invoice in which the transaction is billed
Network: In-network/Out of Network
Category: Category of purchase (Diesel, Gasoline, Food, Parking & Tolls, etc.)
Mastercard Product Code: Product code present in Level 3 data
Mastercard Product Description: Description of product code
Item description: Description available in Level 3 data
Unit of purchase: Unit of purchase (Gallon, Liter, etc.)
Quantity: Quantity purchased
Per unit cost: Amount/Quantity
Groups: Groups associated with the cardholder
Comments: Any additional information provided by Motive
Decline reason: Reason the transaction was declined
Related Content
Share this with others
This article also appears under: