| | |
| --- | --- |
| Audience | Drivers |
| Applies To | Driver App |
Introduction
Drivers can either claim or reject an unidentified trip using the Driver App. Claiming or Rejecting an unidentified Unregulated (Non-CMV) vehicle trip in the Driver App requires the following process:
Steps: Claiming/Reject Unidentified Unregulated (Non-CMV) Vehicle Trip
1. Tap on the yellow trips banner to view all unidentified trips generated from the currently selected Unregulated (non-CMV) vehicle.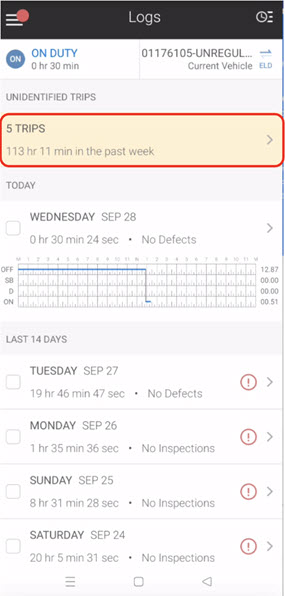 2. Tap on Claim. It will associate this trip to your profile without impacting your logs.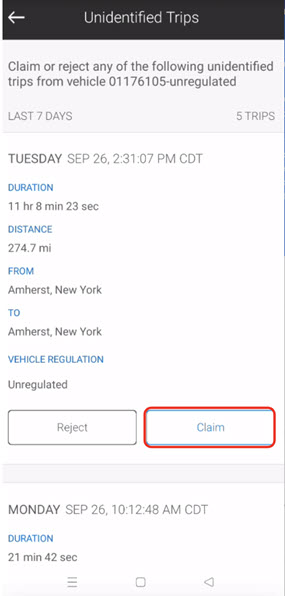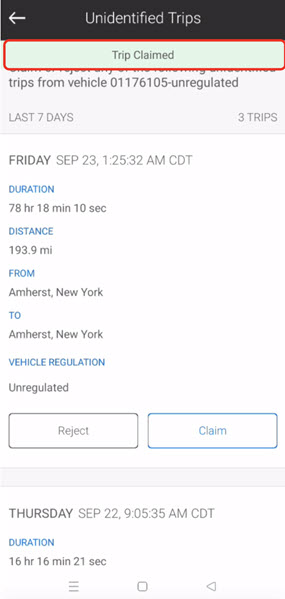 Disclaimer: All content and information in this article is for informational and educational purposes only, and do not constitute financial, business, or legal advice. Although Motive strives to provide accurate general information, the information presented here is not a substitute for any kind of professional advice, and you should not rely solely on this information. Always consult a professional in the area for your particular needs and circumstances prior to making any professional, legal, business and financial, or tax-related decisions.
Some of the links contained within this site will let you leave the Motive website. The linked sites are not under the control of Motive, nor is Motive responsible for the contents of any linked site or any link contained in a linked site. These links are provided to you only as a convenience, and the inclusion of any link does not imply endorsement of the site or affiliation.
Related Content
Share this with others
This article also appears under: